1) This week I proved to the kids that homemade from scratch was better than shop bought packet mixes!  We had a bit of a bake off and I'm pleased to say that they are completely on the side of homemade!
There was no way that even Betty Crocker herself was going to beat my homemade chocolate chip cookies!
2) I made a bath of my homemade tomato sauce last weekend and added some homegrown fresh basil to it.  This might not sound like a huge achievement but it felt really domesticated and grown up to be able to use my own basil plant.
I'll be sharing how I made the containers next Wednesday if you're interested!
3) Last week we planned a day out to end the Summer Holidays on a high and we ended up at the Blue Reef Aquarium in Tynemouth which we booked online in advance and got one child for a pound and everyone else got 15% off the door price.  We had a great time and personally, I enjoyed it even more because it ended up costing about half of what the Sealife centre would have cost us.
4) I've been promising the kids for ages that I'll make some space in the garage so they can have a mini gym in there and last weekend I finally got around to it!  I listed things on eBay marketplace as I went and ended up making not only plenty of space but also enough money to more than cover the cost of some equipment so we now have a mini gym in the garage.  I want to take it one step further and make much more of the garage but can't afford a full conversion at the moment so it's just a bit at a time – we now have lots of shelves (all mismatched) along one wall and I'm going to get a door knocked through from the house so we can start using it more as my next step.
5) As usual, we've been having some really good discussions this week over in our Live Well, Spend Less Facebook group but this week especially we've been having a bit of a focus on the money we spend on our grocery shopping each week.  We're trying to stick to our own individual budgets and it's really helping me to keep a focus on my budget as September is a pretty expensive month for us and we're away in October so every penny helps.  We're going to keep going through the month so we'd love to welcome you into our little community if you fancy popping in.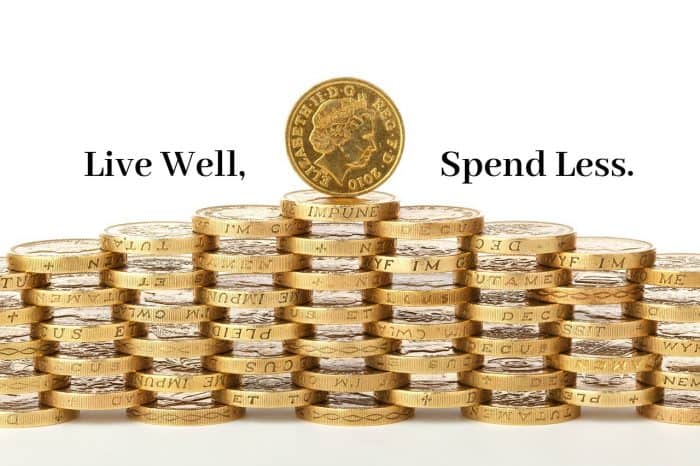 As always, we'd love you to join in with us by sharing what frugal and thrifty things you've been up to this week – whether it's an Instagram picture (#5frugalthings), a blog post or even a video.  Just add your link to the linky at the bottom of this post.
You don't have to share five things you've done, anything thrifty or frugal that you've been doing is perfect.
You're more than welcome to copy and paste the badge above but it would be even better if you could let your readers know that you're linking up with us by adding a little line to the bottom of your post like this one:
I'm linking up with this Cass, Emma and Becky in this week's 'Five Fabulously Frugal things I've done this week' linky.
Don't miss out on future posts like this – receive updates directly to your inbox by email by adding your email address here and hitting subscribe. You can also follow me on Twitter, BlogLovin or Networked Blogs and I'd love to see you over on my Facebook page and on Instagram.