Every week I share five frugal things that I've done during that week just to show you that the small things you do all add up to a great frugal lifestyle where you can learn to live a fabulously frugal life.
Hey! 👐
1) OK, now we're properly into September, I thought we'd be good to start talking about a Christmas every now and again?
I'm not planning on going overboard so don't worry but some of the things I want to make as gifts do need a bit of prep in advance like the homemade Limoncello that I started making last weekend.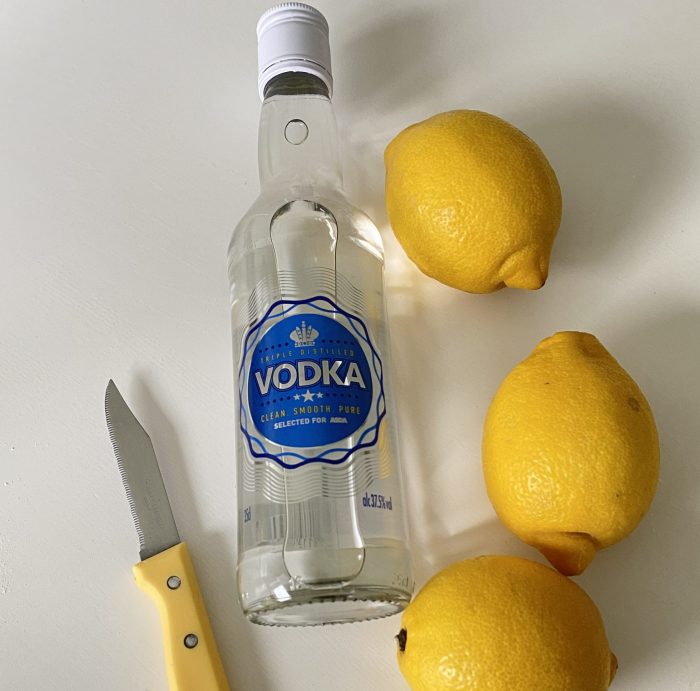 I bought a 35cl bottle of vodka from Asda for £6 so I'm going to give it a go and if it works, I'll let you know how I made it.
2) And using what was left of the lemons from my Limoncello adventures, I decided to make some lemon and ginger tea which is now my new favourite drink and I've got into the habit on a morning of prepping enough for a couple of cups to drink through the day. It's totally a habit after six day's right?
3) I love refried beans (we make homemade Chipotle Fakeaway with them) so when I popped to the shop this week to find the Tesco version that we buy reduced from £1.15 to just 17p. I'm presuming that they're discontinuing (hopefully not though) and I really don't want to pay the Old El Paso price of £1.65 so I thought I'd have a go at making my own.
I stocked up on the 17p cans and then literally stood in Tesco googling the right beans to buy to make my own. I now have four cans of ready-made refried beans and am also the proud owner of a packet of dried Pinto beans which I plan to use to make my own at some point!
4) I bought a Too Good to Go Magic bag last Saturday night for £3.09 and managed to get a proper little picnic tea for me and Master Frugal.
If you've not heard about Too Good to Go then have a look at this post here but basically it's an app where you can buy 'Magic Bags' which are filled with food that's about to go out of date. It's pretty much pot luck what you get but sometimes you get a fab little haul.
5) Did I tell you I was at a wedding last weekend? I was super sensible and decided not to drink to save me the cost of getting a taxi home. I felt very grown up ordering a coke and not that it matters but they served the coke in the smae glasses as they served the vodka and coke in and no one even noticed that I wasn't drinking unless they asked if I wanted a drink. 😉
Come over and join our fab Facebook group – Spend Less, Live Better! We've hit 35,000 members in the group now so it's a great place to be and I've got Miss Frugal in there helping me out now.
As always, we'd love you to join in with us by sharing anything you've done that's been thrifty or frugal from your week – whether it's an Instagram picture (#5frugalthings), a blog post or even a video. Just add your link to the Frugal Friday linky at the bottom of this post.
You're more than welcome to copy and paste the badge above but it would be even better if you could let your readers know that you're linking up with the five frugal things linky by adding a little line to the bottom of your post like this one:
I'm linking up with this Cass, Emma and Becky in this week's 'Frugal Friday' linky.
Don't miss out on future posts like this – receive updates directly to your inbox by email by adding your email address here and hitting subscribe. You can also follow me on Twitter or BlogLovin and I'd love to see you over on my Facebook page and on Instagram. If you're interested, you can find out more about me here. 😉
You are invited to the Inlinkz link party!