1) Remember a few weeks ago I mentioned that we'd been blackberry picking and I'd saved some to make some blackberry vinegar.  Well, it's taken me until this week to actually get around to making it!
You can find out how I made it here if you want to have a look.  Because it took me so long to get around to making it, I ended up freezing a batch of the blackberries and it made no difference at all to the flavour so I might go pick some more for next time I want to make it.
2) I picked up some great reductions in Tesco this week….
They had piles of both and whilst I didn't want to be greedy and take them all, with a sell by date of Jul 2018 I did want to stock up.  I bought 10 of each which left plenty for others but still satisfied my need to make the most of a great bargain.  Spaghetti we have often so I'll definitely get my money's worth from that and the smooth pasta sauce will be great when I'm in a hurry or if I've ran out of homemade pasta sauce.
3) I'm not a huge complainer although I have had a couple of things to complain about lately for some reason.  I had Amazon last week and this week Sky who have been ringing my Dad relentlessly trying to get him to go back to them.  They knew his circumstances and continued to call him which was causing a lot of distress so I complained on his behalf and eventually, this week I got a full apology from the CEO's office and some compensation for him.
I don't agree with complaining for complaining sake and I hate it when people just seem to look for a reason to complain but when it's necessary I will.  I much prefer giving nice feedback though.
4) Miss Frugal is 15 tomorrow!!  She's having a sleepover with 8 friends which although I'm not looking forward to the lack of sleep I'm sure to get, I am looking forward to the extra money I'll have in my purse as a sleepover is much cheaper than what she had planned!  I've been buying a few treats every week when I've been doing my shopping so I've got plenty of snacky foods and drinks ready for them – I just need to buy some fruit this afternoon and then I'm all done.  I'm going to attempt to make a rainbow later cake this afternoon so keep your fingers crossed for success.
This is the last time I made it so I'm hoping to improve on that!
5) Did you see my pretty little motivation quote wall art printables last weekend?  I've printed off a set and put them into some cheap frames as a little gift for my niece this week and she's over the moon with them!
As usual, we've been having some really good discussions this week over in our Live Well, Spend Less Facebook group.  This week I've had advice on Birthday buffet snacks and we've been talking about our favourite moneysaving tips. We'd love to welcome you into our little community if you fancy popping over to join us.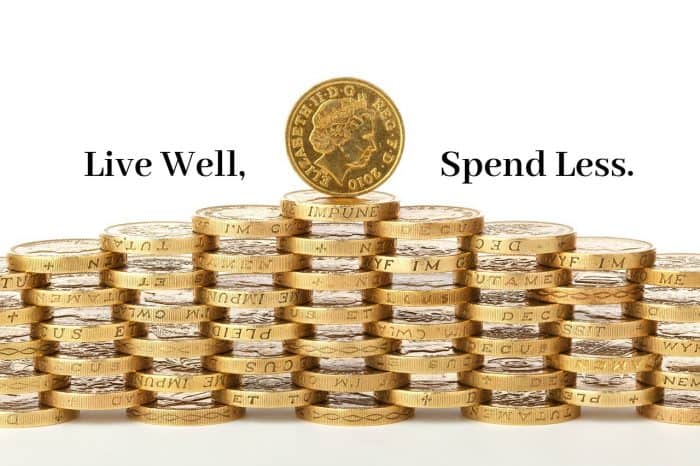 As always, we'd love you to join in with us by sharing what frugal and thrifty things you've been up to this week – whether it's an Instagram picture (#5frugalthings), a blog post or even a video.  Just add your link to the linky at the bottom of this post.
You don't have to share five things you've done, anything thrifty or frugal that you've been doing is perfect.
You're more than welcome to copy and paste the badge above but it would be even better if you could let your readers know that you're linking up with us by adding a little line to the bottom of your post like this one:
I'm linking up with this Cass, Emma and Becky in this week's 'Five Fabulously Frugal things I've done this week' linky.
Don't miss out on future posts like this – receive updates directly to your inbox by email by adding your email address here and hitting subscribe. You can also follow me on Twitter, BlogLovin or Networked Blogs and I'd love to see you over on my Facebook page and on Instagram.