Today I'm sharing the next post in my 'What we ate in a week' series!
The plan with these posts is that I start writing this post the Monday before you read it each month and just update it each night with a photo of what we had for our tea that day.  This week I have a very random selection of meals as I didn't meal plan and I didn't do a weekly shop.  This is the week after the week after my Dad died so I was starting to come to terms with things at this point and blogging to keep my mind of things but at the same time, I felt like I was a bit in limbo waiting for the funeral and wasn't feeling the meal planning vibe.
Not meal planning definitely doesn't work for me as I spent way more than normal by popping to the shop so many times through the week.  It's not even just the money though, I hate the feeling of being so disorganised and wasting food is my pet hate so Friday especially annoyed me!
Monday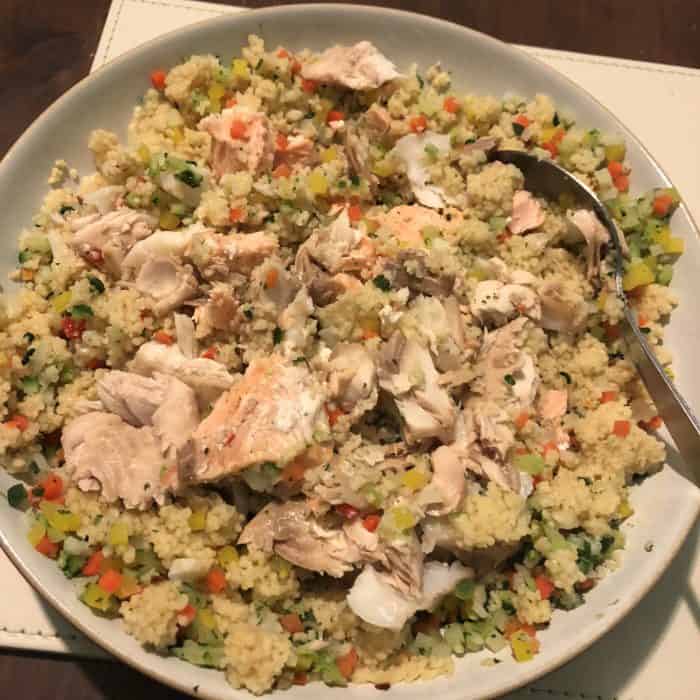 There was just me and Miss Frugal for tea tonight so we popped a salmon fillet and a cod fillet from the freezer into the airfryer to cook and made a big bowl of couscous while they were cooking.  We then flaked the cooked fish through the couscous, added some lime juice and a bag of vegetable rice and mixed it all together in one bowl.  It was a bit of an odd looking meal but actually really nice and used only storecupboard ingredients.
Tuesday
I popped to the shop this afternoon to find something for tea tonight and found reduced asparagus, courgettes, tomatoes and chopped butternut squash so I bought them all and roasted them with some Heck sausages and turkey rashers that I had in already.  I added a few Laughing Cow triangles a couple of minutes before the end of cooking and then had a portion each with some rice.
Wednesday
Tonight we had homemade doner kebab which I made poor Mr. Frugal make before he went to work.  He was on a late shift so I set him up with the blog post where I shared this recipe originally and went and had a bubble bath.  I came back downstairs and he was all done with a smug smile telling me how easy it was and that it would be ready in time for him coming home from work.  He even remembered to bring pitta bread and lettuce in when he came in but the bad news is that he didn't really squish the meat as much as he should have done before wrapping it in foil so it was less doner kebab and more mince like in texture.  It looks a mess (hence me using an old photo of a more successful past attempt) but tasted amazing luckily so we'll let him off.
I didn't want the kids to wait until Mr Frugal came in from work at 8pm for their tea after the week we're having so I made theirs at the usual time – they had gammon and salad homemade flatbread wraps with some homemade sweet potato fries.
Thursday
I didn't have a great day today so tea was a choice of scrambled egg on toast or beans on toast for me and the kids and Mr Frugal stopped off at McDonalds on the way home from work because he was working a late shift again.
Friday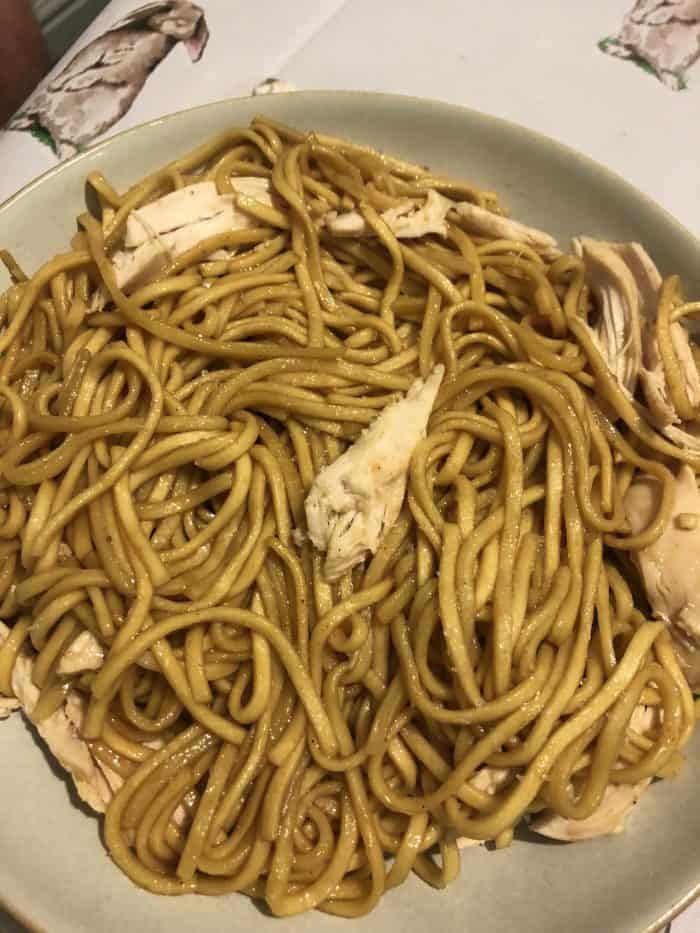 So today was supposed to be stirfry night and I had a lovely bag of stir fry veggies in the fridge but as I went to grab them, I realised that they were a couple of days out of date and some of the veggies in the bag were looking questionable.  I went ahead and made just plain chicken noodles in a garlic and soy sauce but then, right before serving up, I thought on that I could have used frozen vegetables as I have plenty of those in the freezer.
Saturday
We had a movie night tonight so we had a bit of a picnic tea with homemade pizza breadsticks, Slimming World Style Chips, some mozzarella bites and chicken dippers that I found in the freezer and a giant fruit salad for pudding as we got loads of Morrisons wonky fruit when we popped to the shop.
Sunday
Miss Frugal asked me this morning if we could have a proper tea today which made me realise just how bad I've been this week.  I'm obviously not going to beat myself up about it due to the circumstances but I do need to get it together a little bit going forward for everyone's sake.
I actually feel quite motivated right now and tonight's tea of a gammon joint with Yorkshire puddings and veg was so well received – not just because it was a 'proper meal' but because we all sat around the table to eat it which is something that we've missed this week – I think we've only had one night where we've eaten together.
So, I have my big girl pants on and I'm ready to start getting life back to normal – it's a good feeling and next months what we ate in a week post will be filled with home cooked domestic triumphs!  Maybe. 😉
Don't miss out on future posts like this – receive updates directly to your inbox by email by adding your email address here and hitting subscribe. You can also follow me on Twitter, BlogLovin or Networked Blogs and I'd love to see you over on my Facebook page and on Instagram