I haven't done a #mealplanningMonday post over here for ages so I thought we'd kick off the week with what we'll be eating this week.
I've been sharing my weekly meal plans over on Meal Planning Made Easy recently but I thought I'd share this week's over here for a change – mainly because I'm having a big focus on it this month to try and save some extra pennies.
I used to plan super cheap meals to cut our food bill to as little as possible but over the last few years, as our budget has started to look a bit healthier, I've increased the amount we set aside for food shopping so we can incorporate treats and meals that aren't as budget focused.
I still look for deals and try and save money wherever I can but we've got the luxury of having the money in our budget to spend more which I know makes us super lucky.
This also means that when I have a super expensive month coming up, as we do this month, I can cut back on the food budget easily to save money to put elsewhere.
This week, I'm working Monday to Friday with a later start that means I have time on a morning to prep something in the slow cooker but I won't be home until about 6pm so where I don't use the slow cooker, I'll need something quick and easy or something that one of the kids or Mr Frugal can cook on their own without too much drama.
Monday – Hunters Chicken
I got the last of my Muscle Food chicken breasts out of the freezer last night and defrosted them overnight in the fridge so they're ready to be wrapped in bacon and covered in some ready-made hunters chicken sauce that I have in the cupboard. Yes, I could absolutely make my own barbecue sauce to use but this is cheap, quick and the kids LOVE it so I'm happy to take a shortcut here. Mr Frugal can easily make this and pop some potato wedges in the airfryer to go with it so by the time I get home, if he times it right, it'll be just about ready to serve. Maybe. 😉
Tuesday – Macaroni cheese
Macaroni cheese is absolutely our favourite family meal so whenever I ask for suggestions on what to cook, this is the meal that everyone asks for. I always have macaroni in the cupboard and grated cheese in the freezer so this is a super cheap meal that I know everyone will love. I often add in brocolli (again from the freezer) and some gammon pieces if I have any leftovers in which I potentially could have as we had gammon on Sunday.
Wednesday – Fajitas
This isn't the cheapest meal we have as we like them with salsa, homemade guacamole, sour cream and tortilla wraps as well as the chicken and veggies but it's another family favourite so I know everyone will love it. It's also a meal that Miss Frugal can make with her eyes closed so she can make it when I get in.
Thursday – Spaghetti Bolognese
I'll start this off before work so all Mr Frugal needs to do when he gets in is to pop some spaghetti in and serve it up which is a good deal for him if you ask me. I'm 99% sure that I have some mince in the freezer in the garage and I know I have everything else in to make my slow cooker bolognese recipe so it's a pretty cheap meal as far as things I'd need to buy in for this meal.
Friday – Tagliatelle Carbonara
I know we have pasta on the menu loads this week but I really wanted to make this after Miss Frugal and her boyfriend made it from scratch last week and it was AMAZING! I want to try and recreate – or even better, get them to recreate it ready for me coming in from work.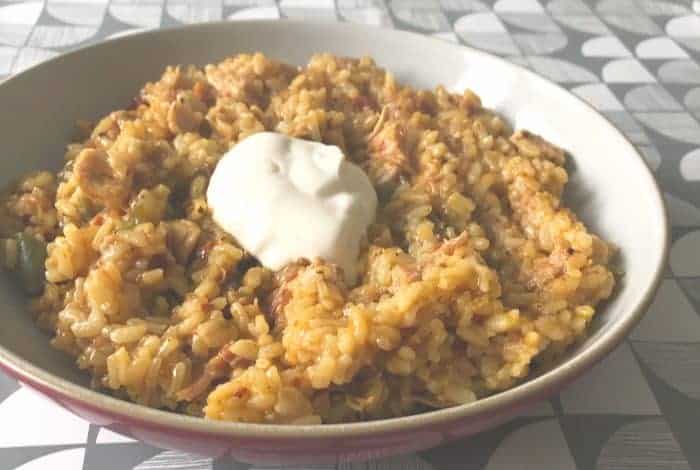 Saturday – Instant Pot chicken and rice
Instant Pot chicken and rice is our Saturday night staple here and this week I think we're going to go with some sort of chilli and lime flavourings and maybe chicken and chorizo.
Sunday – Roast Dinner
As always, I'm going to see what meat is on offer before I decide on what we're having for Sunday roast but I really fancy something other than our usual gammon or chicken.
Don't miss out on future posts like this – receive updates directly to your inbox by email by adding your email address here and hitting subscribe. You can also follow me on Twitter, BlogLovin or Networked Blogs and I'd love to see you over on my Facebook page and on Instagram. You can find out more about me here.