My Instant Pot Chicken and Rice recipe is one that I've been promising to share for a couple of months now but I've never gotten around to it as it isn't a 'pretty' meal that looks good in photos.
We have a variation of this recipe every week and every week, I take a photo of my bowl before I tuck in but so far, I just haven't been able to do the meal justice at all!
I've given up trying now so I thought I'd just go with what I have and hope you have faith that although it doesn't look amazing, it absolutely tastes it!
Before I start with the recipe though, I do want to answer one of the most common questions I get in my emails and DM's…
Do I need an Instant Pot in my life?
I love my Instant Pot, I really do! I wrote about all of the different uses for it a little while ago if you want to have a read in detail but basically, it's a 7 in 1 Electric Pressure cooker that also has Slow Cooker, Rice Cooker, Saute/Browning, Yoghurt Maker, Steamer and Warmer functions.
I genuinely use it a lot and consider it to be one of my best kitchen purchases ever – it's worth it alone for this dish and the shredded chicken that I make in there so if you ask me, everyone needs an Instant Pot in their life. But…
The only problem is that I bought mine from Amazon on Black Friday when the price dropped to £79.99 whereas it's currently selling for £124.99 which is still a good price for what you're getting but if you're anything like me, you won't want to pay that much unless you absolutely know you're going to get your money's worth from it. That's why I watched the price over the course of about 6 months before snapping it up at the lowest I'd ever seen it.
There are cheaper versions available if you don't want to pay out – Pressure King has similar multi-function cookers available for £47.49 for a 3-litre version and £89.99 for a 6-litre version which are both cheaper and seem to do the same thing. I've never used them though so I'm not sure about ease of use or quality.
All I would say if you're looking around is that the Instant Pot I have is a 6-litre so I can use it for batch cooking too.
Instant Pot Chicken and Rice Recipe
This recipe is one that we tweak every week based on what we have in the house so we might have it with shredded chicken and prawns or chicken and chorizo or even last night was chicken and shredded gammon (again made in the Instant Pot to be frozen in batches for when we need it).
We have a basic base recipe that we stick to every week – the only thing we change is the meat/fish that we add in so below you'll see that last night's meal included chicken, chorizo and gammon but you can replace these with whatever you have in or whatever you fancy.
Ingredients
500g Paella Rice
1250ml stock, chicken or veg (not hot, this works best if your stock is cool or at least just warm rather than hot)
500g diced chicken
200g shredded gammon
50g diced chorizo (I bought this from Tesco a couple of weeks ago for £2 and I'm a huge fan)
1 diced green pepper
1 sliced red onion
2 cloves garlic, crushed
1 teaspoon dried chilli flakes
1 teaspoon paprika
1 teaspoon turmeric
1 tablespoon Mediterranean Seasoning (I use this one which we buy from our Farmers Market rather than online to avoid postage. The herbs and spices used in it are listed on the site so you could have a go at making your own or the main supermarkets have similar in the herby section)
Olive Oil or Frylight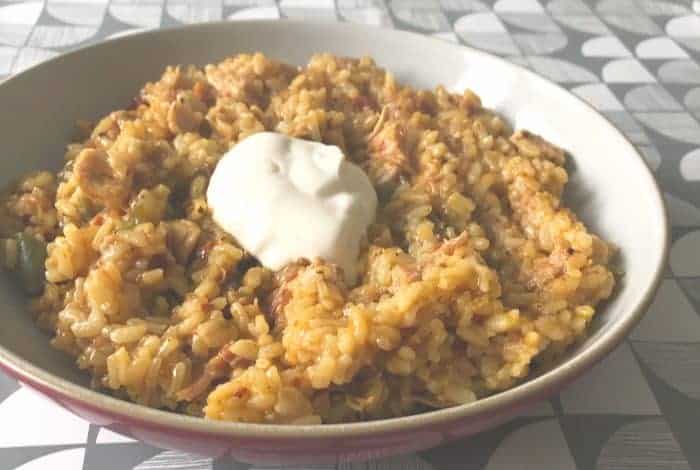 Using the saute function on your Instant Pot, saute the red onion, garlic, diced pepper and any raw meat or fish, so last night I added in the chicken at this point.
You need to stir the mix at this point pretty much constantly and once the meat/fish is almost cooked through, add in any already cooked meat/fish to the mix so last night at this point, I added in the shredded gammon and the chorizo along with all of the herbs, spices and seasoning.
Turn off the Saute function now and use a teeny bit of the stock to deglaze the bottom of the pan using a wooden spoon. In case you're not sure, de-glazing is just a posh way to say that you need to pour some liquid into a hot pan and use a spoon to get up all the brown bits stuck to the bottom of the pan as they're often the tastiest bits.
Once you've deglazed, you're ready to add your rice and stock. We use Paella rice now because it works much better with this dish than any other rice type that we've tried. It doesn't turn to mush and has just enough texture and bite after cooking but you could use Arborio rice for a bit more creaminess. The quantity of Paella rice should be two cups of chicken or vegetable stock to every 1 cup of rice. I use US cup measurements just to make it simple and I know that the quantity of Paella rice that I use generally fills two and a half cups so, in theory, I would be adding in 5 cups of stock which would be 1250ml of stock. I still use the cups to measure it each time though. 😉
Once you've given it all a good stir, pop the lid on and set the pressure cook function to cook for 7 minutes as per the instructions of your Instant Pot.
It takes a while to get up to pressure and then it will cook for 7 minutes. I leave it to its own devices with the natural pressure release at that point usually but if it hasn't finished in 5-10 minutes then I'll go for the quick release to finish it off.
I then give it a good stir to distribute what little liquid is left and then serve.
And just so you can see some of our other versions – here's the one with chicken, pawns and chorizo…
And here's one which is just chicken and chorizo with no peppers…
Instant Pot chicken and rice isn't a winner in the style stakes but where it wins where it counts!
Don't miss out on future posts like this – receive updates directly to your inbox by email by adding your email address here and hitting subscribe. You can also follow me on Twitter, BlogLovin or Networked Blogs and I'd love to see you over on my Facebook page and on Instagram. You can find out more about me here.
Pin my Instant Pot chicken and rice for later: