If you follow my Instagram feed or read last week's five frugal things post then you'll know that we've been away for a cheeky family break to Nice and Monaco so as I did when we went to New York and Milan,this week's post is going to be dedicated to five frugal things we did in Nice and Monaco.
1) When we checked in to our hotel, the lovely receptionist handed us a huge stack of tours and trips that they could book us on to if we wanted to do some sightseeing. I'd been googling for the last week so whilst I had definite plans for what we were going to be doing, I had no intention of paying the 50 Euros plus per person for these organised tours.
For example, there was a tour that would pick us up at our hotel and take us around all of the highlights of Monaco which was 79 Euros each for the four of us which was way more than I'd budgeted for so instead, I asked the hotel receptionist what bus we needed to get and had a chat about the things she recommended that we do when we were there. We ended up getting the public transport bus from our hotel in Nice to Monaco which cost us 2 Euros each and was the best money we spent! It was the most scenic drive I've ever been on and I would have paid my 2 Euros just for the views alone!
One trip I really wish we'd done was to visit Grasse, famous for its perfume production! I tried but no one else was feeling it so I gave up in the end. The kids were determined to find a water park close by but had to settle for the beach as we weren't making that trek if I couldn't get to Grasse!
2) We loved the day we spent in Monaco as we knew we would from our previous visit and the plan was that we would do two days in Monaco, one in Nice and one visiting some of the beautiful towns along the French Riviera like Cannes and Grasse. We ended up spending one day in Monaco but cramming everything in and the rest in Nice. I'll share more about why we changed our plans soon but we ended up spending much more time than we'd planned to in Nice itself. We originally popped to the beach for an hour (we're not lazing on the beach people usually) and the sea was so blue and so inviting that there was no way we could drag the kids away for the rest of the day.
The beach at Nice in pebbles and stones rather than sand so it wasn't comfortable to sit on at all and even if it was, with us all being fair, a day in the sun would have left us burnt to a crisp so we decided to sit in one of the beach clubs where you're allowed to sit if you buy drinks or food. There were settees, parasols and sunbeds so we sat comfortably in the shade about 20 feet from the water's edge while the kids played in the sea. I made them come back every now and again to sit in the shade and have a suntan lotion top up (did I mention I was paranoid about sunburn?). And the best thing, whilst the soft drinks and alcoholic drinks cost a small fortune, a large bottle of water with four glasses cost 7 Euros which might seem a lot but when you consider that for the cost of three large bottles we got to sit in a posh beach club all day in comfort. We could use the toilet, watch the kids in the sea and keep them hydrated all day from the comfort of a lovely seat surrounded in parasols so we were in the shade all day which is what we need.
Our three bottles of water was all we spent that day as the kids wandered up to the promenade when they wanted an ice cream and I'd made some ham and cheese croissants at breakfast to tale with us because the kids don't like too much at breakfast so they can't fill up on it like us grown-ups can. I had them wrapped up in my bag so when they got hungry, they ate these just a teeny bit along from the beach club who wouldn't allow you to eat your own food in there for obvious reasons! Considering my plan for that day had been to spend an hour on the beach followed by a bus trip to Cannes, this was a much cheaper option and I don't think we could have had a better day!
3) Back to Monaco for number three….
Monaco harbour is filled with luxurious privately owned boats which have to be seen to be believed! We really wanted to get a bit closer to them but obviously, going out on a boat at Monaco harbour was going to be pricey – or was it? As we sat in the sun overlooking the harbour, I had a quick google and discovered the Bateaux Bus which is a boat that costs 2 Euros per person for a journey from one side of the harbour to the other.
We got up close and personal with all the huge boats, googled the names of them to find their values and owners and at the same time, we cut out a lot of walking as we used the boat as a shortcut from the casino to the palace.
Oh, and in case you're wondering, the most expensive boat we saw was sold recently for $60 million!!!!
4) Nice is definitely not a cheap place when it comes to food and drinks so we had to be really careful that we didn't blow our budget on that alone. The first night we actually found a supermarket and had a picnic on our balcony, the second night we found a Subway so we had a full Subway meal deal and we ate out for the other two nights. We found our nearest supermarket and bought most of our food and drinks in there to be honest and as I mentioned above, we filled up on breakfast and made sandwiches for lunch.
5) When we landed in Nice Airport we had to make our own way to our hotel as we hadn't pre-booked anything – mainly because all the pre-bookable options were so expensive and I was hoping to get a bus as it was just a short drive and I knew it was quite easy to do. We were much more tired than I'd expected us to be so, rather than figure out where we could get the bus and worry about where we needed to get off for our hotel, we walked outside the airport and jumped in a taxi which cost around half of what the transfer would have cost if I'd prebooked it. On the way back though, when we'd found our feet with buses etc we just walked to the bus stop and hopped on with our cases to get us back to the airport.
Just as a quick reminder because I know this post looks very un-frugal…. We bought our flights through Easyjet for around £200 in total for the four of us and booked our hotel direct with the hotel but if you prefer the reassurance of booking through a company then I did find great deals on both Expedia and Booking.com that were very comparable to booking direct. It's all about shopping around for the best deals you can find – which is the only reason we've managed to have so many breaks this year.
If you want some more money saving ideas, you really should head over to our Live Well, Spend Less Facebook group. We'd love to welcome you into our little community if you fancy popping in.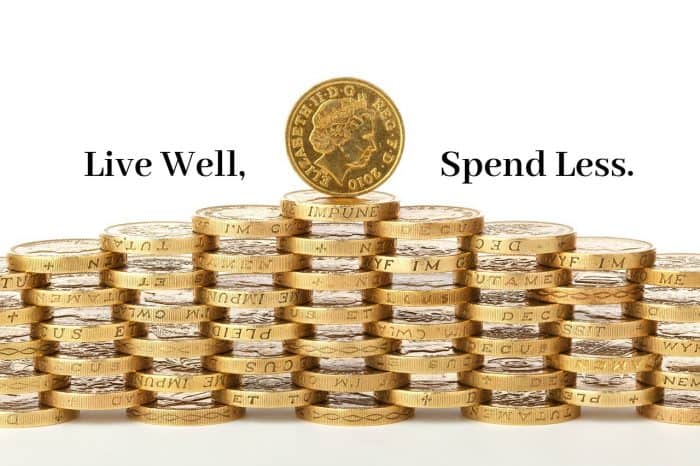 As always, we'd love you to join in with us by sharing what frugal and thrifty things you've been up to this week – whether it's an Instagram picture (#5frugalthings), a blog post or even a video. Just add your link to the linky at the bottom of this post.
You don't have to share five things you've done, anything thrifty or frugal that you've been doing is perfect.
You're more than welcome to copy and paste the badge above but it would be even better if you could let your readers know that you're linking up with us by adding a little line to the bottom of your post like this one:
I'm linking up with this Cass, Emma and Becky in this week's 'Five Fabulously Frugal things I've done this week' linky.
Don't miss out on future posts like this – receive updates directly to your inbox by email by adding your email address here and hitting subscribe. You can also follow me on Twitter, BlogLovin or Networked Blogs and I'd love to see you over on my Facebook page and on Instagram.


–>