Last week we were lucky enough to have a lovely family break in Milan which I was going to tell you all about in another post but I decided to work it into this week's five frugal things post because it was such a frugal break yet such an enjoyable one.
First of all, I'm going to tell you how much I paid for it because it was an unbelievable price for what we got!
We traveled with Easyjet and paid £435 in TOTAL for four of us to fly to Milan from Edinburgh and stay for four nights in a four star hotel with breakfast.  The price included everything but transfers and insurance (which we already have). How amazing is that?
I was a bit wary about booking with Easyjet as I've heard bad things but they were brilliant and I couldn't fault a single part of their service and even though I used our new downstairs carpet savings to pay for it, I'm really pleased with our little bargain break.
The hotel itself was a bit further out of Milan in the suburb of Bresso but we were good with that as we like to be in a peaceful area with the option to visit the hustle and bustle when we want to.
I emailed the hotel the day before we arrived to tell them we were getting the the airport bus to the city centre (8 Euros each instead of the 164 Euros quoted for a private transfer) and I asked them the best way to get from the city centre to the hotel.  I was over the moon when they told me about their free shuttle bus which is available for hotel guests to book to and from Milan anytime between 8am and 8pm so we booked it to collect us which meant our transfer here was so easy and cost us so much less than it would have done otherwise.
The shuttle bus was so handy to have and the hotel were amazing taking us into Milan every day and collecting us whenever we asked them to – all I needed to do was email them and the lovely reception staff arranged pick up.  Aside from the free transfers into the city centre, we've got around Milan using the Metro which is so simple to understand and super cheap – less than 5 euros each for a full days travel on the extensive network.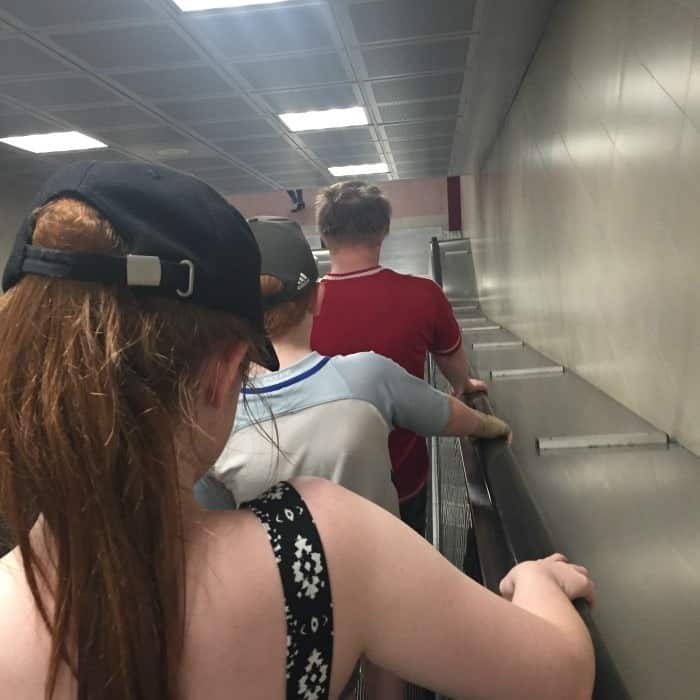 Meals wise, we didn't eat out that much while we were there although if I'm honest that was more because it was so hot than an intentional money saving technique.  We also didn't like that so many people were happy to smoke right next to us when we were eating so we had one meal out and for the rest of the time we just had a big breakfast at the hotel and had drinks and the odd ice cream while we were out and about through the day.
Tea has been bought from the supermarket next to the hotel who actually do hot meals – half a chicken or a big slice of lasagna with potatoes and veg was about 4 euros and the fruit there was amazing so we had plenty of that.  We've also had a couple of picnic teas where we've made some sandwiches and sat in the courtyard in the hotel which was practically deserted most evenings as people were no doubt seeing as much of the beautiful city as they could.
Our hotel had a free buffet in the bar on a night which we had a few times too – it was all sorts of lovely fresh melon with Italian meats and cheeses!  The meals in the hotel restaurant were ridiculously high in price and didn't sound great so most people just grazed on the free buffet instead while the restaurant sat empty.
We also emptied the mini bar of drinks (we didn't drink them, we put them all back in before we came home) and filled it with bottled water which saved us a fortune on drinks too.
We saw the sights but I'm a bit wary about the world at the moment so I was happy to admire sights like the beautiful Duomo from a distance rather than doing the planned walk on the roof.  That definitely saved us money but again, we didn't not do it because of that, we didn't do it because it was a blazing 31 degrees and I was the one who had wanted to do it.  When I said I was OK not doing it then everyone else was happy to just wander around instead.
We had a day at Lake Como which was beautiful and cost less than £15 to get there and back on the train, much less than the £100+ quoted on the organised trips we could have done.  We wandered around the streets and ended up sitting in a little cafe on the lakeside with a table right at the edge of the lake enjoying a cool drink and just people watching.
We also had an afternoon at the San Siro stadium which is where Inter Milan an AC Milan play and somewhere that was on our to do list from the day we booked our trip.  We'd promised Master Frugal a shirt from there so we headed to the club shop only to find the prices were RIDICULOUS!  An adults shirt was 141 Euros for the new kit and a child's wasn't too far behind that.  Master Frugal declared it a waste of money and said he would prefer to get the new Boro shirt instead so we left shirtless thank goodness!
We actually had money left at the end of our holiday which is almost unheard of for us so I think we can safely class our break to Milan as a frugal break.
As always, we'd love you to join in with us by sharing what frugal and thrifty things you've been up to this week – whether it's an Instagram picture (#5frugalthings), a blog post or even a video.  Just add your link to the linky at the bottom of this post.
You don't have to share five things you've done, anything thrifty or frugal that you've been doing is perfect.
You're more than welcome to copy and paste the badge above but it would be even better if you could let your readers know that you're linking up with us by adding a little line to the bottom of your post like this one:
I'm linking up with this Cass, Emma and Becky in this week's 'Five Fabulously Frugal things I've done this week' linky.
Don't miss out on future posts like this – receive updates directly to your inbox by email by adding your email address here and hitting subscribe. You can also follow me on Twitter, BlogLovin or Networked Blogs and I'd love to see you over on my Facebook page and on Instagram.