Every week I share five frugal things that I've done during that week just to show you that the small things you do all add up to a great frugal lifestyle where you can learn to live a fabulously frugal life.
Before I start though, I do want to say that being frugal to me is about getting the best value for our money – it's not about doing without for us or about not having nice things.  We all have different financial situations and we're all frugal for different reasons – we're frugal so we can afford to do nice things together.
1) I think I mentioned last week that we're having a good old focus on reducing our water and energy usage but as much as we're trying our best – a little help along our way is much needed.  I was having a browse on our local water suppliers website and I found that they do a totally free water saving kit that you can tailor to your own needs so we ordered one with the following in it:
A bath measure to tell us how many litres are in our bath
New plugs that will ensure no water escapes
Tap inserts that will reduce the water flow and I'm going to put them in the bathroom sinks.
A shower timer to encourage the kids to be more aware of how long they're in the shower.
Some gel packs to pop in the toilet cisterns – I think ours were taken out when we had some work done on the flushes.
Toilet leak detection tablets.
There are also some other bits that are for the garden but I haven't properly looked at what they are as they won't be needed until next Spring.
It came in about three days which is fantastic and we're going to spend some time this weekend putting the things into use.
2) I bought a rug for our living room this week which is something I've been thinking about since we got our new carpets fitted earlier in the year. I'm looking at it as an investment to protect the carpet rather than something I bought because it was pretty. 😉
I loved this one that I'd seen on Le Redoute and it was a price that we were happy to pay so we decided to get it.  A quick online search led me a discount code that gave me 30% off purchases at Le Redoute so we saved an extra £33 there but I also used Quidco so I got an additional 10% cashback as a new customer meaning that my rug started out at £99 but we only ended up paying £60 for it.  We also chose click and collect rather than home delivery to avoid the £3.99 delivery charges!
3) I cancelled two Direct Debits this week – one was our English Heritage family membership which has been amazing over the years and for under £8 a month we've had some brilliant days out.
We have some lovely properties near to us that we know really well and have been so many times for a couple of hours out but lately, the kids aren't as keen on going with us so we've adapted the things we do as a family which means we haven't really used our membership that much over the Summer.  We've hung on to it in the hope that things change as we really have had some great times but in all honesty, I just don't think it's going to so we've cancelled it once and for all.
(We did cancel it before but we missed it so we started up again ;-))
The other one is Miss Frugal's gym membership which we got her earlier this year as she needed to show commitment to a regular physical activity for her Duke of Edinburgh award.  She's completed that section now and hasn't been since she did so that's cancelled too!
Not huge savings but £20 that's much better in my pocket than someone elses!
4) The weekend before last was the Festival of Thrift which is my favourite day out of the year!  I've been going for the last five years and every year I come home feeling super inspired to try and live not just a more frugal lifestyle but also a more sustainable lifestyle.  When I was there, I bought some Veg from one of the stalls and the lady who served me explained that it had been grown on her farm and was completely organic.  She then gave me a re-usable fruit and veg bag in which I can pop loose fruit and veg in when I go shopping rather than buying the pre-packed stuff or buying the loose produce and putting it in a plastic bag myself.
It's not pretty but it means I can pop in any loose produce that I buy in there without the need for a plastic bag.
5) Thanks to all the drama we've had lately, it's been a while since I've even written a meal plan let alone shared a meal plan on here or over on my meal planning blog with you but things are calming down a bit now so I managed to actually write one last weekend.
I've started getting a Riverford Veg delivery every week which is delivered on a Thursday morning so my meals from Thursday through to Sunday incorporate some of the vegetables that came yesterday.
Pasta surprise is basically pasta with whatever I have in if you're wondering!
As usual, we've been having some really good discussions this week over in our Live Well, Spend Less Facebook group.  We'd love to welcome you to our little community if you fancy popping in.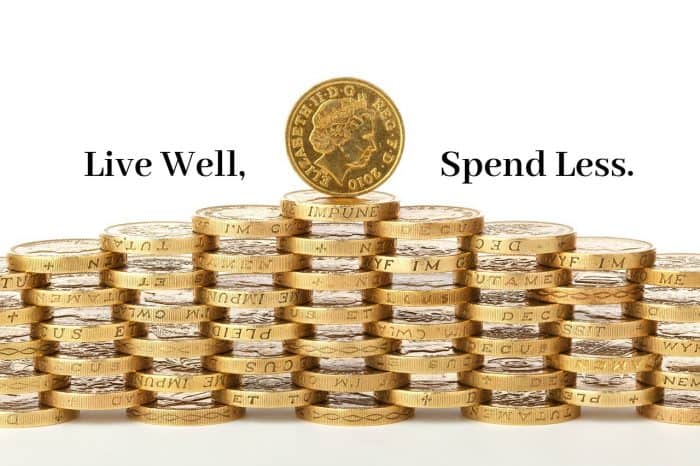 As always, we'd love you to join in with us by sharing your five frugal things from your week – whether it's an Instagram picture (#5frugalthings), a blog post or even a video.  Just add your link to the linky at the bottom of this post.
You don't have to share five things you've done, anything thrifty or frugal that you've been doing is perfect.
You're more than welcome to copy and paste the badge above but it would be even better if you could let your readers know that you're linking up with the five frugal things linky by adding a little line to the bottom of your post like this one:
I'm linking up with this Cass, Emma and Becky in this week's 'Five Frugal things I've done this week' linky.
Don't miss out on future posts like this – receive updates directly to your inbox by email by adding your email address here and hitting subscribe. You can also follow me on Twitter, BlogLovin or Networked Blogs and I'd love to see you over on my Facebook page and on Instagram.