Every week I share five frugal things that I've done during that week just to show you that the small things you do all add up to a great frugal lifestyle where you can learn to live a fabulously frugal life.
Before I start though, I do want to say that being frugal to me is about getting the best value for our money – it's not about doing without for us or about not having nice things.  We all have different financial situations and we're all frugal for different reasons – we're frugal so we can afford to do nice things together.
1) Did you see the amazing windfall applesauce that I made on Monday?
I know the photo doesn't do it justice but it really was amazing and made with free apples which makes it even better!
(I think it's browner than you might expect as I added some ginger and mixed spice)
2) If I get chance, I'll do a full update to my September Goals post but one thing I am particularly pleased with is the fact that I did manage to overpay my mortgage by the amount I wanted to!
I have my mortgage account linked to my banking app and it's extremely satisfying seeing the balance come down month by month.  We're still a LONG way from paying it off fully but so far we're on track to pay it off 11 years early which is a huge thing for us.
3) Is it OK to start talking about Christmas a little bit in September?  I've started a little Christmas cupboard (actually it's a box in the garage but hey ho) and each week I'm buying something to add to it.  We don't normally go overboard at Christmas on food and drink but we do like a few cheeky extras so this week I started off my Christmas box with a bottle of Advocaat.
Advoccat is a Christmas essential for our family and we always have one on Christmas Eve before bed to properly kick off Christmas.  It's something I've done every year since I was little when I used to go and stay with my Nana and as a treat, she'd make me the weakest snowball ever – they gradually got stronger over the years until I used to have to sneak back into the kitchen and top up with extra lemonade!
I probably won't be quite as extravagant with this week's Christmas cupboard purchase although we I do have my eye on a bottle of Baileys which is one of our other Christmas essentials.
4) I know I'm pretty late to the Mrs Hinch revolution but this week I've been watching her on Instagram and I have to admit that I really enjoy watching her stories – watching her clean is actually way more enjoyable than I would expect. 😉
When I went shopping this week, I was so tempted by all the cleaning products on the shelves that promised to make everything in my house clean and super shiny.  I actually put a few products in my trolley that I'd seen Mrs Hinch using before I had a good luck and thought about not only the cost of the few products I had added to my trolley but also the number of chemicals and unnatural stuff that was in them.
I know that my own homemade cleaning products do just as good a job for most of the cleaning jobs that I have around the house!
You'll be pleased to hear that I put the cleaning products back on the shelf and saved myself £5!
5) Last weekend was my favourite weekend of the year – the Festival of Thrift weekend.  It's a weekend that I absolutely love as it's all about sustainable living and I've been along every year for the past four or five years and I always come away feeling inspired.
This year I had a go at weaving, jam making and took so many photos that it needs a whole post of its own really.
As usual, we've been having some really good discussions this week over in our Live Well, Spend Less Facebook group.  We'd love to welcome you to our little community if you fancy popping in.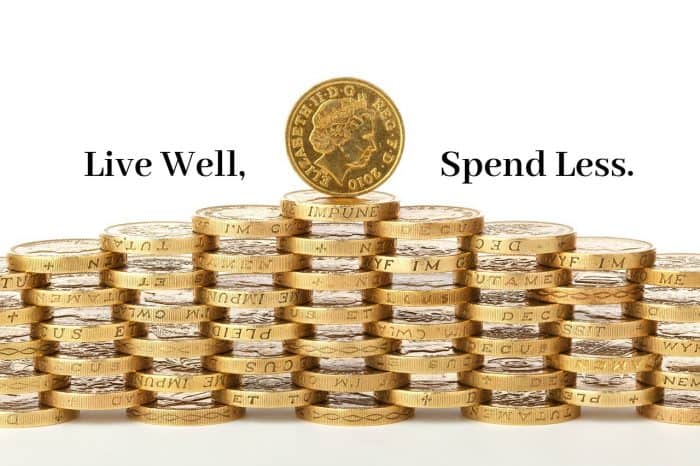 As always, we'd love you to join in with us by sharing your five frugal things from your week – whether it's an Instagram picture (#5frugalthings), a blog post or even a video.  Just add your link to the linky at the bottom of this post.
You don't have to share five things you've done, anything thrifty or frugal that you've been doing is perfect.
You're more than welcome to copy and paste the badge above but it would be even better if you could let your readers know that you're linking up with the five frugal things linky by adding a little line to the bottom of your post like this one:
I'm linking up with this Cass, Emma and Becky in this week's 'Five Frugal things I've done this week' linky.
Don't miss out on future posts like this – receive updates directly to your inbox by email by adding your email address here and hitting subscribe. You can also follow me on Twitter, BlogLovin or Networked Blogs and I'd love to see you over on my Facebook page and on Instagram.