Every week I share five frugal things that I've done during that week just to show you that the small things you do all add up to a great frugal lifestyle where you can learn to live a fabulously frugal life.
Before I start though, as always feel that I should say that being frugal to me is about getting the best value for our money – it's not about doing without for us or about not having nice things. We all have different financial situations and we're all frugal for different reasons.
1) All of my washing has been dried on the line recently and I've even managed to 'train' the rest of the family to keep an eye on the skies when it's hanging out although I'm super efficient and check my phone before I put it out to make sure there's no rain forecast.
My phone isn't always right when it comes to rain though…
This was a thrifty wash (using white vinegar and baking soda) that I did to make my towels fluffy again (see yesterday's post) and it actually rained mid-way through them drying. I came downstairs to find Mr Frugal shouting 'it's raining', running outside in my slippers with no top on trying to get it all in before the rain got too bad. He didn't go as far as to peg it back out again when the rain had gone but still, it's a start. 😉
2) I've been off work this week so I've tried to be a little more domesticated than normal.
I asked the kids what they wanted for tea earlier in the week and they asked for homemade pizza and something sweet for pudding. I whipped up a batch of homemade pizza dough and made homemade calzones for everyone using some tuna and red onion for the filling and then made us some milk jelly for pudding.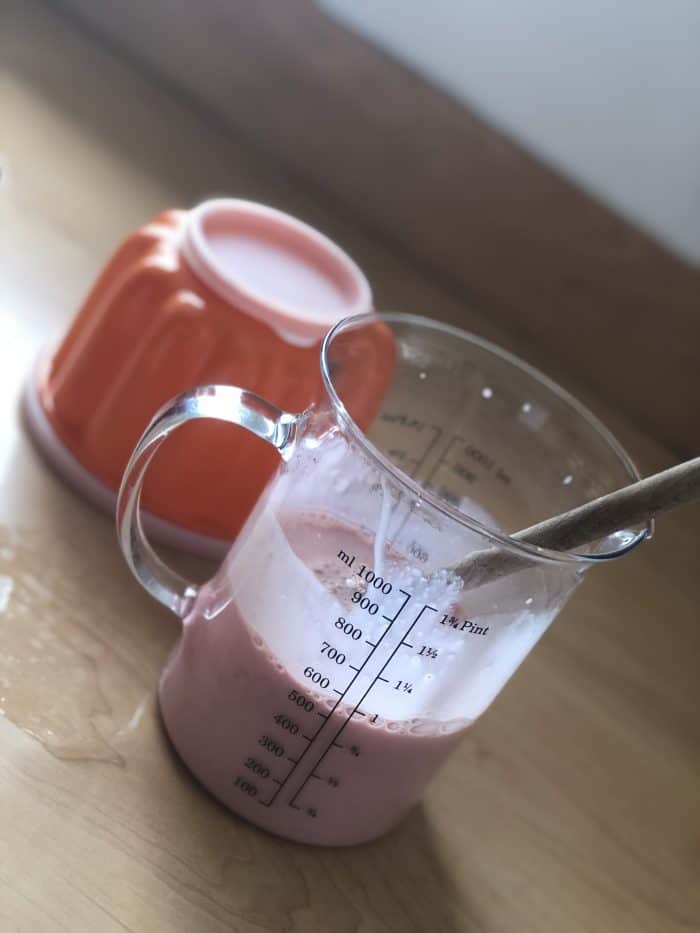 Milk jelly is something my Nana used to make for us when I was little which literally just needs jelly, milk and water to make so it's super cheap as well as being super easy and really tasty. I've shared the recipe for it before if you want to have a quick look.
3) My strawberry plants have come on massively in the last week or so and this week, Master Frugal and I managed to pick enough to have a bowl of them each. It was a small bowl but they were super sweet and much tastier than shop bought strawberries (although I could be biased here).
We also had some homegrown spinach in a salad this week which was very underwhelming to the point where I don't think I'll bother with another spinach crop in future. I'm going to concentrate this year on my strawberries, tomatoes, chilli and garlic plants I think.
(That's Monty in the background of the photo talking to his doggy friend next door)
4) Some of Miss Frugal's prom pictures are amazing and I really wanted to get some printed out for her so she could frame them or at least have them in an album rather than them just sitting in her phone.
I was planning to just pop to Asda to get them printed in their little photo machine but I decided to see if I could get some free photo prints from somewhere online as there are often special offers about.
I've written a post before that includes some of the companies who offer free photo printing when you sign up with them so I just picked one of those that I haven't used before (I picked Boots who are currently offering 25 free prints when you sign up) and managed to get 25 photos for free. They're currently winging their way to us and I can't wait to see them!
And seeing as I mentioned prom, I couldn't resist the chance to share one of my favourite photos with you once more! I promise – no more prom spam.
5) I know I've mentioned this before but when I switched to Bulb energy last year, I used a friends referral code so as well as saving money on my monthly bill, I also got a £50 credit on my bill for switching using my friend's referral link.
Since I moved over, I've shared my own referral link every now and again in case anyone I know wanted to sign up and get the £50 credit but this week, I shared it with a couple of friends who I was out with on Saturday afternoon. I'd mentioned it to them all but then forgot about sharing the link until one of them reminded me on Sunday night.
I shared it in the Messenger group we'd set up to plan the afternoon out and by Tuesday, I'd had three emails to say that people had signed up using my link which means, as long as they don't change their mind before the switch officially happens, they'll all get £50 credit on their bill and I'll get £150 which is fantastic as it's more than we pay per month so it's a whole month and more free for us.
The moral to this story is – don't feel cheeky sharing a referral code, especially when you know you're going to save your friends some money!
Come over and join our fab Facebook group – Spend Less, Live Better!
As always, we'd love you to join in with us by sharing anything you've done that's been thrifty or frugal from your week – whether it's an Instagram picture (#5frugalthings), a blog post or even a video. Just add your link to the Frugal Friday linky at the bottom of this post.
You're more than welcome to copy and paste the badge above but it would be even better if you could let your readers know that you're linking up with the five frugal things linky by adding a little line to the bottom of your post like this one:
I'm linking up with this Cass, Emma and Becky in this week's 'Frugal Friday' linky.
Don't miss out on future posts like this – receive updates directly to your inbox by email by adding your email address here and hitting subscribe. You can also follow me on Twitter, BlogLovin or Networked Blogs and I'd love to see you over on my Facebook page and on Instagram.
You are invited to the Inlinkz link party!