Every week I share five frugal things that I've done during that week just to show you that the small things you do all add up to a great frugal lifestyle where you can learn to live a fabulously frugal life.
Before I start though, as always feel that I should say that being frugal to me is about getting the best value for our money – it's not about doing without for us or about not having nice things. We all have different financial situations and we're all frugal for different reasons. 😉
1) I shared on here a few weeks ago that after a discussion with Mr Frugal, we'd promised ourselves that we were going to do one thing a week to help our future selves with money which is probably something I should write a post about in itself but for now, I'll just keep sharing on here.
This week, I increased my additional pension contribution by 1% a month which is a super small number I know but my thought process is to gradually increase it so I don't really miss it and so it doesn't really feel like I'm paying more. I'm already doing the usual contribution of 3% plus an extra 3% so I know that an extra 1% isn't going to make a tremendous difference but it's a start.
My pension isn't my huge focus at the minute and it's just ticking over right now while we focus on other things. What I want to think about is getting this mortgage paid off so we can then free up the extra money each month for other grown-up things.
2) I made a lovely batch of my homemade linen spray this week which I've been meaning to do for a few weeks now as I miss it when I don't have any made. It's perfect for refreshing your sheets between washes during the week!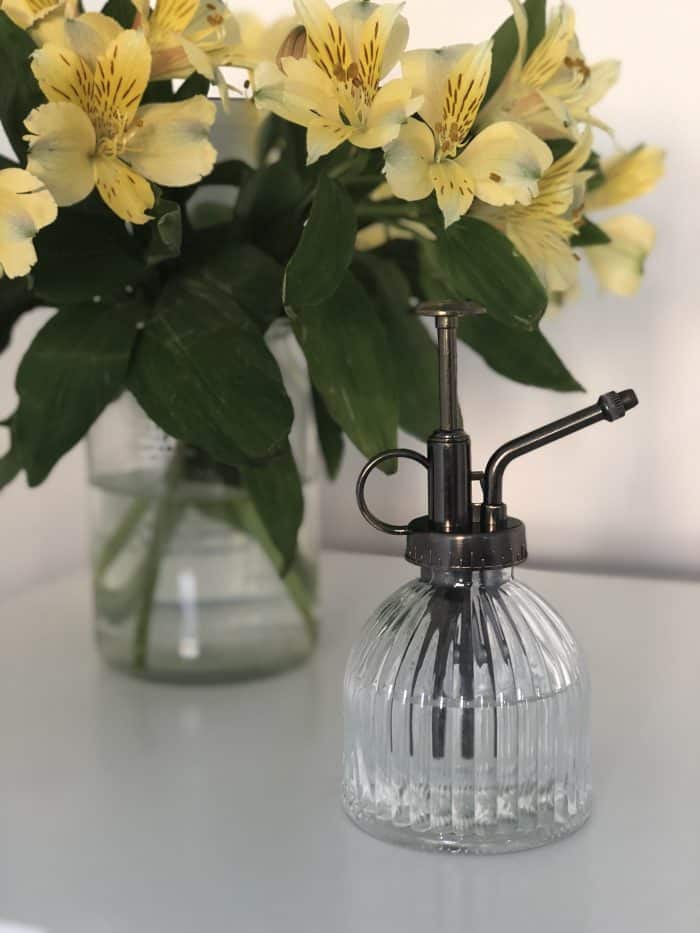 It takes about five minutes to make so I have no idea why I've left it so long to make another batch!
3) Did you see my post on Tuesday about Miss Frugal struggling to get a Summer job? She basically decided to run her own little business until one of the MANY jobs she's applied for comes through for her.
So, she's selling like crazy on eBay – at first, it was things she no longer needs or wants, then she moved on to things she thought other people in the house could live without. 😉
I mentioned in Tuesday's post that we went charity shop shopping at the weekend to find things for her to resell but what I didn't say was that, although we were looking for clothes she could re-sell for a profit, she ended the day with some new Next jeans, two Summer dresses and three new tops for herself for just under £11!
They're all what she classes as 'good' makes and they're all in excellent condition so she's pretty pleased with herself and I'm over the moon as I know we're going to need some new clothes for college and for her holidays as she's going away with her friend's family at the end of October.
She's not usually one for clothes from the charity shop really so this 360-degree change of mind could potentially save me a fortune.
Do you want to know what helped? The fact that we went a bit further afield and went to a pretty affluent small town to tour their charity shops. I'm telling you, it's a whole new world. 😉 So much of the shops' inventory was branded and we spotted everything from a Mulberry jumper to a Ralph Lauren Polo shirt with so much more in between.
4) Last weekend, Mr Frugal and I decided to spend the day together on a bit of a date day. We didn't really want to spend much money but we did want to spend some time together. We ended up going to the car boot sale on Sunday morning, then using our annual passes to Wynyard Hall Gardens, we spent a nice hour or so wandering around there.
After that, we stopped in at a friend's house for a while before heading home so we had an almost free date day as the only money we spent was on a book and some dog treats. 😉
5) We had a bit of a traumatic experience at home last night! Basically, Master Frugal somehow spilt juice over an extension lead which took out the power in our house!
We tried the usual things to get the power back on but we're not that technical so we ended up ringing around to try and find an electrician who would come out to us out of hours and help us fix it. The cheapest quote we got from someone who could actually get to us last night was £155 + VAT + the cost of any parts which was astronomical but we almost had no choice. I told the guy who quoted us that price that I'd call him back and tried ringing a couple of more people on the off chance that we could get the price down.
I managed to reach the loveliest guy who was actually on a job already and was too far away to get to us as he was working away. He actually offered to FaceTime us and see if he could talk us through the fix and unbelievably managed to help us get power restored – how lovely is that? He was literally on a construction site working overnight at Leeds train station and he took the time to help us. He saved us an absolute fortune!
Come over and join our fab Facebook group – Spend Less, Live Better!
As always, we'd love you to join in with us by sharing anything you've done that's been thrifty or frugal from your week – whether it's an Instagram picture (#5frugalthings), a blog post or even a video. Just add your link to the Frugal Friday linky at the bottom of this post.
You're more than welcome to copy and paste the badge above but it would be even better if you could let your readers know that you're linking up with the five frugal things linky by adding a little line to the bottom of your post like this one:
I'm linking up with this Cass, Emma and Becky in this week's 'Frugal Friday' linky.
Don't miss out on future posts like this – receive updates directly to your inbox by email by adding your email address here and hitting subscribe. You can also follow me on Twitter, BlogLovin or Networked Blogs and I'd love to see you over on my Facebook page and on Instagram.
You are invited to the Inlinkz link party!