Homemade linen spray is my new favourite thing!
Linen Spray isn't just for posh people. 😂
It also doesn't have to cost £45 like the linen spray I spotted in Jo Malone recently!
You can make your own homemade linen spray for a fraction of the cost of the sop bought brands and then you too can have posh person bedding without having to shell out the big bucks.
In all seriousness, homemade linen spray is literally just a mixture of water, witch hazel and your favourite essential oils! You literally pop all the ingredients in a bottle and shake them up and you're done – then you just need to spray it on your bedding and towels to give them a lovely smelling fresh scent between washes.
It takes about 2 minutes to make and since I made my first batch a few years ago, I've made it frequently using different essential oils depending on my mood at the time and used it at least daily on my bedding as I love it that much.
How to make your own Homemade Linen Spray
To make your homemade linen spray, you need the following to work out how much liquid your spray bottle holds – it's a 1:3 ratio so one part witch hazel to three parts water.
My super cute little spray bottle holds around 280ml but because you need to leave enough space to add in your essential oil and also to give everything a good shake before using, I always calculate my quantities to leave enough space in the bottle that they don't fill it right to the top.
60ml Witch hazel
180ml water
30 (ish) drops of your favourite essential oil (lavender is great for bedding as it's very relaxing but I often switch it up and go for the freshness of peppermint)
Mix everything together in your bottle and give it a good old shake!
Spray in a fine mix over your bedding and towels to refresh them between washes. I spray morning when I get up and evening at some point before we go to bed.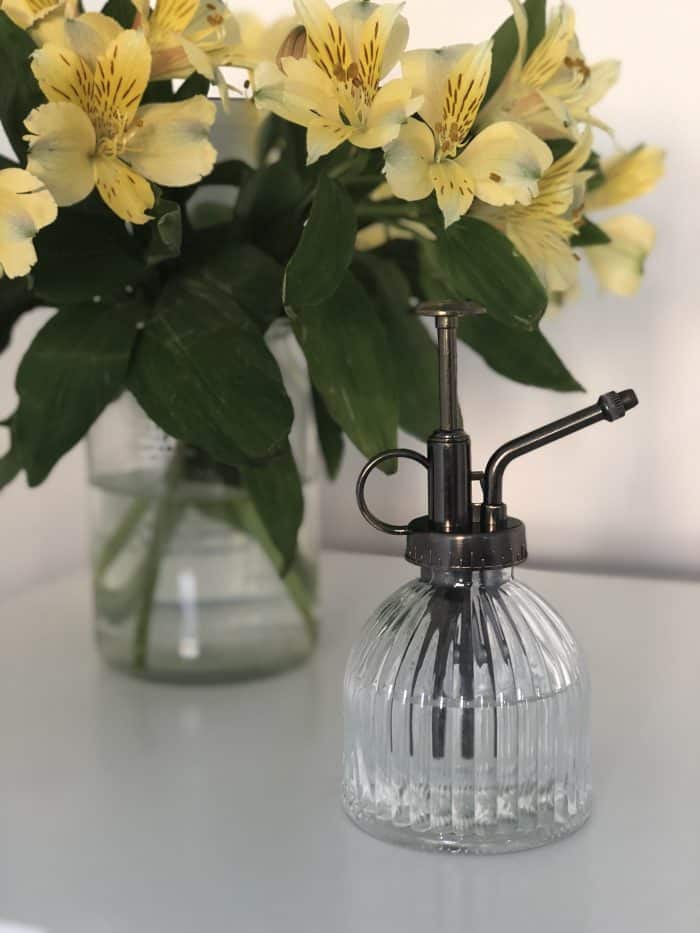 PS. As always, you should use caution whenever you're experimenting with essential oils. I've written a post here about the things you should be looking out for when using essential oils. I also included links to the bottles that I use for my Essential Oils DIYs because I always get questions about where you can get them from. I've never had an issue using any of my DIYs but before I used this homemade linen spray I still did a bit of a spray test on the corner of my bedding!
And if you like this, have a look at the rest of my homemade cleaning products here.
Don't miss out on future posts like this – receive updates directly to your inbox by email by adding your email address here and hitting subscribe. You can also follow me on Twitter, BlogLovin or Networked Blogs and I'd love to see you over on my Facebook page and on Instagram. You can find out more about me here.
Pin my refreshing homemade linen spray for later: