1) I've made a batch of my amazing candy cane spoons this week ready to go with my snowman soup which I make each year.  They look amazing and are great to stir any hot chocolate with!
I had a bit of a thing with candy canes last year and made everything from candy cane vodka to candy cane body scrub! I even tried to make a candy cane wreath too but that went a bit wrong!
2)  I was in Morrisons one night this week when the team were reducing the flowers and plants that were past their best and after being pushed aside by the 'professional' bargain hunters and witnessing one such pro grab a poinsettia out of someone else hands because she saw it first, I managed to get a couple of bargains of my own.
I bought two past saving peace lily plants.  Are you wondering why I would buy something that was past saving?  I bought them because the ceramic plant pots that they came in were really pretty – you can't see it too well in these pictures but they're quite large and a creamy white colour with a lovely geometric pattern on them.  Total bargain at 30p each!
3) Remember my lovely homemade room spray?
I made a Christmas version this week using 5 drops of Christmas spirit essential oil which I bought it our local chemists and 3 drops of peppermint but I love my usual room spray bottle that much that I just used that rather than buying a Christmas version!  I did find similar Christmas essential oils in Sainsbury's this week – they had a winter scented oil and a Christmas scented oil for about £3.00 each.
(If you want to know where the bottle is from – it's here.  I honestly get asked this at least twice a week so you all clearly love it as much as I do.)
4) I made a batch of Super Quick no cook Nutella fudge for Miss Frugal to take to school in little cellophane bags for her Christmas bake sale at school yesterday.
I don't have a photo of it in the cellophane bags as it was quite a last minute decision so we made the fudge on Wednesday night and had about three minutes on Thursday morning to chop into squares and pop in the bags before we had to rush out the door.  The cellophane bags we bought from Morrisons party section for about a pound if you're interested. 😉
5) This Christmas is our first Christmas ever where we're not only staying at home but we don't have anyone joining us for Christmas dinner.  We're not planning on having all of the traditional trimmings as we're not huge fans of all of it but I did buy a lovely joint of beef last night from Tesco because it was half price.  They had joints of all sizes going from £3.50 up to about £10.00 in the half price offer so if you're planning on beef for Christmas then definitely check this out.  You'll need to pop it in the freezer though as the use by dates were all before the 24th December.
As usual, we've been having some really good discussions this week over in our Live Well, Spend Less Facebook group.  We'd love to welcome you to our little community if you fancy popping in.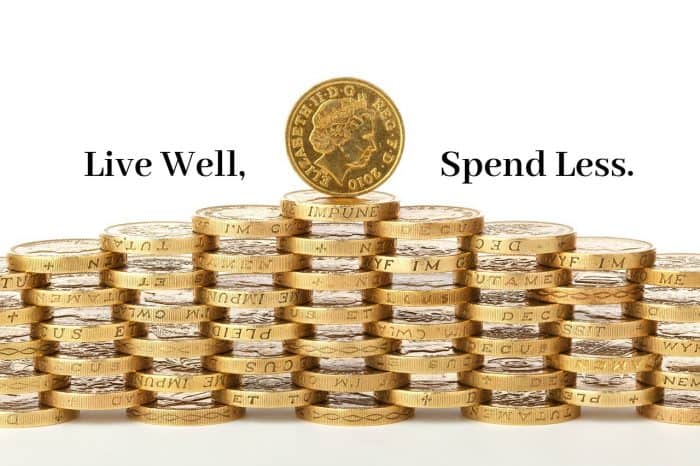 As always, we'd love you to join in with us by sharing what frugal and thrifty things you've been up to this week – whether it's an Instagram picture (#5frugalthings), a blog post or even a video.  Just add your link to the linky at the bottom of this post.
You don't have to share five things you've done, anything thrifty or frugal that you've been doing is perfect.
You're more than welcome to copy and paste the badge above but it would be even better if you could let your readers know that you're linking up with us by adding a little line to the bottom of your post like this one:
I'm linking up with this Cass, Emma and Becky in this week's 'Five Fabulously Frugal things I've done this week' linky.
Don't miss out on future posts like this – receive updates directly to your inbox by email by adding your email address here and hitting subscribe. You can also follow me on Twitter, BlogLovin or Networked Blogs and I'd love to see you over on my Facebook page and on Instagram.