Every week I share five frugal things that I've done during that week just to show you that the small things you do all add up to a great frugal lifestyle where you can learn to live a fabulously frugal life.
Last Sunday I was lucky enough to travel to San Fransisco for a short break and as this post goes live, I'm currently in the air somewhere over the ocean (all being well) flying home.  I wrote this in the Airport as I got there ridiculously early thanks to a mixture of my fear of missing the flight, my excitement to be coming home to see the kids and my exhaustion from trying to cram so much into a four-night trip.
This week's Five Frugal Things
I'll share more about my trip over the next few weeks but in the meantime, I thought I'd share a few things that I did to save money while I was here:
Uber
1) I downloaded the Uber app before I went away because I knew there were times when I was here that public transport and walking wouldn't be ideal – getting from the airport to the hotel after a ten-hour flight and getting to Pinterest for 8 am on  Tuesday morning for example.  I googled for a discount code and managed to find a code that gave me a discount on my first couple of rides which meant that the airport transfer was around £20 and the morning drop off to Pinterest was about £3.
The moral of this story is to ALWAYS check for discount codes – no matter what it is!  Just google the words discount code and the company you want!
Eating in and not out
2) One of the first things I did when I checked in was to ask where the nearest food market was and once I'd finished unpacking, I headed there to stock up on water, Pepsi Max and a few snacks to pop in the fridge in my hotel room.  For three of the four nights, I was there for I walked there and bought something for my tea rather than eating out.
I ate a few of the free pastries that the hotel offer for breakfast and for lunches I had a hot dog in Union Square on my first day, lunch with Pinterest on two of the days and a Chipotle on my last day.
My only food splurges were two trips to the Cheesecake Factory where I bought a celebration Cheesecake on my first night and a Reeces Peanut Butter Cheesecake two nights later – the slices were so big that I only ate about a third before popping it in the fridge for the next night's tea when I would eat a bit more.
Discounted sightseeing
3) I bought a ticket for an open-topped bus for one day because it was genuinely the cheapest and most convenient way to see everything I wanted to see.  The open-topped buses are everywhere and for just me traveling on m own, it made total sense to buy a day ticket.  The bus took me to all of the sights I wanted to see and I could get off at any of them to explore a bit more.  I even managed to get $10 off my ticket price by asking if they had any deals on so for $35 dollars I visited all of the places that were on my must-see list with an excellent tour guide pointing out so many interesting sites along the way that weren't on my list of things to see but I'm glad I saw them.
I would get off at a stop and explore until the next bus came along half an hour later which was perfect for me and the journey even took us on a drive across the Golden Gate Bridge itself which is something I never thought I would get to do.
It's quite hard to be a money-saver when you're on holiday so I'm definitely struggling a little bit with 4 and 5 today!
Buying snacks in advance
4)  Does it count that I bought a few snacks from the shop near the hotel so I won't be tempted to buy any on the plane?  I have a Graze flapjack and some Graze Tropical Nut mix which were two for $3 and will definitely tide me over between meals on the flight if I do get hungry.  I've also bought a bottle of water but that's not particularly money saving as you can only buy them after you get through the security check (nothing over 100ml gets through) and the prices are astronomical in the departures lounge.
Daily budgeting
5) I didn't bring that much money with me as it was a last minute trip but what I did bring, I counted into five piles and put each pile into an envelope so I had one envelope for each day.  I've had money left over at the end of every day and I only spent half of the money I came with which in my eyes, is a huge win – although the duty free shop is calling me right now so I'm going to have to keep busy for the next two hours or else I could be tempted!
As usual, we've been having some really good discussions this week over in our Live Well, Spend Less Facebook group.  We'd love to welcome you to our little community if you fancy popping in.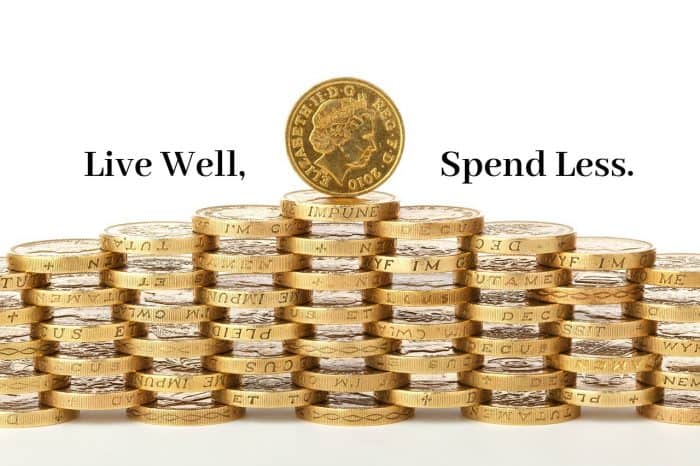 As always, we'd love you to join in with us by sharing your five frugal things from your week – whether it's an Instagram picture (#5frugalthings), a blog post or even a video.  Just add your link to the linky at the bottom of this post.
You don't have to share five things you've done, anything thrifty or frugal that you've been doing is perfect.  In fact, if it saved you money in any way then do link up with us.
You're more than welcome to copy and paste the badge above but it would be even better if you could let your readers know that you're linking up with the five frugal things linky by adding a little line to the bottom of your post like this one:
I'm linking up with this Cass, Emma and Becky in this week's 'Five Frugal things I've done this week' linky.
Don't miss out on future posts like this – receive updates directly to your inbox by email by adding your email address here and hitting subscribe. You can also follow me on Twitter, BlogLovin or Networked Blogs and I'd love to see you over on my Facebook page and on Instagram.