I posted our meal plan last week over on Meal Planning Made Easy and today, I thought I'd do something a bit different and show you how well we did at sticking to it.
Monday
Planned: Avocado on Toast / Actually had: Mushroom Omelette
Tuesday
Planned: Fajitas/ Actually had: Fajitas
(For the next three days, there are no photos as I completely forgot about this post!)
Wednesday
Planned: Chicken Curry / Actually had: Quorn curry
I totally forgot to take a photo of this one but basically, I used the chicken in the faitas last night and hadn't bought enough to do the curry too so I used some Quorn vegetarian steak strips which were cooked with mushrooms, red onion and some butternut squash.
Thursday
Planned: Giant Filled Yorkshires / Actually had: Giant Filled Yorkshires
I got a couple of tubs of batched cooked casserole out of the freezer on Wednesday night and let them defrost in the freezer overnight so all I had to do was heat them up in the over the next day and pour them into giant Yorkshire puddings the next day. I tend to put a lot of veg and potato into my stews so I can do exactly this and don't need to make anything to go on the side.
Friday
Planned: Homemade Chicken Parmo / Actually had: Beans on toast with bacon and egg on top
I have no idea what this looked like or even what it tasted like because I was at work and it was a Mr Frugal creation. 😉 I ended up doing some overtime unexpectedly so my Friday actually consisted of waking up, driving to work, working a 12 hour day, driving home and then bed. It's not something that usually happens but unfortunately, it was a busy day and if I'd have left on time then my Monday wouldn't have been pretty so I stayed until I was done.
Saturday
Planned: Instant Pot Chicken and Rice / Actually had: Obviously we had Instant Pot Chicken and Rice
We always have a variation of our Instant Pot Chicken and Rice for tea on Saturday and this week we used Peri Peri Spice, green and yellow peppers, red onion and chicken. We went all posh and served it on a bed of rocket (mainly because we got a pack of rocket reduced to 20p) and it tasted AMAZING!
Sunday
Planned: Toad in the hole / Actually had: Homemade Chicken Parmo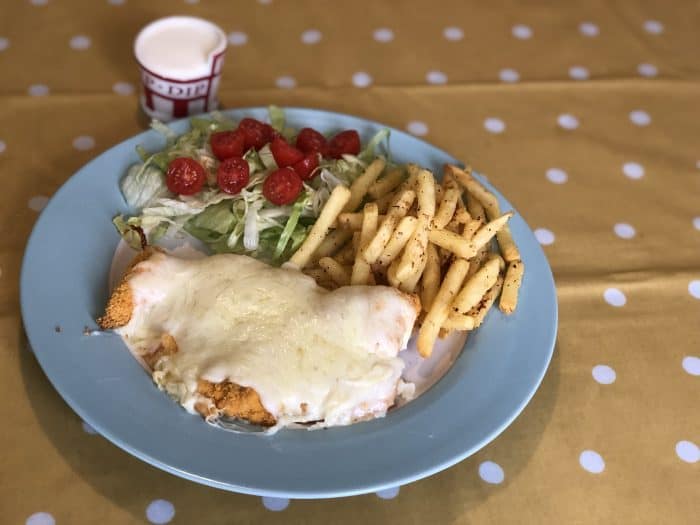 Oh my goodness, this was amazing! I'll be sharing my recipe in the next week or so because I know you're going to love it!
And that, my friends, is what we ate last week.
Don't miss out on future posts like this – receive updates directly to your inbox by email by adding your email address here and hitting subscribe. You can also follow me on Twitter or BlogLovin and I'd love to see you over on my Facebook page and on Instagram. If you're interested, you can find out more about me here. 😉