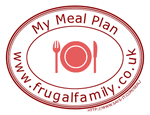 I may have mentioned that I'm now off work for TWO WHOLE WEEKS (not that I'm excited or anything), we've got loads planned and Mr Frugal's neice is coming to stay for a week so I thought it would be an ideal time to get back in to my meal planning.  If I don't have something planned for our meals I can see us spending a fortune (which we don't have) in the next few weeks. We've got loads of days out and a couple of days at Haggerston Castle planned so my plan might look a little bit all over the place but bear with me 😉 
Saturday – Homemade Pizza
Sunday – Away at Drayton Manor so we need to pack a picnic to take.  I'll do a post later on about our frugal picnic plans.
Monday – Travelling back from Drayton Manor – Home made Macaroni Cheese when we get back. 
Tuesday – Freezer tea for the kids (Chicken nuggets, fishfingers or something along those line).  Oven baked risotto for us grown ups.
Wednesday – Home made wraps – Ham, cheese or tuna for the kids and cajun spicy chicken for the grown ups.
Thursday – Jambalaya
Friday – Monday – Haggerston Castle (Now that's a whole other meal plan as we'll be taking all our own food)I'm going to try and empty the cupboards and freezer a bit as we seem to have loads of half packs of stuff and odd bits here and there.