Every week I share five frugal things that I've done during that week just to show you that the small things you do all add up to a great frugal lifestyle where you can learn to live a fabulously frugal life.
Hey! 👐
1) If we're talking about getting life back to normal then one of the best ways to do that is to start this post off in my favourite way…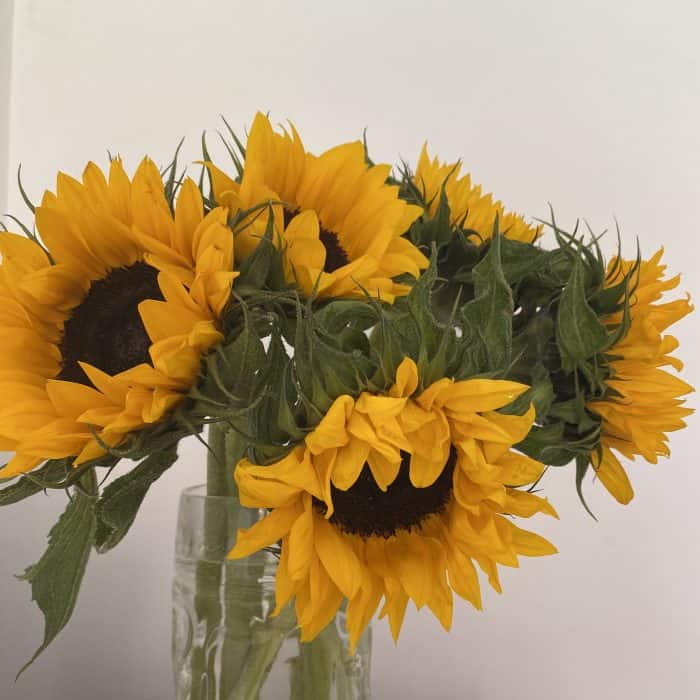 I've definitely seen happier looking bunches of flowers but these Sunflowers were reduced to the bargain price of £1.50 and they've been brightening up my kitchen for the last five days!
2) I'm still doing as much overtime as I can at work while it lasts and trying to be super sensible with the extra money that I'm seeing in my pay each month. It was payday this week and I went straight in and did sensible things with the extra so I wouldn't be tempted to waste it or do something extravagant (like buy a handbag) with the money.
3) Did you catch my homemade reed diffuser post this week?
It's cheap to make and really effective – I've got a peppermint one in my downstairs toilet and this week's lavender-scented one on my bedroom windowsill. Mine is cheaper than shop-bought ones when you consider that the almond oil I buy will last me for a while as I buy a litre bottle for £12.99 and only use around 75ml each time I make one of these and even better, it can be customised to fit in with wherever I want it to go in the house!
4) I made a batch of mini egg muffins last night – they're basically baby quiches with no pastry crust and they freeze amazingly well so they're fab to make ahead for breakfasts.
I used some leftover sausages chopped up super small with some broccoli, cheese and some chopped up mini hash browns that we had leftover from our indoor barbecue night on Wednesday. They're all stashed in the freezer now ready for quick and healthy breakfasts on the go!
5) My credit score has increased to 976 from 925 which is where it was in May when I shared my goal to get into the Excellent section
I'm not really sure I did too much here to be fair although by checking every month, I know I'm doing the best thing for my finances as I can act quickly if I see an issue.
Come over and join our fab Facebook group – Spend Less, Live Better! We've hit 30,000 members in the group now so it's a great place to be
As always, we'd love you to join in with us by sharing anything you've done that's been thrifty or frugal from your week – whether it's an Instagram picture (#5frugalthings), a blog post or even a video. Just add your link to the Frugal Friday linky at the bottom of this post.
You're more than welcome to copy and paste the badge above but it would be even better if you could let your readers know that you're linking up with the five frugal things linky by adding a little line to the bottom of your post like this one:
I'm linking up with this Cass, Emma and Becky in this week's 'Frugal Friday' linky.
Don't miss out on future posts like this – receive updates directly to your inbox by email by adding your email address here and hitting subscribe. You can also follow me on Twitter, BlogLovin or Networked Blogs and I'd love to see you over on my Facebook page and on Instagram.
You are invited to the Inlinkz link party!