Every week I share five frugal things that I've done during that week just to show you that the small things you do all add up to a great frugal lifestyle where you can learn to live a fabulously frugal life.
Hey! 👐
1) I have two cheap Ikea bedside cabinets that are in great condition everywhere other than the top so I thought I'd whip out the sticky-backed plastic and give them a cheeky revamp! They look amazing even if I do say so myself!
The sticky-backed plastic was from B&Q and cost £5 for a 2 metre roll and it's a black leather effect style which really makes the finished cabinets look so much more expensive than they did before! They sell all sorts of different styles and patterns – metallic, marble, leather effect and wood so there's something for all projects.
2) I've got a recipe lined up to share with you tomorrow for three-ingredient Kinder Fudge which was made by Master Frugal but worked out so well that I've just ordered some cute little cellophane bags from Amazon with the intention of making it again for Christmas for some little neighbour gifts.
3) Master Frugal bought himself a pair of trainers this week which are cream! Cream trainers for a 16-year-old boy are never going to end well but luckily, I have a supply of Crep which is a spray that you can buy which helps to repel rain and liquids making it harder for them to soak into your shoes and therefore, harder to stain them.
I always used to say no when I was offered it at the till points whenever I bought a pair of trainers for the kids but I ended up buying a can once and I always keep some in my cupboard now as it really does work. It can't work miracles but it definitely keeps the kids' trainers looking fresh for longer so I usually buy one a can off Amazon and spray all of our trainers every couple of months.
I usually buy it from Amazon but always Google Crep spray before I do as some random places often have it on offer. I think the last lot I bought was from Asos for around £7 which seems like a lot but when you consider that it protects your shoes and extends the life of them then it's absolutely worth it to me. One of those things where you spend to save.
4) You're going to love this one! There was just me for tea on Monday this week and I messaged my friend a picture of my spare pumpkin pie and told her that if she fed me for tea then I'd bring a pie for pudding.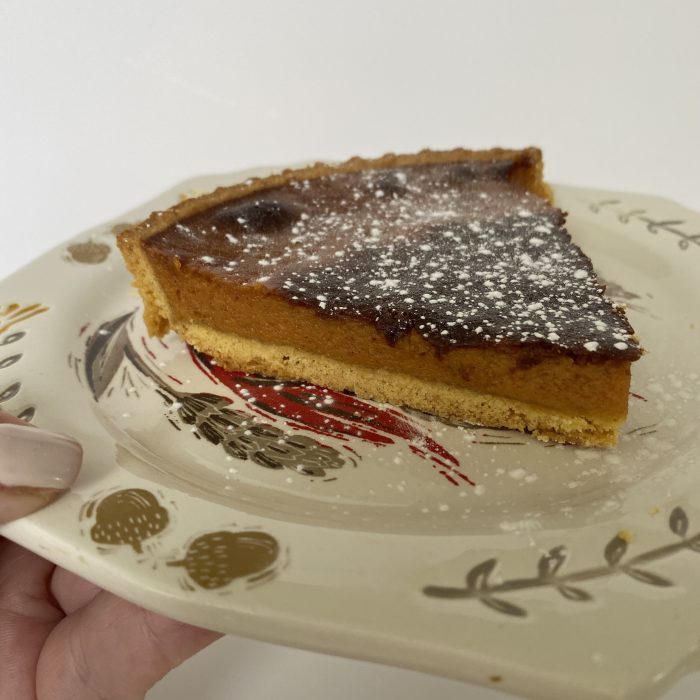 So in exchange for the pie that I had spare (my mix made two rather than one), I got lasagne with a gorgeous salad and some garlic bread along with some lovely company for a couple of hours.
5) I know you're probably sick of me mentioning Vinted every week but after selling the Jacques Vert dress I bought from our local charity shop a couple of weeks ago for a tidy little profit (£2o for about three minutes work), I decided to have a look for some other things that I could sell on for a profit and I definitely hit the jackpot with some of the things I found. The first thing was a brand new with tags Joanna Hope dress which I bought for £3.75 and have listed on Vinted for £15.
I also bought a nice Roman top that I bought for £3.00 and sold for £6.00 and a sparkly Evans party dress that I bought for £3.00 and sold for £6.50 within an hour of listing. I'm never going to make my fortune but considering I enjoy looking in charity shops for things for me so picking up the odd thing to sell on Vinted is just an added bonus.
At the minute, I'm looking for party dresses because that's something that I'm searching for now with Christmas coming up so I'm presuming that's what others will be doing too. I also look for brands that I know sell well but mainly try and buy things that have the tags on still which are way more common than you'd think!
Here's my how to sell on Vinted post if you want to have a go yourself – there's no fees to sell and the postage is super easy as you just drop it into your local Hermes drop off point (or at least that's the way I do it) when you sell something.
Come over and join our fab Facebook group – Spend Less, Live Better! We've hit 35,000 members in the group now so it's a great place to be and I've got Miss Frugal in there helping me out now.
As always, we'd love you to join in with us by sharing anything you've done that's been thrifty or frugal from your week – whether it's an Instagram picture (#5frugalthings), a blog post or even a video. Just add your link to the Frugal Friday linky at the bottom of this post.
You're more than welcome to copy and paste the badge above but it would be even better if you could let your readers know that you're linking up with the five frugal things linky by adding a little line to the bottom of your post like this one:
I'm linking up with this Cass, Emma and Becky in this week's 'Frugal Friday' linky.
Don't miss out on future posts like this – receive updates directly to your inbox by email by adding your email address here and hitting subscribe. You can also follow me on Twitter or BlogLovin and I'd love to see you over on my Facebook page and on Instagram. If you're interested, you can find out more about me here. 😉
You are invited to the Inlinkz link party!