It's beginning to look a lot like Christmas so we've gone all festive for this week's five frugal things post…
1) Master Frugal has asked us to buy him for Christmas is an Xbox game and whilst I have no problem buying it for him for Christmas, I did ask him if he had any old games that he didn't play on anymore that I could take back to get it a bit cheaper. At this age, with only two presents on his wishlist, he knows he's getting it so I don't feel like I ruined a surprise of anything and the games he gave me to take back meant that I bought the game for just £8 which just means he gets what he wants and the savings mean he can have even more. 😉
2) I haven't got our Christmas decorations out yet but I have been organising the new photo ledges that I bought from Ikea.  It was a bit traumatic trying to get photos sorted that everyone liked but one thing that was easy to do was the quote picture that you can see in it.
(this is the worst photo ever I know but I'm writing about my photo traumas in the next week or so and I'll take better photos then)
I basically just used Canva, selected an A4 sized template and used a nice font for the words (which I found by browsing Pinterest for a motivational quote) and then printed it out and popped it in a super cheap IKEA frame.
If you click on the image then you'll go to the A4 print quality page.
3) I had my eye on something in Boots that I wanted to buy for Miss Frugal and I mentioned it to a friend at work who said she wanted to get the same for her daughter too.  She also had something else to buy for her other daughter so we decided to club together and go for the 3 for 2 offer which meant I got the £30 gift (which shall not be named ;-)) for just £20.
4) We've been working our way through the list of family activity in my 20 free things to do together at Christmas post and last night, we hand delivered four Christmas cards to friends and family who live near us and had a lovely little catch up with each of them.  We were only out for a couple of ours but it was lovely.
5) I love the smell of cinnamon at any time of year but it seems even more appropriate at Christmas but my homemade cinnamon stick decorations aren't too cinnamon smelly as I made them last year and the year before last.  Instead of making new ones just to have them smell nice, I used the dropper on my Christmas scented essential oil to drop 4 or 5 drops on the back of each of the decorations so they smell lovely again.  I bought my Christmas essential oil at my little chemist for £2.25 and it's amazing – kind of a mix of cinnamon/ginger/orange along with something else that I can't identify and the bottle just has it as 'Christmas' scented.
As usual, we've been having some really good discussions this week over in our Live Well, Spend Less Facebook group.  We'd love to welcome you into our little community if you fancy popping in.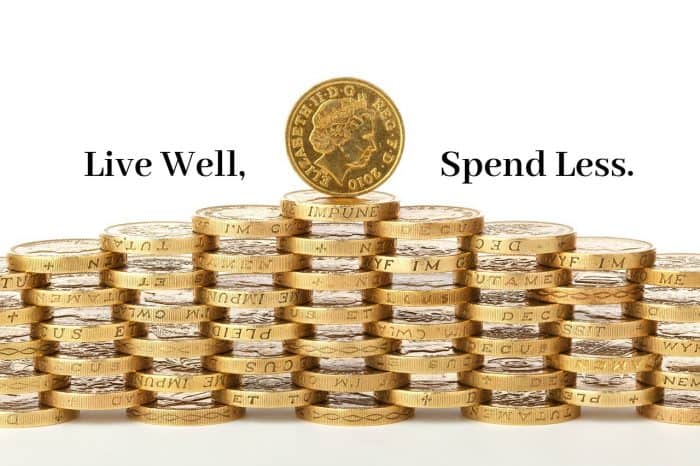 As always, we'd love you to join in with us by sharing what frugal and thrifty things you've been up to this week – whether it's an Instagram picture (#5frugalthings), a blog post or even a video.  Just add your link to the linky at the bottom of this post.
You don't have to share five things you've done, anything thrifty or frugal that you've been doing is perfect.
You're more than welcome to copy and paste the badge above but it would be even better if you could let your readers know that you're linking up with us by adding a little line to the bottom of your post like this one:
I'm linking up with this Cass, Emma and Becky in this week's 'Five Fabulously Frugal things I've done this week' linky.
Don't miss out on future posts like this – receive updates directly to your inbox by email by adding your email address here and hitting subscribe. You can also follow me on Twitter, BlogLovin or Networked Blogs and I'd love to see you over on my Facebook page and on Instagram.