Every week I share five frugal things that I've done during that week just to show you that the small things you do all add up to a great frugal lifestyle where you can learn to live a fabulously frugal life.
1) Master Frugal is taking GCSE Food Tech and some of the ingredients he is asked to take in are a bit random but so far, we've had a lot of them in the house already so haven't had to spend a fortune like some parents might have had to do. Monday's recipe needed no less than six different herbs and spiced and we had every single one of them in our cupboard – good job really as I really would have begrudged buying a jar of herbs for just 1 teaspoon's worth.
It's definitely worth building up a bit of a store cupboard of ingredients – and not just if your child is studying food tech. 😉
2) I'm still going to Slimming World every week and doing OK so far. I'm not one of those people who have big losses each week because I am quite laid back with it and do have the odd extra treat here and there (wine and chocolate mainly) but I'm doing well enough that some clothes I've bought in the past that didn't quite fit now fit really nicely so I feel like I've gained some new clothes.
3) Did you see my homemade wood polish yesterday?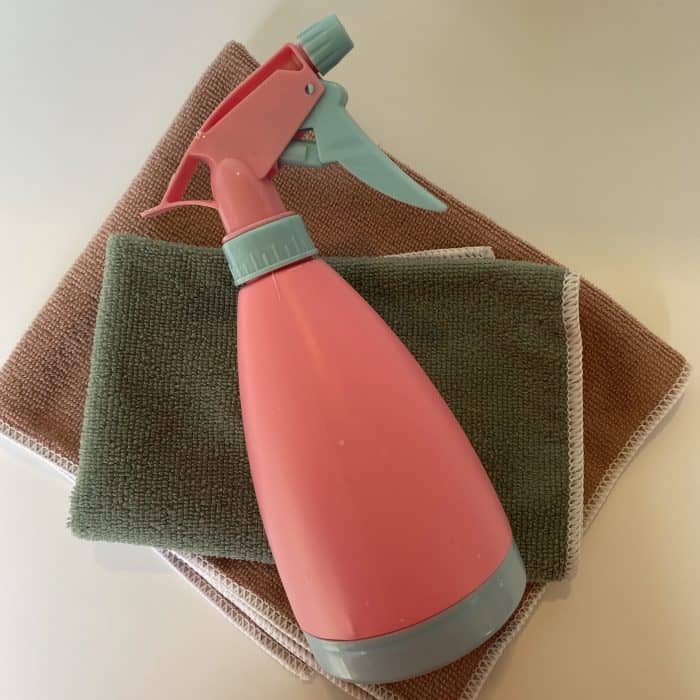 I made a batch of my homemade wood polish and, using a microfiber cloth, gave my dark wood bannisters a really good wipe down using it. It smells amazing and they really do look good – you'd be surprised how much dirt you get off bannisters when they don't even look that dirty!
4) This is an odd one that you'll either love or hate!
I made a quick pie using a tin of stewing steak in gravy, a tin of sweetcorn and a tin of peas as the filling and for the topping, I used some reduced pease pudding that I got from the shop. I mixed it with an egg and spooned it on to the top of the pie before popping it in the oven until it was crispy and starting to brown.
It was an idea I got from Slimming World so it's actually Slimming World friendly and I guarantee it tastes nicer than it sounds and looks.
5) I've taught Master Frugal to make bread using the breadmaker so twice this week I've been lucky enough to come home to a freshly baked loaf of bread. I use a super easy bread recipe so it's easy for him to follow and he finds it easy enough that he can whip one up in no time at all.
We had soup with it on Monday and made toasties last night!
Come over and join our fab Facebook group – Spend Less, Live Better! We've hit 30,000 members in the group now so it's a great place to be
As always, we'd love you to join in with us by sharing anything you've done that's been thrifty or frugal from your week – whether it's an Instagram picture (#5frugalthings), a blog post or even a video. Just add your link to the Frugal Friday linky at the bottom of this post.
You're more than welcome to copy and paste the badge above but it would be even better if you could let your readers know that you're linking up with the five frugal things linky by adding a little line to the bottom of your post like this one:
I'm linking up with this Cass, Emma and Becky in this week's 'Frugal Friday' linky.
Don't miss out on future posts like this – receive updates directly to your inbox by email by adding your email address here and hitting subscribe. You can also follow me on Twitter, BlogLovin or Networked Blogs and I'd love to see you over on my Facebook page and on Instagram.
You are invited to the Inlinkz link party!