Over the last year or so I've been experimenting more and more with homemade cleaning products. Today, I'm sharing my latest creation – homemade DIY wood polish.
I have lovely dark wood bannisters which can look quite grubby quite quickly thanks to the kids often grubby hands so they need a regular wipe down and polish to keep them looking as lovely as I want them to.
I really love my homemade cleaning spray but for my bannisters, I wanted something that would leave a little bit of a shine on the wood so I tried adding some olive oil to the mix.
I had a disaster with the first batch as I put way too much olive oil into the mix which made the table super greasy but I think the combinations that I've ended up with work really well and leave just the right amount of clean shine on the wood.
Also, I should say that whilst I do usually use orange essential oils for this, I have dug out my tea tree oil to use in my next batch as that's got anti-bacterial properties
As always, please remember to be a little bit cautious when using essential oils and always test on a small (preferably unseen) – I wrote a post here that I recommend reading. I even share where my collection of spray bottles are from. 😉
Homemade DIY Wood Polish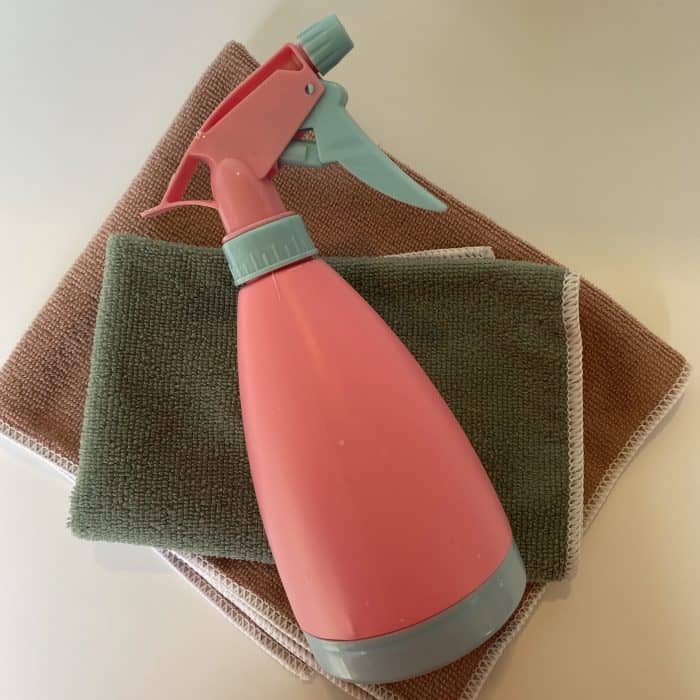 Homemade Wood Polish
3 tablespoons olive oil 3 tablespoons olive oil
200ml vinegar (I use apple cider vinegar as that's best for dark wood which I have but white vinegar is best for lighter wood)
30 drops of orange essential oil 30 drops of orange essential oil
A spray bottle
There's nothing complicated about making your own homemade wood polish – just add everything to your bottle and give it a good shake.
To use, just spray a light layer onto your wooden surface and use a soft cloth (like a duster or microfibre cloth) to rub into the surface.
How easy is that?
And if you like this, have a look at the rest of my homemade cleaning products here.
Don't miss out on future posts like this – receive updates directly to your inbox by email by adding your email address here and hitting subscribe. You can also follow me on Twitter, BlogLovin or Networked Blogs and I'd love to see you over on my Facebook page and on Instagram. You can find out more about me here.

Pin my Homemade wood polish for later: