Every week I share five frugal things that I've done during that week just to show you that the small things you do all add up to a great frugal lifestyle where you can learn to live a fabulously frugal life.
Before I start though, I do want to say that being frugal to me is about getting the best value for our money – it's not about doing without for us or about not having nice things.  We all have different financial situations and we're all frugal for different reasons – we're frugal so we can afford to do nice things together.
Just in case you're interested – I posted my homemade linen spray recipe yesterday!
1) Remember my new favourite drink last week – the infused water with mint leaves and wedges of orange in it?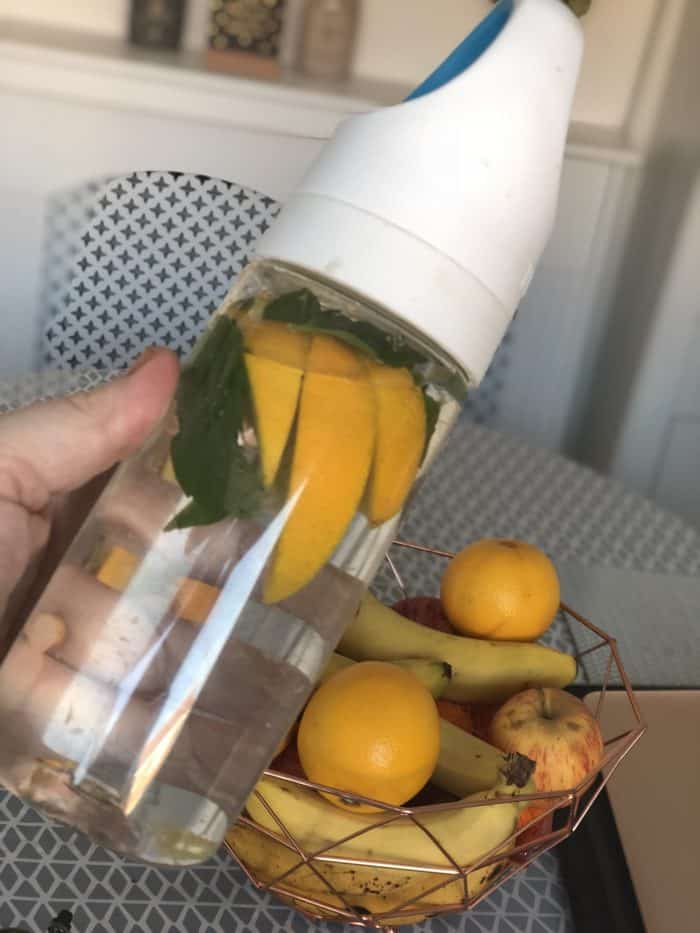 Well, I've been drinking rather a lot of it and my mint plant is struggling to keep up with my mint consumption. 😉
I found a bag of reduced price mint leaves when I went to the shop the other day so I picked that up for 10p and popped the leaves into a resealable sandwich bag to throw in the freezer so I can let my little mint plant replenish without having to do without my new favourite drink!
2) I'm working through most of the holidays this year and have been away a couple of times so far with work but it's all good because I deliberately didn't put many holidays in as I knew the kids would be all over with their friends this Summer.  They've had a little extra pocket money because they're out and about so much more than usual but on the whole, it's been a cheap couple of weeks so far considering how much fun they've had.
We live so close to the beach that there's been a lot of days spent on the beach, there's been football on a local field with friends, trips to the woods, the park and even a few hill climbs – all with friends and not me.  You'd think that would make me sad but it really doesn't, I love that they're getting up to so much and that they're so independent and I also love that I can work through most of the holidays without feeling guilty as it's a really busy time for me.
Let's hope this continues for the rest of the Summer and I might even have some change from my Summer Fun budget.
3) Last weekend, Mr Frugal suggested a date night to the cinema as we're trying to make a conscious effort to do more things together and one thing we always used to do was go to the pictures.  Our favourite cinema, which is super cheap and super pretty, has closed down for the foreseeable future so our only option to go to the pictures now is to the local multiscreen and pay a small fortune to see a film that I wasn't even that bothered about watching.
It was a lovely idea but I was honest and said that I really wasn't that bothered about spending money to go see a film just for the sake of it and that I'd rather do something else together and we decided that we'd put our heads together and see what we could come up with.
He took matters into his own hands though and used his money (remember from last week that we thought of a solution to me nagging at him about spending money – the equivalent of adult pocket money) to buy a game for the XBox that we used to play together when we first got together.
I'm not usually a gamer but we used to play this loads and had so many laughs playing it on the old Nintendo Gamecube we used to have in our first house.  He bought it so we could spend date night at home reliving the fun we used to have!
And yes, I know it's not all that money saving as it's an XBox game bought but it wasn't bought out of our family budget, it cost less than half of what a trip to the cinema would have cost and we'll use it over and over!  😉
4) I made a big batch of soup last Sunday when I found some reduced price pre-prepared vegetable soup mix for just 19p.  I bought two packets and Miss Frugal and I had soup and baguette for tea one night, I added a couple of portions to the freezer and have popped a jug full in the door of the fridge for a couple of days.
I'm trying to do Slimming World so having some yummy soup ready to go in the fridge is brilliant – I just pour a small bowl and heat it up when I'm hungry.
5) I'm really trying to make an effort to overpay my mortgage so we can pay it off as quickly as we can and we do have a regular overpayment standing order set up as I've probably mentioned a few times but I've also set it up so I can transfer from my main bank account using the app on my phone.
I've made it as easy as possible to make overpayments so I can literally transfer the money to my mortgage account in seconds – if it wasn't quick and easy then I'd be less inclined to make anything extra over and above the regular standing order and my usual monthly payment.
This week I transferred £10 as an extra payment which isn't much I know but it all adds up.  Just to give you an idea of how the little amounts do add up, I used my favourite overpayment calculator to show you how much that £10 is going to save me in my overall mortgage.
So, my £10 will not only reduce the balance by £10, it will also save me £25 in interest.
As usual, we've been having some really good discussions this week over in our Live Well, Spend Less Facebook group.  We'd love to welcome you to our little community if you fancy popping in.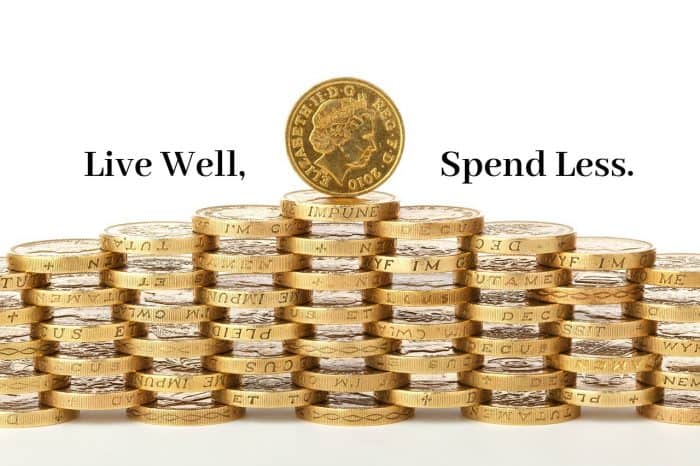 As always, we'd love you to join in with us by sharing your five frugal things from week – whether it's an Instagram picture (#5frugalthings), a blog post or even a video.  Just add your link to the linky at the bottom of this post.
You don't have to share five things you've done, anything thrifty or frugal that you've been doing is perfect.
You're more than welcome to copy and paste the badge above but it would be even better if you could let your readers know that you're linking up with the five frugal things linky by adding a little line to the bottom of your post like this one:
I'm linking up with this Cass, Emma and Becky in this week's 'Five Frugal things I've done this week' linky.
Don't miss out on future posts like this – receive updates directly to your inbox by email by adding your email address here and hitting subscribe. You can also follow me on Twitter, BlogLovin or Networked Blogs and I'd love to see you over on my Facebook page and on Instagram.