Every week I share five frugal things that I've done during that week just to show you that the small things you do all add up to a great frugal lifestyle where you can learn to live a fabulously frugal life.
Before I start though, I do want to say that being frugal to me is about getting the best value for our money – it's not about doing without for us or about not having nice things.  We all have different financial situations and we're all frugal for different reasons – we're frugal so we can afford to do nice things together.
I missed last week's five frugal things post completely which I think is the first time I've done since I first started writing these weekly posts all those years ago.  I missed it because my head was so full of ideas and thoughts about all things life and blogging that I just couldn't seem to focus on writing an actual post. 🙂
I ended up spending some time on putting my thoughts down on paper, writing a blog post (obviously),  making a few plans and more importantly, going out for ice cream and a paddle in the river.  I feel a lot more settled now and as I sat by the river last weekend making a mess with my ice cream dripping all over me, I felt happier than I have in a long time which is an odd thing to say I know as I haven't been unhappy exactly.
Anyway, that's not what today's post is all about, today is about what I've done this week to save a little bit of money or to be thrifty and frugal so let's get on to that…. 😉
1) You know how much I love to start these posts by sharing bargain flowers with you and these lovely gladioli cost 69p and have been brightening up a corner of my kitchen for the last three days…
I didn't have a vase tall enough for them so I used a huge glass I seem to have acquired.
Honestly, fresh flowers make me happy and some people might see them as a waste of money but not me!  I only ever buy reduced flowers and I do look for ones that will last me but I enjoy the pleasure that fresh flowers bring me so they're worth every penny when I find a yellow sticker bargain like these beauties!
2) If you did see last week's life update post then you'll know that one of the things I mentioned, in addition to setting up a new travel blog was that I really wanted to start posting again on my very much neglected meal planning blog again.  I'm going to start sharing my weekly meal plans over there as a starter and last Sunday, I shared the first one…
It's nothing flash this week but I've stuck to it so far and my vague thoughts for next week's meal plan even includes a meal I've never cooked before!  Maybe.  😉
3) It was payday this week although most of our bills don't come out until the 1st of the month.  We now have a standing order set up to transfer Miss Frugal's pocket money into her bank account and also one set up for a bank account that Mr Frugal has opened in his name only.
We had a long chat about opening an account in his name because we've always been of the belief that once we got married (and before to be honest) everything was joint.  It was my idea to do this because one thing that annoys me about Mr Frugal is the things he likes to spend money on – Xbox games are a prime example.  Have you seen how much they cost these days?
I don't begrudge him spending money he's worked hard for but to me, things like this are just a waste of money and it winds me up even though I know it shouldn't.  So, rather than me keep getting annoyed about something he's perfectly entitled to do as long as we can afford it, I suggested opening a basic bank account in his name and transferring an amount of money each month into that account.  That way, I don't even need to know if he's buying a game or some other crap and he doesn't need to feel bad about buying something that he's worked hard for.
He opened his account using a refer a friend code from one of his friends and will get a £50 bonus when he's had it open for three months I think.
As well as those two standing orders, I also paid an extra £50 off our mortgage this month in addition to the £200 we currently overpay by each month.  I was hoping to pay more but I suspect it's going to be an expensive month so I left it at that.
4) Last month, I went to London with work for the weekend and while I was there I discovered my new favourite drink which I think was from M&S and was just some segments of orange and a sprig of mint in a bottle of water.  Here's me posing for Insta in front of Marble Arch with it…
And here's my homemade version using mint from my little herb garden and my favourite reusable water bottle…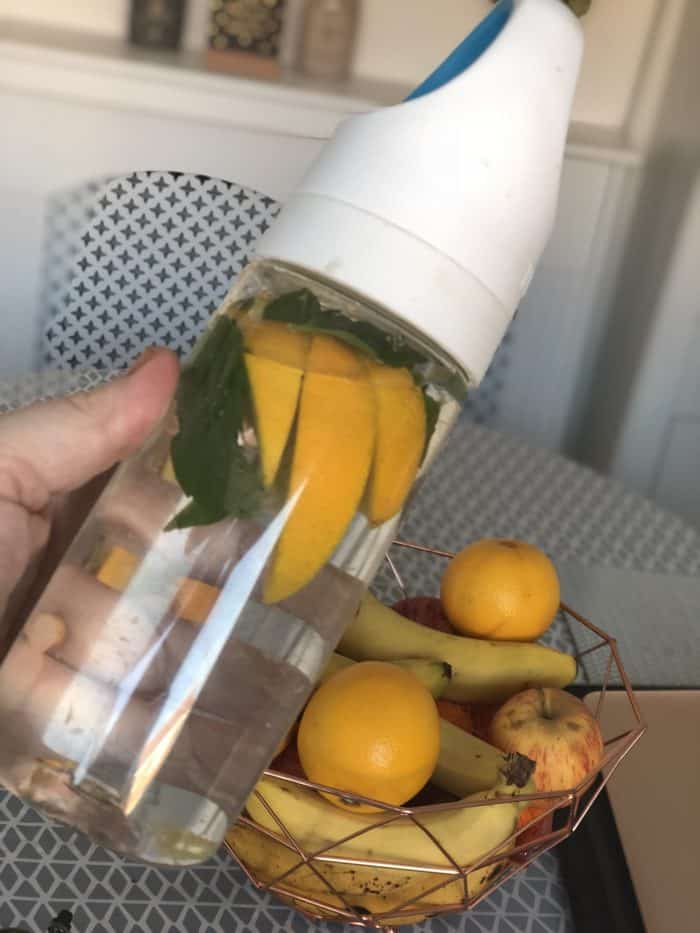 5) And for the last of my five frugal things I'm going to share my homemade linen spray with.
I made this in about two minutes and ever since, I've been spraying onto our bedding most mornings when we get up and again just before bed to keep the bedding fresh between washes in this hot sticky weather.
It was really easy to make and it really does do a good job.  I'll share it with you next week if I get around to making another batch.
As usual, we've been having some really good discussions this week over in our Live Well, Spend Less Facebook group.  We'd love to welcome you to our little community if you fancy popping in.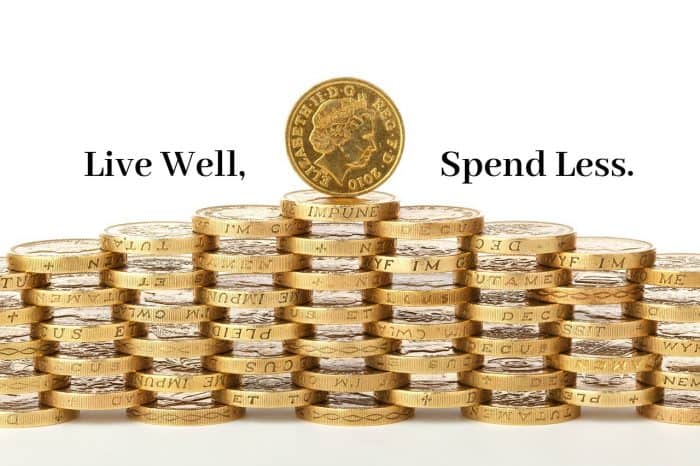 As always, we'd love you to join in with us by sharing your five frugal things from week – whether it's an Instagram picture (#5frugalthings), a blog post or even a video.  Just add your link to the linky at the bottom of this post.
You don't have to share five things you've done, anything thrifty or frugal that you've been doing is perfect.
You're more than welcome to copy and paste the badge above but it would be even better if you could let your readers know that you're linking up with the five frugal things linky by adding a little line to the bottom of your post like this one:
I'm linking up with this Cass, Emma and Becky in this week's 'Five Frugal things I've done this week' linky.
Don't miss out on future posts like this – receive updates directly to your inbox by email by adding your email address here and hitting subscribe. You can also follow me on Twitter, BlogLovin or Networked Blogs and I'd love to see you over on my Facebook page and on Instagram.