Every week I share five frugal things that I've done during that week just to show you that the small things you do all add up to a great frugal lifestyle where you can learn to live a fabulously frugal life.
Before I start though, I do want to say that being frugal to me is about getting the best value for our money – it's not about doing without for us or about not having nice things.  We all have different financial situations and we're all frugal for different reasons – we're frugal so we can afford to do nice things together.
1) Thanks to Monty, I needed a new laptop bag for work which could have been a huge frugal fail thanks to my love of handbags.  Rather than even start looking online for one, I avoided the temptation by heading to Miss Frugal's wardrobe where she has her bags.  She has a rucksack which we went halves on for her school skiing trip as the kit list said a rucksack was essential.  I normally buy anything essential but she went for a more expensive one than I was willing to pay for so we paid half each.
It's the perfect size for my work laptop and she's happy for me to have it in exchange for a lip gloss I bought when I was in San Fransisco.  😉
2) I made the most amazing Garlic Roasted Cherry tomatoes this week using tomatoes from my greenhouse.
Admittedly, I didn't grow the tomato plants from scratch as I've only had my greenhouse a few weeks but I have looked after the plants I bought since I've had them so I'm totally taking credit.
I'm going to share the recipe on Monday I think because they were genuinely amazing and so simple to make.  I think they're going to be really versatile too as you could easily have them on pizza, in pasta or as a topping for a meat dish.  They'd even be great stirred through a bolognaise and I'm very tempted to have a go at making a soup with them.
3) I don't know why I've never seen this before but when you log on to your Tesco clubcard account, there's a load of vouchers you can use to get extra points.  This is what is showing in mine right now:
Eggs, biscuits, avocados, milk and cooked meats are always on my weekly shopping list so using those vouchers along with the double points coupon will boost my Clubcard balance by around 175 points – which is a reasonable amount as it is just considering it takes barely any effort but we use Clubcard boost with our points.  The boost isn't as good as it used to be but it's still 3x the value so we'll get £5.50 in vouchers for the local pub where we have a treat family meal every six months or so using up our Clubcard vouchers.
I'll check there every week now!
4) So, I've mentioned Swagbucks a few times on here as a great way to save for Christmas.  I've been trying to earn Swagbucks throughout the year on things like cashback, surveys and referrals and then just before Christmas, I'll redeem my points for Amazon vouchers.
At the moment, I have just over 10,000 points which I think is the equivalent of around £75 worth of Amazon vouchers.  I'm quite pleased with this but as we're almost in July now, I want to start trying to earn some more points to try and boost my Christmas shopping Amazon fund. I do it on my phone usually while I'm sat in the car waiting for the kids to finish whatever they're doing that they need a lift home from so it's just a way to fill in dead time while I'm sat around.  🙂
I've done a couple of surveys this week but have also discovered their Facebook page where they post daily codes to redeem for Swagbucks and they also post some of their best ways to earn Swagbucks.  This week I've earned about 10 Swagbucks just for copy and pasting a code which takes about five seconds.  It's not much on its own, I'll grant you that but it all adds up doesn't it?  I've also earned 70 Swagbucks from surveys this week and a further 492 by signing up to a £1 trial with Which that you can cancel before the subscription is renewed just by emailing.
You can sign up here or if you're already signed up then get yourself over there and start earning.
5) Another way that I'm saving is in my little savings pot which I'm trying to fill with £1 and £2 coins but this week I added in a £5 note too as I still had money left in my weekly shopping budget on Sunday.
My shopping day is a Monday so I would usually start from scratch again with my weekly budget on Monday and usually, I have nothing left at all – in fact, I've generally used my debit card for at least one purchase at the end of the week where I ran out of cash.  I don't beat myself up when I go over my shopping budget by a little bit as I am trying to be quite strict so my budget is possibly lower than it should be for us right now so to be under it for a week is a big thing for me.
As usual, we've been having some really good discussions this week over in our Live Well, Spend Less Facebook group.  We'd love to welcome you to our little community if you fancy popping in.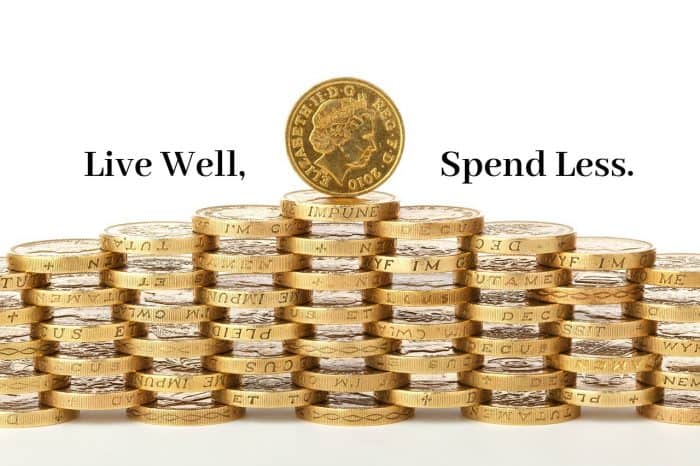 As always, we'd love you to join in with us by sharing your five frugal things from week – whether it's an Instagram picture (#5frugalthings), a blog post or even a video.  Just add your link to the linky at the bottom of this post.
You don't have to share five things you've done, anything thrifty or frugal that you've been doing is perfect.
You're more than welcome to copy and paste the badge above but it would be even better if you could let your readers know that you're linking up with the five frugal things linky by adding a little line to the bottom of your post like this one:
I'm linking up with this Cass, Emma and Becky in this week's 'Five Frugal things I've done this week' linky.
Don't miss out on future posts like this – receive updates directly to your inbox by email by adding your email address here and hitting subscribe. You can also follow me on Twitter, BlogLovin or Networked Blogs and I'd love to see you over on my Facebook page and on Instagram.