Every week I share five frugal things that I've done during that week just to show you that the small things you do all add up to a great frugal lifestyle where you can learn to live a fabulously frugal life.
Before I start though, as always feel that I should say that being frugal to me is about getting the best value for our money – it's not about doing without for us or about not having nice things. We all have different financial situations and we're all frugal for different reasons. 😉
1) My rotary washing line has been on the way out for a while now but last weekend it finally gave up which left me on the loveliest weekend of the year with a giant pile of washing to get through and no washing line to dry it on.
I had been thinking for a while that I wouldn't replace it when it became unusable and that I'd get an actual washing line instead, which I will at some point. In the meantime though, I have one of those foldable concertina type airers which I dusted off and popped in the garden in the sun.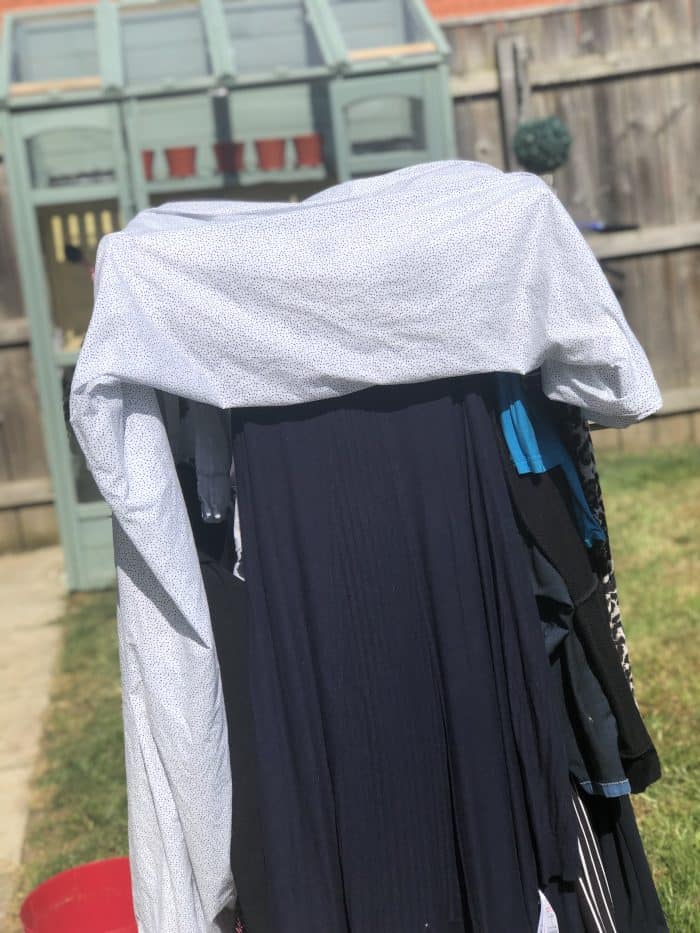 I know the quilt over the top isn't exactly conducive to drying washing but it was only on there for a few minutes to give it an air out before I put it on our bed.
2) Another thing I did in the garden last weekend was to re-pot our Christmas tree as it seems to have outgrown the pot it came in and some of the needles were looking a bit unhealthy.
The pot that it's in was an ugly bright colour terracotta that I painted using the spare yellow paint that was leftover from when I painted our greenhouse – it fits in our garden so much better and is about twice the size of the pot the tree was in before so hopefully we can nurse it back to health and get it looking healthy and green again.
3) We were planning a family day out last weekend and when we were chatting about what to do we couldn't agree on something that we all wanted to do which wasn't going to cost us a fortune. In the end, we decided to just go for a walk to a local National Trust site – Roseberry Topping.
We parked a little away from the actual site and walked up so we didn't pay car parking and it doesn't cost anything to climb the hill or walk around the base of the hill so it was a completely free activity that we really enjoyed.
We didn't get to the top but that was more because of the heat than anything else! I totally forgot the suncream and by the time we got there, the sun was so hot that I made everyone turn around at about the halfway point to avoid sunburn.
4) This is a boring one but this week, I upped my pension contribution at work! Not by a huge amount but an increase never-the-less. That's enough said about that I think. Let's move on to something that involves chocolate…
5) This one is a bit of a cheat but I was popping round to a friend's house for a cuppa and a catch up after work one night this week and I'd been planning to take some homemade biscuits with me as a treat for us. I spied some shortbread biscuits at the Farmers market last Sunday that were reduced to 50p as some of them were a bit broken.
Most of them were OK though so I bought the reduced biscuits, melted half of one of the kids Easter eggs and used the melted chocolate to dip the non-broken biscuits in.
I do have an amazing recipe for 3 ingredient shortbread which is really easy to make which I think would have probably cost about the same to make them myself at home when I factor in the cost of the ingredients. So I think I spent the same amount of money as I would have spent making my own but I saved on the time it would have taken me and got to support a local farm, even in a small way, at the same time.
Come over and join our fab Facebook group – Spend Less, Live Better!
As always, we'd love you to join in with us by sharing your five frugal things from your week – whether it's an Instagram picture (#5frugalthings), a blog post or even a video. Just add your link to the linky at the bottom of this post.
You don't have to share five things you've done, anything thrifty or frugal that you've been doing is perfect.
You're more than welcome to copy and paste the badge above but it would be even better if you could let your readers know that you're linking up with the five frugal things linky by adding a little line to the bottom of your post like this one:
I'm linking up with this Cass, Emma and Becky in this week's 'Five Frugal things I've done this week' linky.
Don't miss out on future posts like this – receive updates directly to your inbox by email by adding your email address here and hitting subscribe. You can also follow me on Twitter, BlogLovin or Networked Blogs and I'd love to see you over on my Facebook page and on Instagram.
You are invited to the Inlinkz link party!