Every week I share five frugal things that I've done during that week just to show you that the small things you do all add up to a great frugal lifestyle where you can learn to live a fabulously frugal life.
1) I made a huge (and I mean huge) batch of chilli last weekend with the intention of us having chilli and rice on Saturday night and then freezing the rest in batches so we had plenty in.  I find chilli to be really versatile as it goes with rice and pasta, is great as a topping on jacket potatoes or potato wedges, works brilliantly on nachos and is perfect just on its own in a bowl.
When I was making a late lunch on Sunday, I realised that we had a few of the wonky avocados that we bought from Morrisons that needed using up so I decided to get all creative and filled the holes left by the stone with some of the warmed up chilli.  I added some lettuce, cheese and red onion and it made an amazing meal. Quite light but filling and so tasty!
2) I sold some things on our local Facebook selling group this week and made just short of £100 which will pay for Miss Frugal's spending money when she goes skiing with the school next week.  I love how easy to sell on Facebook – I wrote about it a while ago but actually, you don't really need to read a post about it because it's so easy. 😉
I use Facebook regularly to sell things because it's so quick and easy and because people are local, there's no faffing with postage or packing things up.  In fact, I'm about to put my beloved little mini up for sale on there today…. All the sads!
3) I don't have particularly nice nails although that'sone of my goals for this year – to finally get nice nails.  I've discovered some amazing nail varnish that actually lasts more than a couple of days which is the problem I usually experience.  Because I'm at my keyboard a lot through the day my nail varnish always seem to chip easily (or at least that's why I think nail varnish never lasts).  A while ago I bought the Sally Hansen Miracle Gel which came in a twin pack at Boots together with a top coat.
I'm not going to lie – I hate the top coat that they charge a fortune for and find that when I use it, the nail varnish literally peels off after a day or so but the nail varnish on its own is amazing.  It looks great on and lasts brilliantly so I treated myself to another two shades from Amazon with some vouchers that I got from a survey website.  It's more expensive on Amazon than in Boots but seeing as I had the vouchers, they were free to me. 😉
4) I've been teaching the kids to cook since they were quite young because I think that it's such an important money management lesson for them to not only be able to cook but also to understand what's involved in planning meals and where they can use cheaper ingredients or use up leftovers.  This week, they haven't cooked any meals as they've not been feeling awesome thanks to this bug that just keeps coming back but they did sit with me last weekend and plan the week's meals based on lots of the things we already had in the house.  This was their meal plan for the week:
Monday: Hunters Chicken with rice
Tuesday: Homemade soup and cheese toasties
Wednesday: Roast chicken and vegetables
Thursday: Chicken and broccoli pasta
Friday: Homemade pizza with salad
It's been quite a chicken filled week but that's what they chose so I'm going to go with it. We already have the chicken breasts we need in the freezer (as we buy them in bulk from Muscle Foods) so that's the bulk of it covered so even though I'm a bit tired of chicken, at least it's been a cheap week for shopping.
5) I was at a meeting this week with some people who I don't know that well and one of the ladies wasn't feeling great and she'd run out of cold and flu tablets.  Having had the dreaded lurgy a couple of weeks ago myself I still had half a pack of the tablets I'd been taking lurking at the bottom of my bag so I handed them over.  About an hour later, she mentioned that she was feeling lots better and she asked me where I'd got them from – she was a bit surprised when I told her they were they were Tesco own brand cold and flu tablets that cost me about 85p.  Apparently, they'd made her feel better than her £4.20 box of cold and flu super strength ones!
My theory on own brand medication is that most, if not all contain the same ingredients as their more expensive counterparts so always try the own brand first.
We've been having some really good discussions this week over in our Live Well, Spend Less Facebook group.  We'd love to welcome you to our little community if you fancy popping in.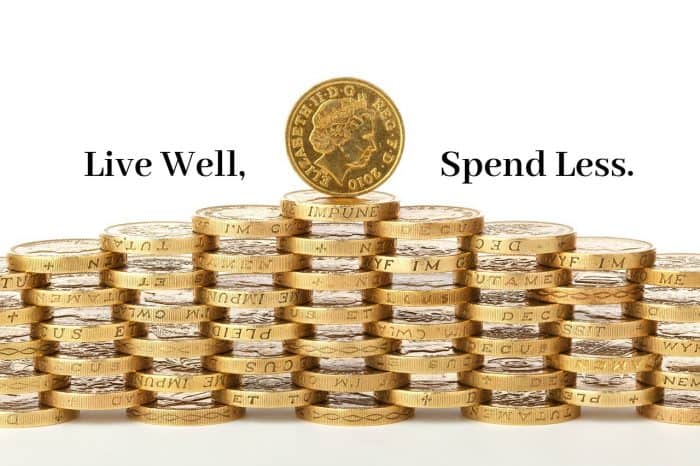 As always, we'd love you to join in with us by sharing your five frugal things from week – whether it's an Instagram picture (#5frugalthings), a blog post or even a video.  Just add your link to the linky at the bottom of this post.
You don't have to share five things you've done, anything thrifty or frugal that you've been doing is perfect.
You're more than welcome to copy and paste the badge above but it would be even better if you could let your readers know that you're linking up with the five frugal things linky by adding a little line to the bottom of your post like this one:
I'm linking up with this Cass, Emma and Becky in this week's 'Five Frugal things I've done this week' linky.
Don't miss out on future posts like this – receive updates directly to your inbox by email by adding your email address here and hitting subscribe. You can also follow me on Twitter, BlogLovin or Networked Blogs and I'd love to see you over on my Facebook page and on Instagram.
—