Every week I share five frugal things that I've done during that week just to show you that the small things you do all add up to a great frugal lifestyle where you can learn to live a fabulously frugal life.
Before I start though, I do want to say that being frugal to me is about getting the best value for our money – it's not about doing without for us or about not having nice things.  We all have different financial situations and we're all frugal for different reasons – we're frugal so we can afford to do nice things together.
1) It was Miss Frugal's 16th Birthday last Sunday and I really wanted a lovely cake to take along to the meal out that we were planning with some of her closest friends. I wasn't intentionally frugal here because I was planning on getting someone to make her a cake but with Master Frugal's extended stay in the hospital, all thoughts of that went out of my head until it was too late. By the time I started making enquiries the only person I could find who could fit in a last minute cake was trying to charge a fair amount more than I wanted to pay (£36).
I just wanted a simple cake that looked like a Tiffany gift box so I decided to make my own but I was really short of time myself after the week we'd had so I cheated and bought a ready iced plain Madeira Birthday cake, some Royal Icing and some turquoise food colouring. I coloured most of the royal icing with the turquoise, adding just enough until I made a Tiffany Blue colour and I just added a thin layer of that over the icing that was already on the cake. I then rolled out some white icing and made a ribbon which I laid over the top, hoping to create a gift box kind of effect and added the rose that had been on the cake when I bought it after several failed attempts at a bow.
I love how it turned out and even though it's not what I pictured in my head, it's almost there and it's made with love which I know was appreciated!
She's a huge fan of Tiffany's after our visit last year when we went to New York and she wears her Tiffany chain all the time!
If you're currently shaking your head about the fact I'm talking about Tiffany's in a frugal post – iher necklace was the cheapest thing in there at about $120 and we went halves on it with her. 😉
2) Last Christmas, Mr Frugal bought me a set of two Pandora rose gold rings which I love – so much so that I think I've worn them pretty much non-stop since then.  I noticed that the rose gold was starting to wear off leaving a not so pretty metallic finish in its place but as I didn't have the receipt and it was more than likely caused by my wearing all of the time, I just resigned myself to the fact that they weren't as pretty as when I got them.
But this week when I was passing the Pandora shop, I just popped in on the off chance there was anything that could be done and they honestly couldn't have been nicer.  They replaced my tarnished rings with new shiny ones even after I admitted that I wear them all the time and didn't take them off.
I now have two shiny new Pandora rings which, following the advice of the ladies in the shop, I shall take off when I clean, go in the bath, put hand cream on or do the pots.
It just shows that it's always worth mentioning something like this, just in case.
3) I found loads of reduced price seeds the other day in the garden centre near us so I picked some up ready for planting early next year.  Mr Frugal has cleverly put them all away in the garage but from memory, there were courgettes, chilli, carrots and some other green ones. 😉
I can't wait to get properly going with my greenhouse growing next year and these seeds will be perfect for that.
As soon as I get some time, I also plan to dedicate a few hours to research what I can grow over the Winter in there – if anything.  The herbs in my little DIY herb planter are all dying off now so I'm hoping I'll be able to grow some herbs at the very least.
4) In anticipation of some snuggly nights reading as the evenings start drawing in, I spent a good hour choosing books for my Kindle this week.  Amazon has a list of the top 100 free books so I worked my way through that and downloaded any I remotely liked the sound of.
I'm trying to read some different style books to my usual favourite romance style books so this month's reading is going to be more varied than normal.
5) Remember when I mentioned the free Halfords MOT with any purchase in last week's post?  Well, when I sent Mr Frugal in to buy something super cheap (he bought an air freshener) he actually saw the details of the free bike check that they do and booked Master Frugal's bike in for a check and to make sure it was lit up like Christmas so he can ride it safely after dark.  He completely forgot to tell me at the time but he 'reminded' me last night that we had to take the bike down this afternoon.  It seems like a great idea and considering it's free then it might be something you want to consider too!
As usual, we've been having some really good discussions this week over in our Live Well, Spend Less Facebook group.  We'd love to welcome you to our little community if you fancy popping in.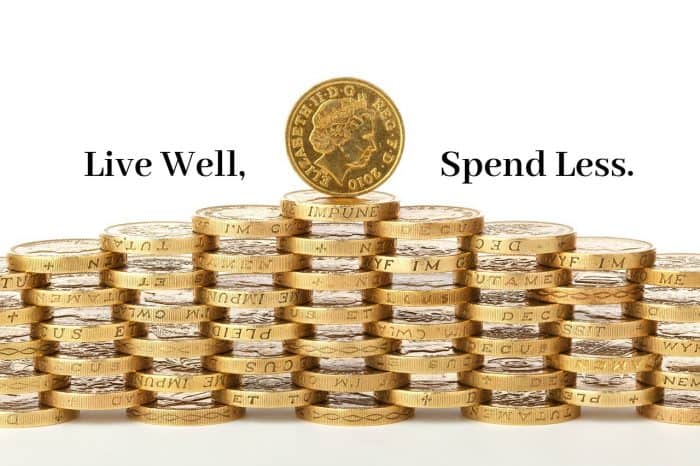 As always, we'd love you to join in with us by sharing your five frugal things from week – whether it's an Instagram picture (#5frugalthings), a blog post or even a video.  Just add your link to the linky at the bottom of this post.
You don't have to share five things you've done, anything thrifty or frugal that you've been doing is perfect.
You're more than welcome to copy and paste the badge above but it would be even better if you could let your readers know that you're linking up with the five frugal things linky by adding a little line to the bottom of your post like this one:
I'm linking up with this Cass, Emma and Becky in this week's 'Five Frugal things I've done this week' linky.
Don't miss out on future posts like this – receive updates directly to your inbox by email by adding your email address here and hitting subscribe. You can also follow me on Twitter, BlogLovin or Networked Blogs and I'd love to see you over on my Facebook page and on Instagram.

>