Every year since the kids started school we've had a bit of a celebration on the Friday evening of their first week back at school.
It started because they were both always so grumpy and tired by the end of their first week back and we wanted to basically take their mind off their moodiness until bedtime and a movie night with popcorn and treats used to be the perfect solution.  The movie night morphed into a games night as they got older and it got harder to agree on a film and then changed again into a nice family meal over the last couple of years.
This year we were planning a family barbecue to celebrate the end of the first week back which coincided brilliantly with a campaign we're working on with Regina (one of the UK's leading kitchen roll brands if you don't already know) as part of their #TheStressofMess campaign.  Unfortunately, life had other plans for that particular day with poor Master Frugal in hospital having brain scans on suspected concussion which subsequently turned out to be a burst appendix!
Obviously, the celebration barbecue was put on hold but one night, when confronted by yet another hospital meal that he couldn't stomach (him not feeling well, not the standard of food which was amazing), I promised that we would have a barbecue as soon as he felt up to it.
Which explains why, on a Wednesday night with clouds in the sky and a serious threat of rain, I was outside barbecuing!
It wasn't the full-on barbecue that we'd been planning for our back to school barbecue because (a) it was unexpected as I'd forgotten my promise to Master Frugal until he reminded me as I was about to start making tea (b) we're on a super budget right now after an expensive week backwards and forwards to the hospital and (c) I didn't want to waste time nipping to the shop for any extras as the clouds were looking more ominous by the minute!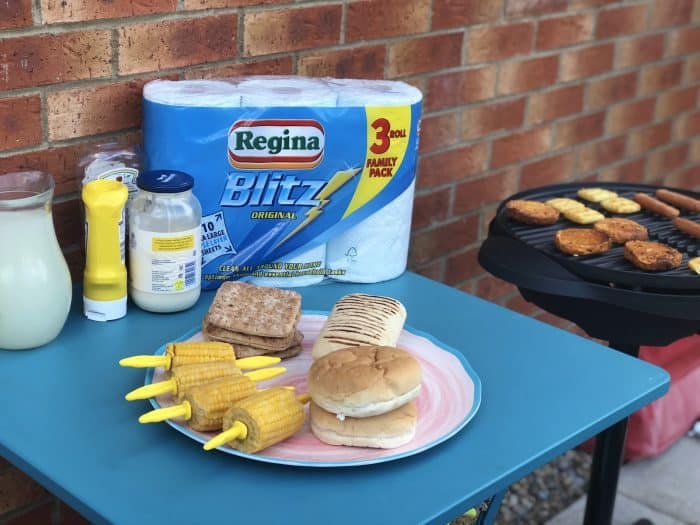 We had Quorn hot dogs, peri peri chicken burgers, some mini potato waffles and corn on the cob along with some garlic bread and I added some bacon at the last minute.
Master Frugal managed a burger and some potato waffles which is amazing as he's not been eating much at all since his operation!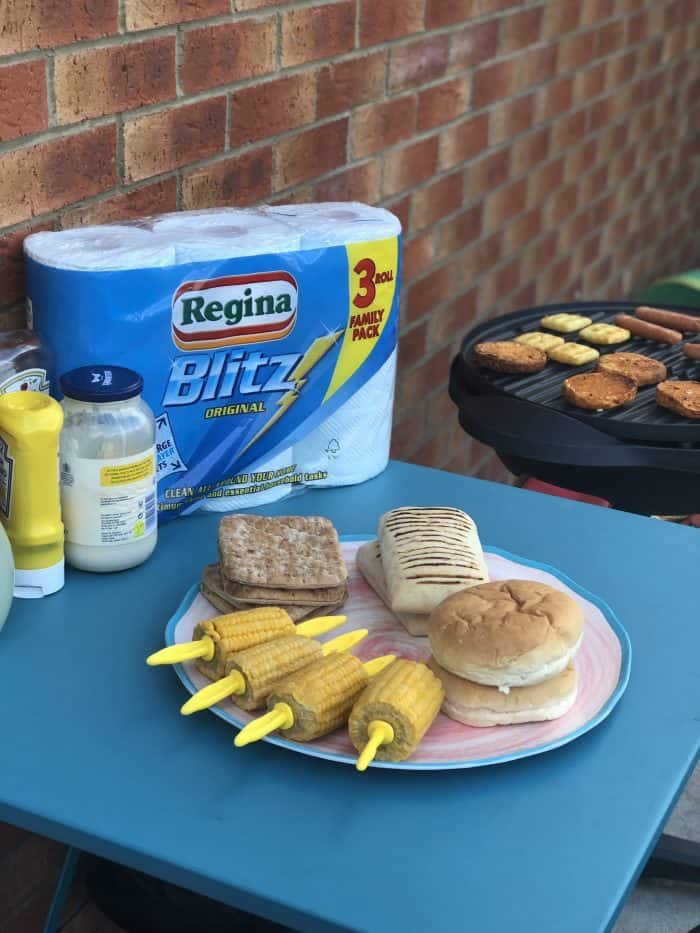 The Regina kitchen towels came in so handy as I used them to serve the burgers in, to dab off the fat from the burgers and then to wipe up the mess afterwards although, to be honest, this doesn't surprise me as this Regina is the only brand of kitchen towels that I've bought for about the last 18 months.  I bought this triple pack for £4.50 in our local Asda and the 210 sheets you get will last me a good while even though I use it all the time as it's great for all sorts of cleaning up around the house – it's so versatile and doesn't fall apart in your hands thanks to it's triple layered sheets!
Research commission by Regina shows that 84% of parents in the UK think of barbecues as being messy and over a third of us have put off hosting a BBQ because of the fear of the mess.  The research also showed that parents spend on average 40 minutes cleaning up after a barbecue but honestly, a black sack and a roll of Regina Blitz will cut that time right down and help you enjoy more fun time with your family.
Don't miss out on future posts like this – receive updates directly to your inbox by email by adding your email address here and hitting subscribe. You can also follow me on Twitter, BlogLovin or Networked Blogs and I'd love to see you over on my Facebook page and on Instagram. You can find out more about me here.