Every week I share five frugal things that I've done during that week just to show you that the small things you do all add up to a great frugal lifestyle where you can learn to live a fabulously frugal life.
Before I start though, I do want to say that being frugal to me is about getting the best value for our money – it's not about doing without for us or about not having nice things.  We all have different financial situations and we're all frugal for different reasons – we're frugal so we can afford to do nice things together.
1) The very wise people in my Spend Less, Live Better Facebook group keep talking about Bulb and how much money they're saving on their gas and electricity costs following a switch to them so this week, I had a little look into them and they seem to have some brilliant reviews as well as saving me money on what I was already paying so I bit the bullet and went for them.
There were a few smaller companies who looked like they would save me a little bit more money but for the few pounds a month I'd save I didn't want to go with a company I hadn't heard of or who had poor Customer Service reviews.
Bulb seemed to have some great reviews and the numbers looked good so I went for it!  It took about two minutes to switch and they take it from here for me which is brilliant.
I do have a referral link if you're thinking of signing up which will give you a £50 credit on your bill (me too) so if you're considering a new supplier then have a look at Bulb!
2) I have a recipe for an amazing bolognese sauce which calls for a splash or two of red wine and even though you can't taste the red wine as such, it really does bring out the flavours so I always pop some in.  Because I don't drink red wine myself as a drink (I'm more of a gin or rose drinker myself) I don't buy it as a rule.  This week I bought a small miniature bottle for £1.45 and poured it into my ice cube tray to make little red wine ice cubes so next time I make it, I can just pop one or two of the wine cubes in there.
A couple of top tips with this though – put your ice cube tray in the freezer drawer first and then fill it up so you know you have it steady before adding the liquid and also when the cubes are frozen, just pop them out and into a sandwich bag leaving your ice cube tray free for more things like this.
I have lots of things in ice cube form like this but that's a whole other post…
3) We've not been doing so great on the no-spend days lately but I really need to get back into that as there really is no better feeling than knowing you're on track with your money.  This week we've managed three no spend days – although to be fair, I wasn't feeling great for at least two of those days as I've had a poorly ear again.
The Summer's quite hard to do no spend days if you ask me but I'm thinking of making September a No-Spend-September month if anyone wants to join in with me?
(FYI: If ever you do want to have a No Spend Month or even just track how many days you don't spend then you can use my free no spend tracker to help you keep track)
4) I noticed that my chilli plant was starting to look a bit sad this week so I picked all of the chillis and popped them in a sandwich bag in the freezer and I now have enough chillis to last me a lifetime!
5) Did you see my cash envelopes template last week?
Well, when it came to replenishing them on Sunday we actually had money left in the shopping envelope and in the treat envelope.  Cash envelopes are a great way to focus your mind on what you're spending and they've clearly helped us this week (although a two-day ear infection clearly had some impact too).
We bought some Euros with the extra for our holiday spending money!
As usual, we've been having some really good discussions this week over in our Live Well, Spend Less Facebook group.  We'd love to welcome you to our little community if you fancy popping in.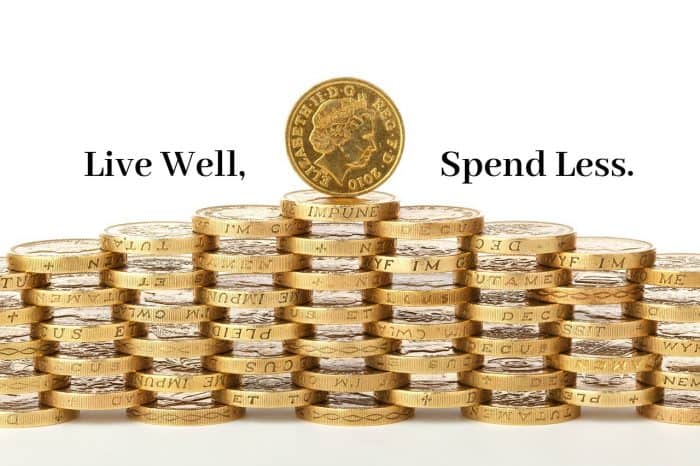 As always, we'd love you to join in with us by sharing your five frugal things from week – whether it's an Instagram picture (#5frugalthings), a blog post or even a video.  Just add your link to the linky at the bottom of this post.
You don't have to share five things you've done, anything thrifty or frugal that you've been doing is perfect.
You're more than welcome to copy and paste the badge above but it would be even better if you could let your readers know that you're linking up with the five frugal things linky by adding a little line to the bottom of your post like this one:
I'm linking up with this Cass, Emma and Becky in this week's 'Five Frugal things I've done this week' linky.
Don't miss out on future posts like this – receive updates directly to your inbox by email by adding your email address here and hitting subscribe. You can also follow me on Twitter, BlogLovin or Networked Blogs and I'd love to see you over on my Facebook page and on Instagram.