Every week I share five frugal things that I've done during that week just to show you that the small things you do all add up to a great frugal lifestyle where you can learn to live a fabulously frugal life.
Before I start though, I do want to say that being frugal to me is about getting the best value for our money – it's not about doing without for us or about not having nice things.  We all have different financial situations and we're all frugal for different reasons – we're frugal so we can afford to do nice things together.
For obvious reasons (well obvious if you read this post) I've had a pretty difficult week which has made being frugal quite hard.
1) Car parking charges are astronomical at our local hospital with stays between 4 and 24 hours costing £7 a go. Because were splitting ourselves between home with Miss Frugal and the hospital with Master Frugal, we spend the first day or so paying a small fortune each time we swapped over and over the weekend alone we spent more than £20.
But then we discovered you can buy a monthly pass which, at just £9.70 for unlimited visits represented a HUGE saving for us.
2) We were allowed to come home late on Wednesday, at which point I'd been at the hospital since Saturday other than one night when Mr Frugal stayed over. I came home about 9 pm and went back after dropping Miss Frugal off at school the next morning. We'd just done a shop on Friday night so unfortunately there was a lot of food that was out of date as it hadn't even entered our heads with all that was going on. So far, this one doesn't really fit with a five frugal things post, does it?
Here's the frugal bit – I made a crustless quiche using up some of the things that were about to go out of date.  I used cottage cheese for the base and added a red onion, some ham, cheese, broccoli, a handful of frozen peas and a green pepper along with an egg and milk mix.  We actually had a takeaway on Wednesday night because we were so tired and that was what Master Frugal requested but this made a lovely lunch for Thursday.
3) I did a mini shop on Thursday morning and I took my own plastic container with me when I went into our local Morrisons as they are happy to put your fish from the fish counter directly into your own containers.  I'll not share a photo as no-one wants to see a photo of some raw fish but it's such a great idea to reduce plastic waste that I wanted to share it.
4) (This one isn't sponsored or anything – I just saw the deal on the MSE website and thought it would save us some money when our MOT is due next May).  While I was spending countless hours scrolling through my phone this last week trying to find something interesting (I very nearly downloaded Candy Crush, it was that bad) when I saw a deal that Halfords have on at the moment where you can buy anything from them and qualify for a free MOT between now and October 2019.
I've never used Halfords Autocentres before but someone did tell me that the one near us was quite good so once Master Frugal was home, I sent Mr Frugal on a mission to buy something cheap to qualify for the deal and he came back with – wait for it – an air freshener!  The guy at the till took his details and we're now just waiting for an email to confirm the free MOT which apparently we just book in closer the time.
5) Last Saturday, which seems like a very long time ago now, a post popped up in my Instagram feed telling me I could ask Alexa to send me a free sample of the new Almond Baileys so naturally, I had to investigate.  It turns out that there's a new Alexa Skill that you can activate where you can ask for various free samples and although I can't vouch for whether it works or not, I can tell you that Alexa has promised me that she's sending my free sample as we speak.
You can activate the skill on Alexa here but you will be asked to register with a samples company separately and then link that to your Amazon account.
It literally took me 30 seconds and hopefully, I'll get this free sample and more in future.
As usual, we've been having some really good discussions this week over in our Live Well, Spend Less Facebook group.  We'd love to welcome you to our little community if you fancy popping in.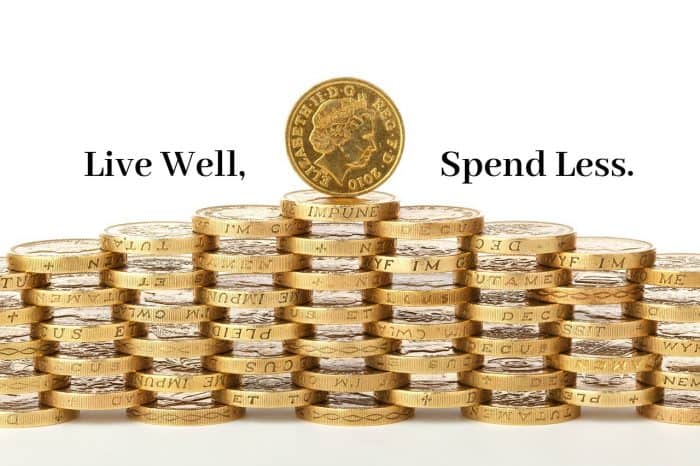 As always, we'd love you to join in with us by sharing your five frugal things from week – whether it's an Instagram picture (#5frugalthings), a blog post or even a video.  Just add your link to the linky at the bottom of this post.
You don't have to share five things you've done, anything thrifty or frugal that you've been doing is perfect.
You're more than welcome to copy and paste the badge above but it would be even better if you could let your readers know that you're linking up with the five frugal things linky by adding a little line to the bottom of your post like this one:
I'm linking up with this Cass, Emma and Becky in this week's 'Five Frugal things I've done this week' linky.
Don't miss out on future posts like this – receive updates directly to your inbox by email by adding your email address here and hitting subscribe. You can also follow me on Twitter, BlogLovin or Networked Blogs and I'd love to see you over on my Facebook page and on Instagram.