Every week I share five frugal things that I've done during that week just to show you that the small things you do all add up to a great frugal lifestyle where you can learn to live a fabulously frugal life.
Before I start though, I do want to say that being frugal to me is about getting the best value for our money – it's not about doing without for us or about not having nice things.  We all have different financial situations and we're all frugal for different reasons – we're frugal so we can afford to do nice things together.
1) I have some Christmassy looking Potpourri that I've used every Christmas for about the past three or four years and ut still looks as good as it did when we bought it (it does to me anyway) although it's obviously lost all of the lovely Christmas fragrance that it had when I first bought it.
I get around that though by using some of the most amazing smelling Christmas Cinnamon and Clove Refresher Oil that I bought from Sainsbury's a couple of years ago for about £2.  I just drop a couple of drops on the potpourri every few days and it keeps my living room smelling so Christmassy.
I haven't been in Sainsbury's for a while so I'm not sure if they still stock it but if not, there are some similar oil blends available on Amazon.
2)  I know this isn't a huge achievement but it's my work Christmas party tonight and I haven't bought a new outfit even though I was massively tempted!  Instead of buying one of the lovely outfits I really, really wanted, I did a bit of mixing and matching with the clothes I already have and I've managed to make up a whole new sparkly outfit that will do the job.
3) This week I redeemed the Swagbucks that I've been saving through the year for Amazon vouchers which I've used to buy a fair amount of my Christmas shopping.  I also used up the Boots Advantage Points that I've been saving all year to buy some more shopping and changed the settings on my Morrisons & More card so next time I go in, the vouchers I've earned this year should be printed out at the till in time for our Christmas food shop.
I've also redeemed our Tesco Clubcard points as it's a bit of a family tradition that we use up our Tesco points for a meal at a restaurant near to us on the day the kids break up from school – it's like the official start of Christmas for us.
4) I bought a reduced ready-made soup mix this week from Morrisons and it was the nicest soup I think I can ever remember tasting!  It was a pea, potato and mint soup that was reduced from £1.50 to 95p which is on the pricey side for pre-prepared soup mixes but it was delicious and actually, considering it did three meals and was so tasty, I think I'd pay full price for it anyway and still be happy with it.
I added some extra mint to it from my freezer herb stash and popped it in my soupmaker along with the little flavour sachet that comes with it and twenty minutes later, I portioned it up into three good sized portions.
I look at soup mixes as being a super convenient time saver for me and as much as I love experimenting myself with flavour combinations, sometimes, just being able to buy a pre-prepared mix like this is exactly what I need.  It's quick, easy and still works out at much less than I would pay if I bought lunch at work.
5) This week's meal plan has been filled with Winter Warmer meals that so far, we've stuck to it and really enjoyed what we've had so far.
I know I say this ALL the time but meal planning really does save us money and almost as importantly, time.
As I'm sure we all do, I often find myself wishing for extra hours in my day so the fact that spending a little time on a weekend planning and shopping for our week's meals saves me time during the week is brilliant.
Planning in advance also means that I can make sure the kids know when they're going to be needed to help out – Miss Frugal, for example, is in charge tonight as I'm out and Master Frugal will be on dough making duty tomorrow for the pizzas!
The only night we had a 'blip' was the night that Mr Frugal was on lates and someone (who shall remain un-named) didn't realise that the sausage and bean stew that was leftover was actually leftover for his tea when he got in from work.  There was still some left but not enough to fill him after a long busy day.
I made what was left into more of a meal for him by making some cheeky little pitta bread pizzas to dip in it!
As usual, we've been having some really good discussions this week over in our Live Well, Spend Less Facebook group.  We'd love to welcome you to our little community if you fancy popping in.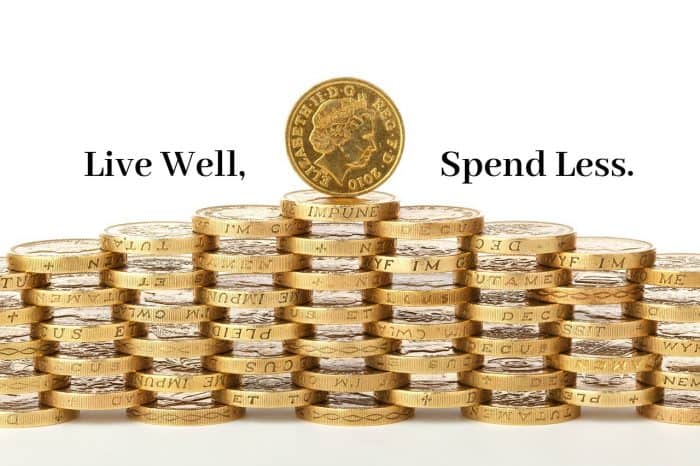 As always, we'd love you to join in with us by sharing your five frugal things from your week – whether it's an Instagram picture (#5frugalthings), a blog post or even a video.  Just add your link to the linky at the bottom of this post.
You don't have to share five things you've done, anything thrifty or frugal that you've been doing is perfect.
You're more than welcome to copy and paste the badge above but it would be even better if you could let your readers know that you're linking up with the five frugal things linky by adding a little line to the bottom of your post like this one:
I'm linking up with this Cass, Emma and Becky in this week's 'Five Frugal things I've done this week' linky.
Don't miss out on future posts like this – receive updates directly to your inbox by email by adding your email address here and hitting subscribe. You can also follow me on Twitter, BlogLovin or Networked Blogs and I'd love to see you over on my Facebook page and on Instagram.