Every week I share five frugal things that I've done during that week just to show you that the small things you do all add up to a great frugal lifestyle where you can learn to live a fabulously frugal life.
Before I start though, I do want to say that being frugal to me is about getting the best value for our money – it's not about doing without for us or about not having nice things.  We all have different financial situations and we're all frugal for different reasons – we're frugal so we can afford to do nice things together.
1) I love to start these posts with a bargain flowers photo and today's is one of my favourites!
These gorgeous little tulips set me back the grand total of 62p and they're ridiculously pretty and have been making me smile all week which makes them more than worth it to me.  Something that makes you happy is usually a worthwhile purchase in my opinion.
2) We don't have a tumble drier and our rotary line in the back garden nearly took my eye out last weekend when I tried to put it up as somehow something had snapped in it.  It was impossible to fix so we put it down the side of the house with the intention of taking it to the tip when we get chance but the scrap metal guy who drives around every Sunday morning knocked and asked if he could have it so that saved us a job there.
I need to get a new one or sort out a washing line of some kind but while the sun was shining so much over the bank holiday weekend I just made do with moving my clothes airier out into the garden for the day. I love air dried laundry and it was drying so quick that I got through all my normal weekly washing and the bedding too.
3) In last week's Five Frugal Things post I mentioned that we'd been doing some financial planning and as I mentioned we finished up with a few goals in mind that I would tell you about in time.  The first goal we had was to pay our mortgage off as quickly as we can which is something we've made half-hearted attempts at over the years since we moved in but haven't made much headway but this time we're determined for all the reasons I talked about last week.
We weren't sure whether to set a target of when we want to be mortgage free or how much money we should be paying off extra each month so we sat down again and gave ourselves a goal to work towards.  We've decided that we want to have it fully paid off within 10 years rather than the 21 years that we currently have left so we've actually set up a Standing Order from our bank to overpay each month by the amount we would need to overpay to achieve that.
We considered looking at a remortgage but have decided to leave that a little while as we want to get down to a better LTV threshold as there seems to be a point where the rates seem really low and would mean us repaying even sooner.
Wish us luck!
4) Remember last week I mentioned that I'd made a DIY herb garden?  Well, it's already proving it's worth as I made soup for lunch this week in my soupmaker using some frozen peas, some stock cubes and some mint sprigs from my herb garden.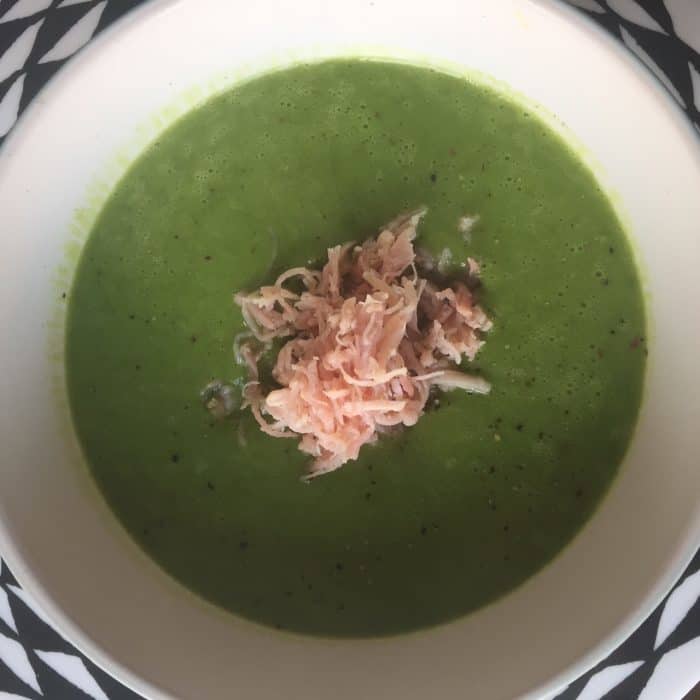 Pea and mint soup is a great soup for this time of year as it'd not one of those stodgy thick soups we all love that go down so well in the colder months. 😉
5) Back to Miss Frugal's sleepover for my last frugal thing this week.  I made blueberry and banana waffles for everyone for breakfast when they got up using some bananas that were just about to turn and some frozen blueberries I've had in the freezer for ages.  I bought them reduced a couple of weeks ago but didn't end up using them so I threw them in a sandwich bag and froze them rather than wasting them.
I think I might have added too much banana to the waffle mix as the finished waffles were a bit hard to get out of the waffle iron – it didn't affect the taste though and they went down really well!
As usual, we've been having some really good discussions this week over in our Live Well, Spend Less Facebook group.  We'd love to welcome you to our little community if you fancy popping in.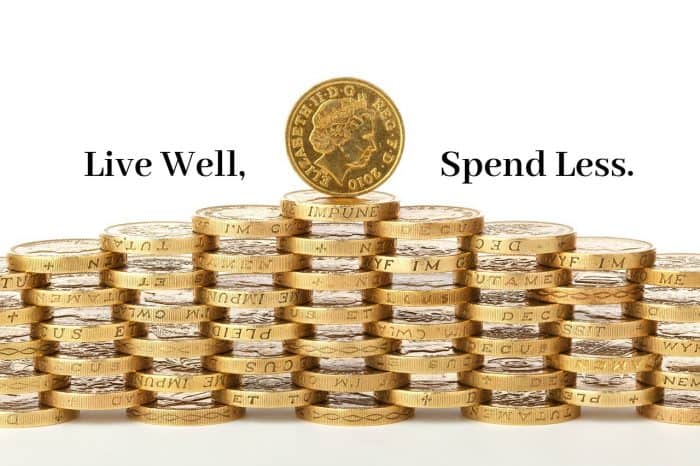 As always, we'd love you to join in with us by sharing your five frugal things from week – whether it's an Instagram picture (#5frugalthings), a blog post or even a video.  Just add your link to the linky at the bottom of this post.
You don't have to share five things you've done, anything thrifty or frugal that you've been doing is perfect.
You're more than welcome to copy and paste the badge above but it would be even better if you could let your readers know that you're linking up with the five frugal things linky by adding a little line to the bottom of your post like this one:
I'm linking up with this Cass, Emma and Becky in this week's 'Five Frugal things I've done this week' linky.
Don't miss out on future posts like this – receive updates directly to your inbox by email by adding your email address here and hitting subscribe. You can also follow me on Twitter, BlogLovin or Networked Blogs and I'd love to see you over on my Facebook page and on Instagram.