Every week I share five frugal things that I've done during that week just to show you that the small things you do all add up to a great frugal lifestyle where you can learn to live a fabulously frugal life.
Hey! 👐
1) I know I only just shared this month's pre-loved bargains post but I found a beautiful French Connection dress in my local charity shop last Sunday! It was £7.99 which is more than I'd usually pay for a dress in a charity shop but I just loved it and you can feel the quality of the fabric and see from the style that it's a really well-made dress that I'll get a lot of wear out of.
It was cheaper than you might expect because of this…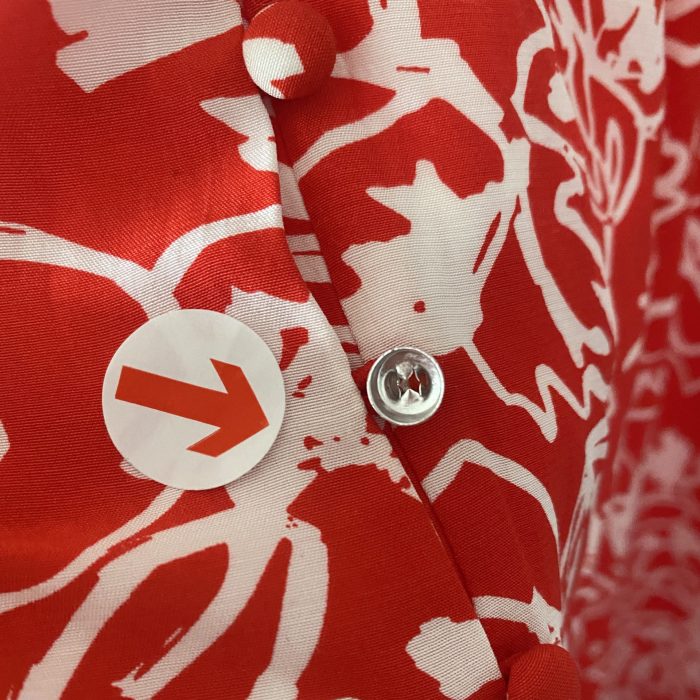 One of the buttons has lost its fabric covering which really makes it stand out and I suspect from how unworn the dress looks and feels that it happened before it was even worn. The first thing I did was to check the tag on the inside of the skirt and, as with most items that come with buttons, there's a little spare one stitched onto the tag so it's a super quick fix and I have a lovely new dress.
And I even managed to find the dress online when I was looking to see how much of a bargain I'd found…
Even at its reduced price of £59, I have a super bargain! I'll show you the full dress in next month's pre-loved bargain post.
2) I'm pretty sure I've told you before about my favourite homemade flavoured water which I first discovered a few years ago when I went to London to work for a couple of days at the British Summertime Festival. It was the hottest day imaginable and we were working from a little Portakabin around the back of the main area with one fan between us all.
Before I started on day 2, I popped into M&S to stick up on drinks for the day and found they were selling bottles of water with their own fresh infusions in and they were literally flying off the shelf due to the weather and all the festival go-ers heading in on their way to Hyde Park.
I bought a couple of the orange and mint bottles and ever since then, I've made my own version regularly.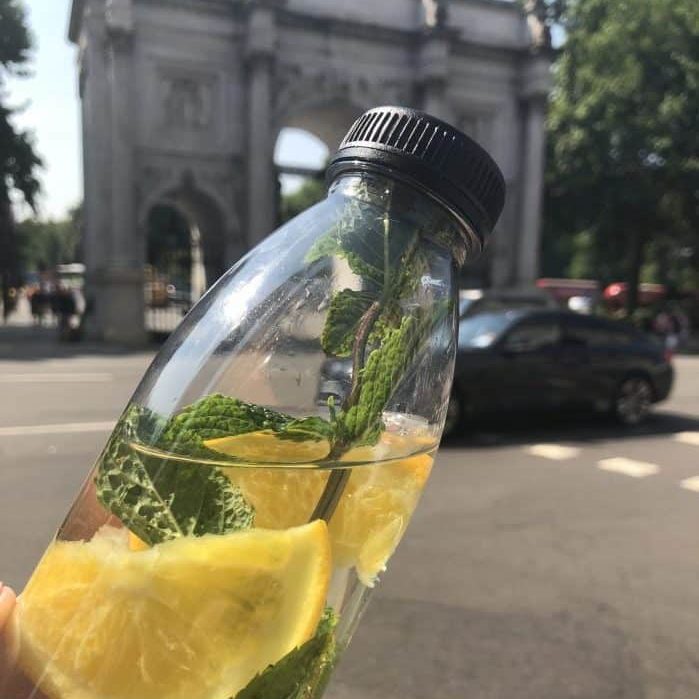 This week I bought a big bag of oranges reduced to 29p and sliced them all into wedges to pop in the freezer to make my drinks this week. I already have a mint plant taking over growing on my kitchen windowsill so I'll be having some lovely flavoured water this week with my reduced oranges.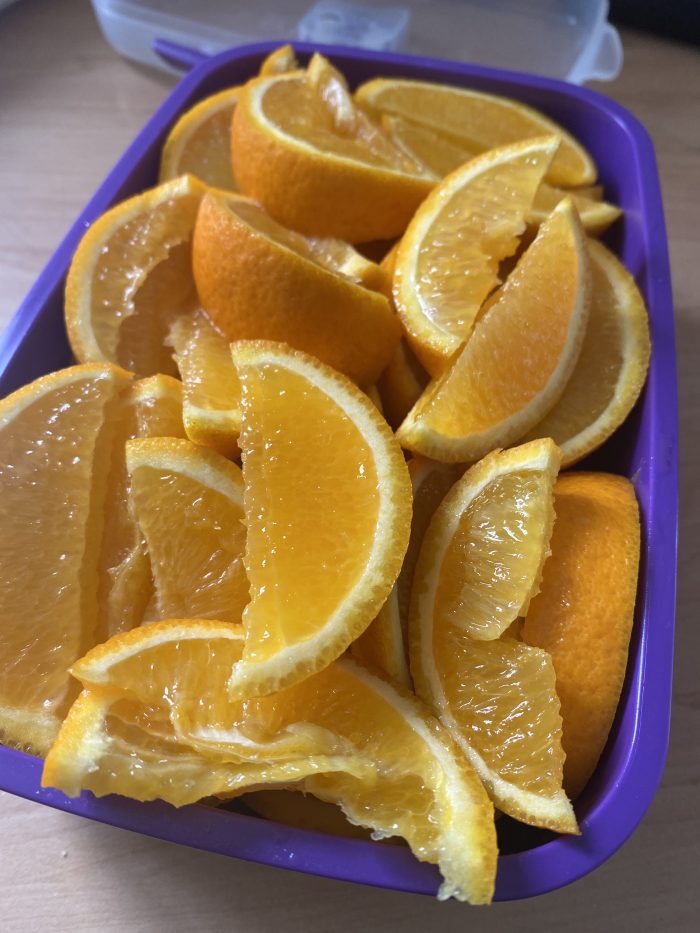 3) Every couple of months, I check on where I'm at with my Christmas savings so I know if I need to make any adjustments to what I'm doing So last weekend, I sat myseld donw, and did a bit an overall budget review which included where I'm at for Christmas. So far, I'm at around £100 in Amazon vouchers which I'm really pleased with as it'll definitely come in handy when I come to start my Christmas shopping! It's a mix of Swagbucks earnings and surveys with a cheeky little competition win in there to boost it up and I'd like to be around the £150 mark by November when I start my Christmas shopping.
I have around £16 in Boots Advantage points which is less than I'd like to be at by now as I want to be able to buy Miss Frugal's favourite perfume with my points like I always do. If I don't get to the amount I need, I'll just use Amazon instead and use the Boots vouchers for something else.
I also have around £50 of Clubcard vouchers which I've always used in the past to triple their value and use them for a nice meal out as a treat but this year, I'm saving them for Christmas (unless I change my mind 😂 ) so that will help with my Christmas shop too!
4) I've also set my Starling account to round up my spending to the nearest pound, double it and then add it to my savings account this week. I used to do this and really saw my savings account balance creep up without me ever having to do anything or even think about it and I don't miss the extra bits being moved over as it's so gradual with the small amounts involved.
5) I went out for tea with some friends a couple of weeks ago and because I have a Nandos loyalty card and they didn't, they all used mine to order theirs. Then last Sunday, I got a cheeky notification to say I'd qualified for a free meal which made Master Frugal's day as we ordered online to collect and he had his favourite meal for tea instead of having to face my cooking. 😂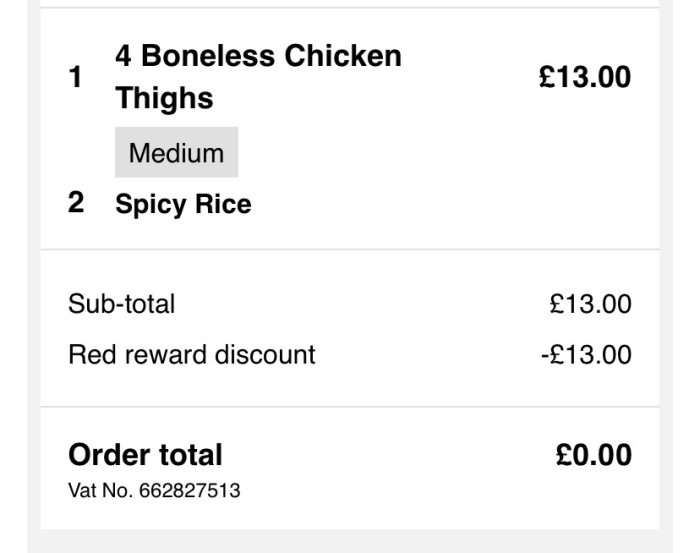 I know you might feel cheeky in this kind of situation but honestly, my friends just laughed and were of the same mentality as me – someone might as well get the reward points! Master Frugal was definitely pleased I asked them! 😇
Come over and join our fab Facebook group – Spend Less, Live Better! We've hit 35,000 members in the group now so it's a great place to be and I've got Miss Frugal in there helping me out now.
As always, we'd love you to join in with us by sharing anything you've done that's been thrifty or frugal from your week – whether it's an Instagram picture (#5frugalthings), a blog post or even a video. Just add your link to the Frugal Friday linky at the bottom of this post.
You're more than welcome to copy and paste the badge above but it would be even better if you could let your readers know that you're linking up with the five frugal things linky by adding a little line to the bottom of your post like this one:
I'm linking up with this Cass, Emma and Becky in this week's 'Frugal Friday' linky.
Don't miss out on future posts like this – receive updates directly to your inbox by email by adding your email address here and hitting subscribe. You can also follow me on Twitter or BlogLovin and I'd love to see you over on my Facebook page and on Instagram. If you're interested, you can find out more about me here and while I've got your attention, if you're wondering why some of my posts lately are a little bit less frugal then have a read of this post. 😉
Do your future self a favour – Pin this post for later!
You are invited to the Inlinkz link party!