Every week I share five frugal things that I've done during that week just to show you that the small things you do all add up to a great frugal lifestyle where you can learn to live a fabulously frugal life.
Before I start though, as always feel that I should say that being frugal to me is about getting the best value for our money – it's not about doing without for us or about not having nice things.  We all have different financial situations and we're all frugal for different reasons. 😉
1) We bought a HUGE joint of gammon last weekend when we went shopping.  It was reduced to £4.37 which was a bargain considering it was that big that I had to squish it to get it in my slow cooker to cook it.
I don't think anyone really wants to see a picture of a big gammon join so instead I'll show you my tea on Saturday which was a Slimming World style omelette made with some of the gammon, some almost past it mushrooms from the bottom of the fridge, some red onion from the freezer and a handful of cheese.
I used some of the gammon as part of our Sunday Dinner, some for sandwiches and some in a stir-fry.  The rest went in the freezer in portions so I can get it out and add it into things like pasta bakes and omelettes.
A gammon joint, just like a chicken, really can be stretched if you plan properly – here are 15 ideas on how you can do it.
2) Our Christmas wreath and special Christmas bouquet lasted amazingly all through Christmas and made our house look and smell lovely and Christmassy from the weekend before Christmas when we bought them until last Sunday when we got rid of them.
The Christmas wreath was from Morrisons and we got it half price as it was so close to Christmas so it cost us £7.50 and the Christmas bouquet was quite expensive at £10 but I do buy a special bunch of flowers for myself every Christmas to remind me of my Mum who used to do the same.  It's the one time of the year where I'm not bothered about looking for the best deal or the yellow stickered bargain flowers – I look for the flowers that remind me of my Mum.  This bunch really caught my eye this year as not only were they lovely and sparkly like my Mum but they had some prickly thistles in them which reminded me of my ever grumpy, but equally lovely Dad.
When it came to getting rid of them last weekend, I was a bit sad so I decided to take them apart and rescue anything that I could reuse to make my own wreath next year.  I have pine cones, sparkly berries, cinnamon sticks and pines cones – with and without 'snow' on them.
I've put them in a box in the garage with some other Christmas bits and bobs that I might be tempted to use for crafting next Christmas.
3) We had a good clear out of the garage last weekend and did two runs to the tip and one charity shop drop.
It's amazing how quickly 'stuff' builds up and we were super ruthless getting rid of so much that we really didn't need and it feels brilliant to have so much space in the garage now.  We came across a few things that we could sell so I added them on to our local Facebook selling page to try and make some extra money.
I also decided to sell some other things too, including a couple of handbags that I don't use anymore and some clothes that Master Frugal has grown out of after his most recent growth spurt.
4) I bought a big pack of blueberries this week reduced to just 40p and I made them into the most amazing peach and blueberry cobbler using them and a cheap tin of peach slices that have been at the back of the cupboard for months!  It's so easy to make and there's not even any weighing of ingredients as I just use cups.
This was it before I put it in the oven – I have none from afterwards as it was eaten as soon as it came out of the oven and I totally forgot to take a photo. 😉 Here's how to make it though…
Fruit Cobbler recipe
To make it you just mix together 1 cup sugar, 1 cup plain flour and 1 cup milk with 1/4 teaspoon of baking powder.  Set that aside for a minute while you add around 2 cups fruit (fresh, frozen, tinned) to a greased baking dish trying to spread it evenly around.  Pour the mix over the fruit and pop in the oven for 30-40 minutes at 180 c.  It's ready when it's golden brown on top and the cooking time varies quite a bit depending on what fruit you add in. 😉
5) Did you catch my post yesterday about my gardening plans?  I've moved my potted Christmas tree outside and have some blueberry bushes due to arrive in the next few days.
I also have chilli and garlic seeds on the way as I know they're things that can be planted in January – I'm hoping for a good crop of both as we can freeze what we don't use when they're ready to harvest.
As usual, we've been having some really good discussions this week over in our Live Well, Spend Less Facebook group.  We'd love to welcome you to our little community if you fancy popping in.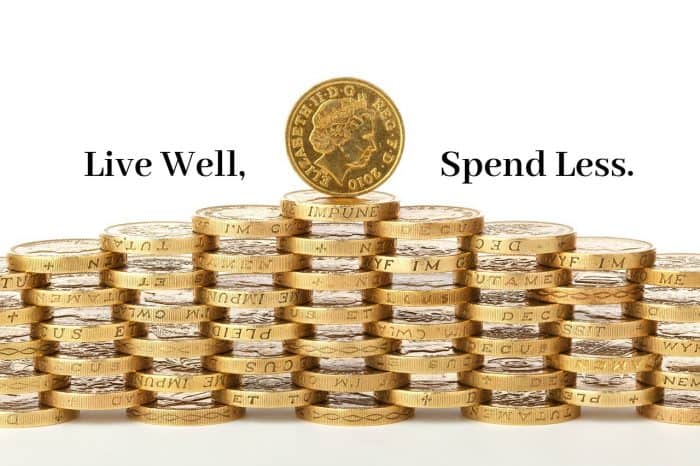 As always, we'd love you to join in with us by sharing your five frugal things from your week – whether it's an Instagram picture (#5frugalthings), a blog post or even a video.  Just add your link to the linky at the bottom of this post.
You don't have to share five things you've done, anything thrifty or frugal that you've been doing is perfect.
You're more than welcome to copy and paste the badge above but it would be even better if you could let your readers know that you're linking up with the five frugal things linky by adding a little line to the bottom of your post like this one:
I'm linking up with this Cass, Emma and Becky in this week's 'Five Frugal things I've done this week' linky.
Don't miss out on future posts like this – receive updates directly to your inbox by email by adding your email address here and hitting subscribe. You can also follow me on Twitter, BlogLovin or Networked Blogs and I'd love to see you over on my Facebook page and on Instagram.