Today I'm sharing the third post in my 'What we ate in a week' series!
The plan with these posts is that I start writing this post the Monday before you read it each month and just update it each night with a photo of what we had for our tea that day.  It worked pretty well so far so let's see if I'm as good this time…
Monday
Today we had slow cooker turkey chilli which we prefer to normal beef chilli these days.  It's hard to describe the difference that using turkey mince makes to the meal but it's delicious.  It's not as heavy if that makes sense.
Tuesday
Tonight's dinner was amazing!  I made my homemade doner kebab and honestly, it looked and tasted so good that I went and dug out the old post on the blog and updated the pictures. I served it with lettuce and garlic sauce and some homemade Slimming world chips.
Wednesday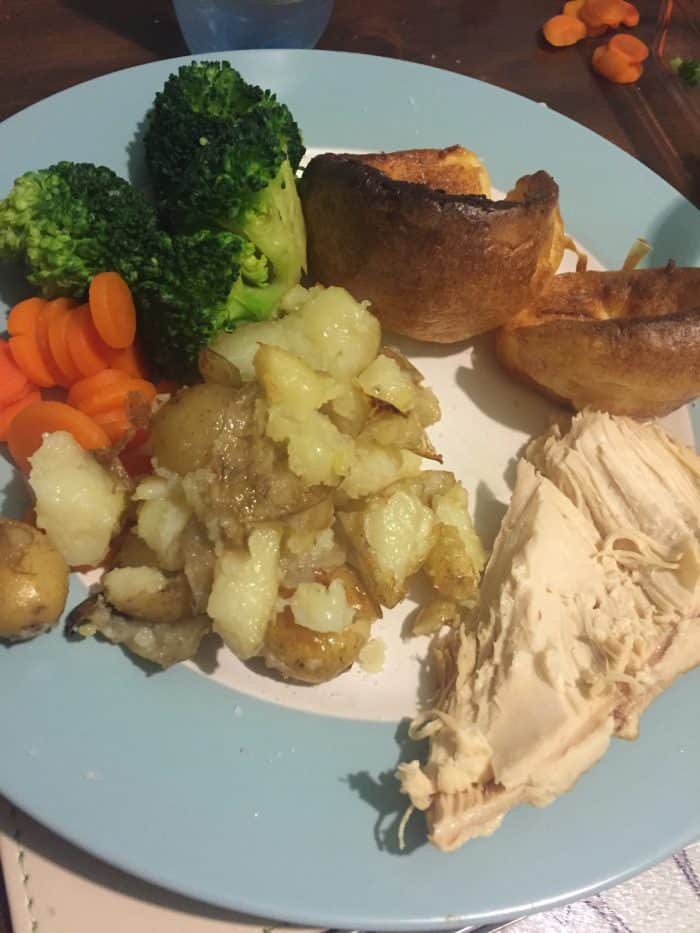 Today was a little midweek chicken dinner with smashed potatoes, homemade Yorkshires and some veg from the freezer!  It was lovely and actually the first night this week that we've all managed to sit around the table together.
Thursday
Tonight was super easy Quorn sausages, some broccoli from the freezer and some crispy potato slices that I got in the reduced section for 49p a pack.  I bought two packs because one was too small for the four of us but in the end, neither of the kids were that keen on them so they just had a few and filled up on veg and sausages.
Friday
I made bolognese in the slow cooker today because I knew we all had things on and that we wouldn't be eating at the same time.  Miss Frugal did the spaghetti for her and Master Frugal at tea time as Mr Frugal was working late and I was having a cuppa with a friend after work.  I got in about half-past six and had mine with a jacket potato and Mr Frugal had his at half-past eight in a bowl with some crusty bread that he got reduced when he popped to the shop on the way home for some dog food.
Saturday
Slow cooker mince and dumplings with roasties, broccoli and carrots went down well for tea today!  And we had enough left to freeze two portions of mince for another time which is always an added bonus. 😉
Sunday
Tea today was a total fail as far as being frugal is concerned as I wasn't feeling amazing and was half asleep in bed when the kids came and asked if they could have McDonald's for tea.  I said yes and went back to sleep and they got Mr Frugal to take them for tea.
Don't miss out on future posts like this – receive updates directly to your inbox by email by adding your email address here and hitting subscribe. You can also follow me on Twitter, BlogLovin or Networked Blogs and I'd love to see you over on my Facebook page and on Instagram