OK, I've got something a bit different for you today. I'm going all old school blogging and joining in with the '73 things about me' post that's currently doing the rounds on various blogs.
I haven't done anything like this in years but when I first started blogging they were the in thing to do but I've had lots of new followers lately so if nothing else, it's a chance to get to know me a little bit better.
1. What is your usual Starbuck's order?
Iced Chai Latte although I don't treat myself to one too often! There's a Starbucks in the building where I work that sells the drinks at a subsidised price so it's not too bad but I still try not to have too many.
2. What does your workstation look like right now?
At home, I tend to blog from the dining room table or sitting on my bed so I don't actually have a workstation. I'm not a very good blogger, am I?
3. All-time favourite food?
We've recently discovered a new favourite food, Instant Pot Chicken and Rice which we have every weekend. We use different flavourings and ingredients every week so it's not like it's the same repetitive meal but the basics are the same and we love them!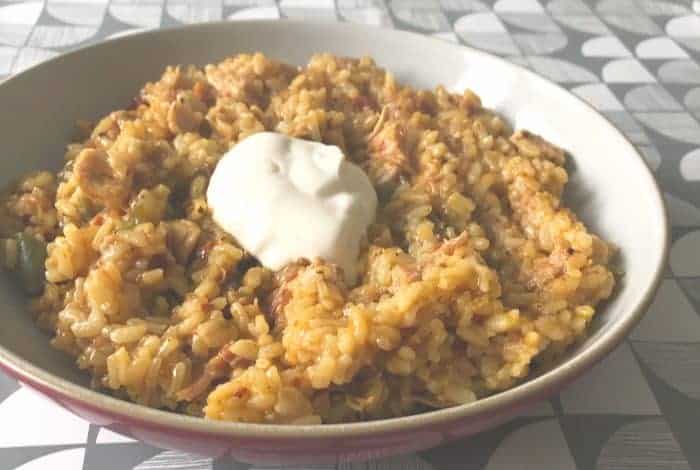 4. Favourite author?
I genuinely don't have a favourite author as I read so many books on my Kindle that I literally just read the description and if I like it and it's covered by my Kindle Unlimited subscription then I download it. I do have a rule that life's too short to finish a book if I'm not enjoying it after the first few chapters which is why I love the fact I can choose from hundreds of thousands of books in my subscription.
5. What do you think of open relationships?
Nope.
6. Favourite video game?
I'm not a video game kind of person although I do like a family game of Bomberman. I did once have to delete Candy Crush off my phone because I got slightly addicted to it and used to play it before I went to bed on a night – I had a dream one night where I was in a room with Candy Crush blocks all around me and it was awful. I deleted it the very next day and started to read my Kindle before bed instead.
7. Guilty pleasure treat?
A cheeky takeaway while watching Netflix.
8. Favourite film?
I don't really watch too much TV and rarely watch films to be honest but I did watch hidden figures on the flight home from LA last year and LOVED it. It's so inspiring and I think it should be a film that's watched in schools.
9. Favourite book?
I don't really have one as I love all my books equally. 😉
10. Twitter or Instagram?
Instagram all the way. Twitter seems to have got all political lately and doesn't seem to be the happy place it once used to be if you ask me.
11. Desktop or laptop?
MacBook.
12. Best advice you've ever received?
Always trust your instincts when it comes to parenting.
13. What project are you working on right now?
Ooh, I do have a blogging project on the go that I'll share soon but I do also actually have a list of planned projects which is basically things I've thought of over the years and never got around to doing. This year I decided I was going to start working through that list so that's what I'm doing right now.
14. Favourite colour?
If sparkly was a colour then I'd say that but seeing as it isn't then I'll go with pink.
15. Did you get good grades at school?
I did get good grades in my GCSEs but I probably could have done better. I had glandular fever during my exams which meant that I had an almost constant sore throat and was exhausted throughout so I didn't do much revising and only just managed to stay awake through most of my exams. Glandular fever lasts a couple of months and there isn't really a treatment to cure it so it's just a case of managing it until it's out of your system.
16. Dream job?
I do love my job, so much so that I don't think I could ever give it up for blogging as I know lots of people have done. I would like to take a year off at some point though so I can work through some of the bigger projects that are on my list.
17. Played any sports?
Well, I went on a bike ride last week if that counts?
18. Do you have a degree?
Kind of. I didn't go to university as I really just wanted to start working and earning some money but I do kind of wish I had gone as my Dad kindly offered to pay for it all so I would have had no student debt at the end of it. I do have a Business Management NVQ Level 5 which is the equivalent of a foundation degree and I have a pretty good job earning more than a lot of graduates so I think I've done OK.
19. Nationality?
British.
20. What is your favourite kind of blog post to do?
I love when I just have a random idea, open my laptop and just start writing – I've written blog posts in ten minutes before because the words just write themselves for some posts.
21. What do you like to collect?
Memories. 🙂 Is that too cheesy? I like handbags and books so we'll go with those instead.
22. Describe yourself in 3 words?
Nice but demanding.
23. If you were a rapper what would your rapper name be?
I absolutely would never be a rapper, I'm just not cool enough.
24. Who was the last person you dmed?
I'm pretty sure it was Becky from Baby Budgeting.
25. What's on the top of your wishlist right now?
I could really do with a lottery win to help with all the expenses I've got coming up over the next couple of months!
26. Hogwarts House?
No idea as I'm not a huge Harry Potter fan and I've only seen the first few.
27. How many tattoos do you have?
None but I feel like I'd quite like one on my foot. I want some sort of swirly design with stars on to represent my brother, Mum and Dad.
28. What are you most grateful for this year?
My family!
29. What's the best thing that's happened to you this month?
Miss Frugal got an amazing set of exam results and got into the college that she wanted to study the A-Levels that she wanted to do. I'm so proud of her!
30. What's the best thing that's happened to you today?
We finally set up the new printer that we bought which was no small task as it just wouldn't connect to our WiFi network the first million times we tried it.
31. What's the best thing ever?
Puppy cuddles!
32. Favourite season?
I love Autumn.
33. Favourite holiday?
Obviously, I'm going to say Christmas here.
34. Which fictional character do you relate to most?
I'm torn between Tinkerbell and Mage Simpson.
35. Do you like surprises?
Only if they're shiny!
36. What's the biggest surprise you ever got?
I'm really lucky (depending on how you look at it) as I have a husband who likes to surprise me with nice things so I've had some lovely surprises over the years – which is why you might occasionally see something more expensive than you approve of on here. I do love getting presents but from the other side of things, he'll buy first and think of the money later when he does this so I get a lovely surprise then I have to jiggle money about to cover for it. 😉
37. What's a surprise that's made you cry?
Ah, this is a sweet one. When my Dad was poorly, he gave me my Mam's engagement ring which I loved but it didn't fit me. For Christmas, Mr Frugal got it resized for me and I haven't taken it off since. I wear it in place of my own engagement ring which is a diamond solitaire and as much as I love it, it's not as 'me' as my Mam's ring is.
38. What's the best surprise you've ever given anyone?
I don't know about the best surprise but the biggest surprise was not long after my Dad died. I got an invite to go visit Pinterest in San Fransisco which was a definite no from me because of the cost involved (flights, hotel and spends) and the fact I'd have to get myself halfway across the world. The kids and Mr Frugal tried to encourage me to go but I was adamant that I wouldn't. Then I woke up early one morning and on the spur of the moment I booked a flight and hotel before going back to bed. When everyone got up I told them I was going the following week. 😉
39. Do you like muffins?
Who doesn't?
40. Do you cook often?
I try to although if there's a shortcut to be taken then I'll take it.
41. What's your favourite dessert?
Cheesecake.
42. Is there a dessert you don't like?
I was about to say that I like all desserts when I remembered one I can't stand – Tiramisu.
43. Cake or pie?
Cake.
44. What's your least favourite food?
Anything with red peppers in.
45. What's your favourite condiment?
Salad cream.
46. It's 4am on a Saturday night, what would you eat?
Am I drunk? If I'm drunk then I'd order a parmo with garlic sauce and if I'm not then I'd make some avocado on toast.
47. If you could teach a college class what would it be called?
The life and times of a unicorn.
48. Best animated film?
Toy Story.
49. What has a guy done or said to impress you?
Our last house was often cold as we had storage heaters and in the Winter, Mr Frugal used to get in bed on my side to warm it up before I got in. 😉
50. The best thing to do on a first date?
Go to the cinema so you don't have to fill the whole night with chat – build up gradually. 😉
51. The worst thing to do on a first date?
Paintballing!
52. What's the funniest pickup line a guy can use on a girl?
I'm not a fan of pick up lines.
53. Best comic book character?
I don't think I know any!
54. What are the three things that are always in your bag?
My phone, my lip balm and my debit card.
55. Favourite drink?
Pepsi Max all the way.
56. If you could play a historical character who would it be?
I'd definitely want to be a Queen or a Princess of some sort!
57. Kittens or puppies?
Puppies.
58. Favourite sushi roll?
Ugh. Just Ugh.
59. What kind of lipstick do you use?
Christian Dior Lip Glow – It's a super cute two-tone lipstick that I always buy when I'm anywhere near a duty-free shop. Look at how cute it looks…
60. What kind of foundation do you use?
I wear YSL Touche Eclat foundation which isn't cheap but it's perfect for me as it's such a close colour match that it literally takes seconds to put on and blend in on a morning before work.
61. Blow-dry or air dry?
Well, I always used to be a blow-dry kind of person but I have changed my hair care routine these days and everyone laughs at me because of it. 😉 Basically, I now have a pretty long commute to work so I'll wash my hair, put some Schwarzkopf air dry spray and set off to work. I put the blowers on full and by the time I get to work, I'm all dry so I just brush it through and I'm good to go.
62. Who is your fashion icon?
I'm really not very fashionable so I don't really have an icon but I do love Christian Dior.
63. Favourite Disney character?
I'm going to say Woody from Toy Story – what a guy!
64. What are you doing tomorrow?
We're still trying to decide – we were going to go somewhere like Flamingo Land but it's £140 for tickets so that's not happening. We know we want to go out for the day but just don't know where!
65. Movie you laughed the hardest through?
I'm so bad at this – I really can't remember any film that's made me laugh as much as Father of the Bride but there must be something I've seen since then that's been funny!
66. Movie that made you cry?
I cried at Bohemian Rhapsody – on a plane sat in the posh seats!
67. If you could sing a duet with someone who would it be?
I could be Gabriella if Zac Efron is around to be Troy. 🙂
68. If your life was a song what would the title be?
I'm not good at things like this so I cheated and found a random song lyric generator online where you fill in random words and it spits out a song title. Mine was… Cass Gonna Make You Thrifty which is bad I know but it was the best of the bunch by far.
69. What's your favourite animal?
Dogs!
70. Favourite illustrator?
Quentin Blake is pretty much the only illustrator that I can think of but to be fir, I'm pretty sure he'd be my favourite even if I could name others.
71. The person you want to have coffee with?
I don't drink coffee but I'd love a Chai Latte with Ellen. ;-0
72. What's the country you wish to visit?
Japan, I'd really love to visit but Mr Frugal isn't a fan of long haul travel and my teenagers just want to go back to New York whenever I talk about travel with them.
73. Best way to decompress?
I know it sounds like a really bad way to relax but I do love opening my laptop and just blogging about whatever comes to mind – it really is relaxing for me. That's why I don't think I could ever do this full-time, it would stop being 'fun' and start being a job.
And in proper old school blogging style, I'm going to tag some other bloggers to join in… I'm tagging Charlotte, Katie, Nicola, Abdul, Hannah, Melissa and Lisa.
(I feel ridiculously childish tagging people ha ha)
Don't miss out on future posts like this – receive updates directly to your inbox by email by adding your email address here and hitting subscribe. You can also follow me on Twitter or BlogLovin and I'd love to see you over on my Facebook page and on Instagram. If you're interested, you can find out more about me here. 😉