If you saw last January's month favourites post then you'll know that I had a blogging re-think and decided to bring back a few of the things I used to enjoy sharing on my blogs so I started by bringing back my monthly favourites posts!
February 2021 | Monthly Favourites
Film/TV
I rarely have much to say in this category but this month I've discovered how to get American Netflix and managed to finally watch a TV series that I've wanted to watch since I went to LA with Miss Frugal. We went to Warner Bros Studio and were lucky enough to get to spend some time on the set of a show that was filming on the day we were there – All American.
We also saw the school where the series was filmed while we were there so I wanted to watch it just to see how what we saw translated into an actual TV show. For the first few episodes, I was so distracted with different scenes remembering what was where when we went and how the set was transformed on camera. After that though, I got that into the show itself that I forgot all about it and I've managed to watch the first two seasons in the last month which is very unlike me. 😂
Books
I read for at least half an hour when I get into bed and really find that some light, easy reading helps me to relax and empty my mind before it's lights out and sleep time. This month, I downloaded a book by an author called Serenity Woods based on a Kindle recommendation and I really enjoyed it – especially as it was part of a series of seven books which makes it even better as just downloaded the rest of the series once I knew I like the first one. I've read them all now and moved on to the next series by the same author which to be fair is quite similar in format but it works and I enjoy it so I'm happy.
(I have a Kindle Unlimited subscription so I can download up to 10 books at a time – it's like a modern-day library except I pay £7.99 a month for the pleasure. It's well worth it to me though as I read so much.)
Music
I can't even begin to tell you the music I've been listening to this month as Master Frugal has decided to 'educate' me on his kind of music and most of it is definitely not to my taste. Some of the songs aren't too bad though and I even added this one to my playlist…
Beauty
Before I tell you my favourites for this category, let me tell you my least favourite – Veet Wax Strips which I bought to have a go at waxing my legs rather than the usual hair removal cream that I use and I've never used such an ineffective product. Honestly, I followed the instructions to the letter and I don't think a single hair was removed! Looking at the Amazon reviews though, it appears that I'm in the minority although I can't for the life of me figure out what I did wrong!
My favourite new discovery for this month is the Garnier Shampoo Bar which is not only great for the environment as they're 94% plant-based and have zero plastic waste but the one that I bought, the Ginger Recovery Bar, is great for my hair which was looking a bit dull after I stripped all the dye from my hair. I bought mine from Boots as it was half price (£3.99) and came with a free box specially made to store the bar in.
I'm interested to see how long it lasts for though as I want a sustainable product that doesn't cost a fortune more than a non-sustainable one. It feels like an absolute bargain at £3.99 but I'll see how long it lasts before I decide if I'm in when it comes to paying £7.99.
Blog Post
OK, I have two favourite posts this month for two very different reasons!
First up, I have my three-ingredient Oreo truffles because I had so much fun taste-testing them as I made them. It wasn't the first time I'd made these little treats but the first time around, they were eaten by the kids before I got a chance to take photos.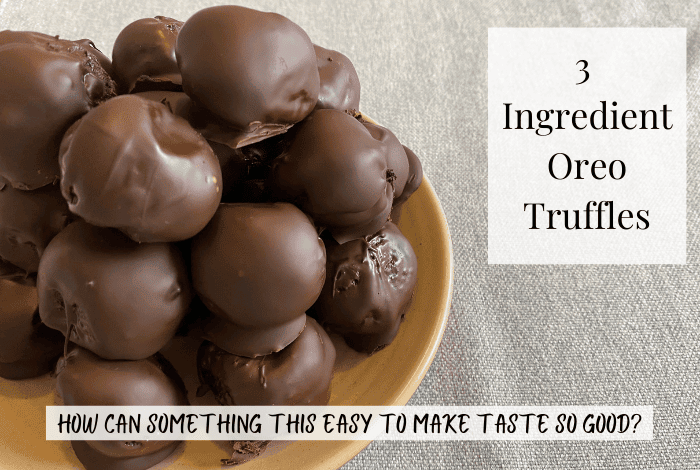 My second favourite post is the list of online charity shops that I put together because I had so much fun browsing as I put the list together. I didn't buy anything but I did put a few cheeky bids in on the Scope eBay shop – someone clearly wanted everything I wanted more than I wanted it as I was outbid on them all.
Photo
This is my all-time favourite ever photo and I get to share it again this month with you in my favourites because I reshared it this month as it was taken two years ago this month when I took the kids to New York. The trip was amazing and we can't wait to go back.
It wasn't posed at all – Miss Frugal jumped into the picture I was taking of her brother at the iconic photo spot in front of the Brooklyn Bridge and somehow it ended up as my favourite ever photo as they both look happy and natural. It's been my phone screensaver since that day and every time I look at it, I smile.
I shared more about making them here and about my dramas putting them up on the wall here if you want to have a read. 😂
Don't miss out on future posts like this – receive updates directly to your inbox by email by adding your email address here and hitting subscribe. You can also follow me on Twitter or BlogLovin and I'd love to see you over on my Facebook page and on Instagram. If you're interested, you can find out more about me here and while I've got your attention, if you're wondering why some of my posts lately are a little bit less frugal then have a read of this post. 😉
Do your future self a favour – Pin this post for later: