If you caught last night's post then you'll know that I've gone all old school this week and am blogging daily to share with you what I've been up to that day.
It's day two of my week off work and I've had a busy one!
I got up this morning and booked an appointment at the tip (it's a COVID thing – you need an appointment and ID to take rubbish to the tip now)) with the intention of clearing out my garage this morning.

One carload wasn't nearly enough to even make a dent in the mess that was my garage to be fair though so I just got rid of as much rubbish as I could and have made an appointment for tomorrow to take some more.

It can't just be me who lets their garage turn into a dumping ground, is it?

There's a table, some mattresses, a set of drawers, a pretty display cabinet and the boxes for just about everything that I've bought in the last year piled high along with the usual junk. Oh, and an empty lizard tank, three bikes, a freezer, a tumble drier and possibly more suitcases than you'll find in the airport.

I did consider hiring a skip but they're around £150 for even a small one so a daily trip to the tip this week will have to do me.
Once my garage cleaning out was done for the day, I moved onto a project I've been planning in my head for a good couple of years and it's turned out even better than I expected.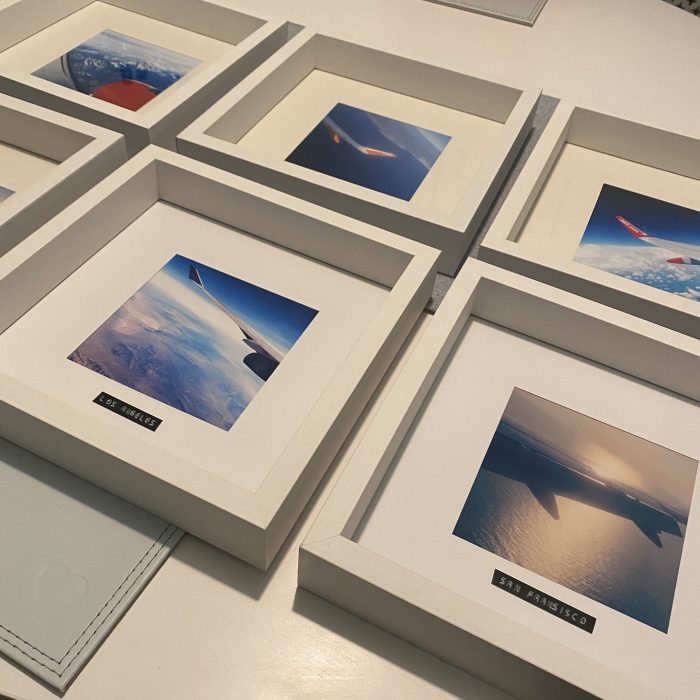 Every time we go on holiday, whichever one of the kids gets the window seat also gets the job of taking a wing shot phot0 – no idea why we started but it's turned into a tradition now which I love. Between the two of them, they've got some great shots and I bought six quite boxy frames in a sale from somewhere a few years ago with the intention of using them to display some of our favourite photos from our holidays.
I then put them in the garage ready for when I had some time to do it and they've been sat in there ever since!
Today though, I brought them into the house and went through our last six holidays to find the wing shot photos and after a bit of drama, managed to get them printed out to the perfect size.
I've even made labels for each photo so we remember which holiday it's from and I think they make all the difference to the finished photos – I absolutely LOVE them!
They're a fab way to display something from our trips, especially as the kids are getting older and don't want me putting photos of them up around the house so this is a good compromise!
The only problem I have now is that I don't really know where I want to put them as the space I initially wanted them in when I bought the frames has now been filled with the TV which is mounted on the wall now. I'm thinking they'll look good halfway up the stairs but for now, I've just got them laid out on my dining room table.
See you tomorrow!
Don't miss out on future posts like this – receive updates directly to your inbox by email by adding your email address here and hitting subscribe. You can also follow me on Twitter or BlogLovin and I'd love to see you over on my Facebook page and on Instagram. If you're interested, you can find out more about me here and while I've got your attention, if you're wondering why some of my posts lately are a little bit less frugal then have a read of this post. 😉