These three Ingredient Oreo Truffles are the tastiest homemade sweets you'll ever make and if you can decorate them better than me then you could even give them as a homemade gift.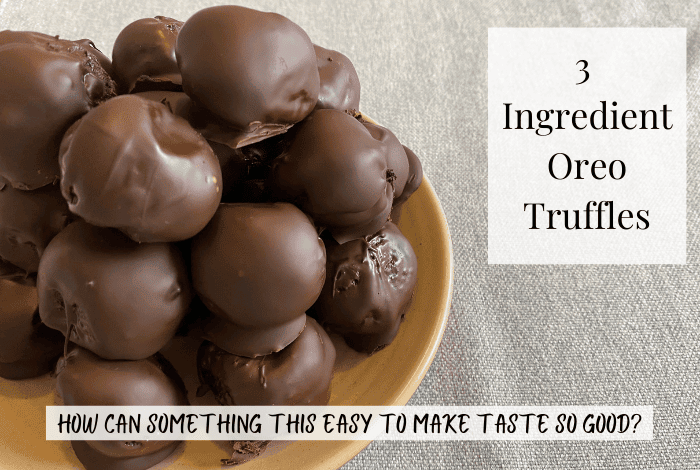 I first made a batch of these little beauties a few months ago and I couldn't believe how something so simple to make could taste so amazing! I had one or two (maybe three as they're very more-ish) and then left them to set. I started to write the recipe up as I was super excited to share them with you all but before I could come back to take some photos, the kids found them and left me with five.
Anyway, I've finally got around to making them again and they were equally as amazing as the first time so I'm sharing the recipe with you today. I promise it was totally worth the wait…
I'm sure I could make them look prettier if I spent a bit more time on the decorating part but my thoughts when I was doing this today was that I could melt a bar of white chocolate and drizzle it over the top to hide the imperfections (of which there are many 😂 ) but I realised that someone had eaten the Milky Bar. So what you're seeing today is a rustic version of Oreo Truffles.
There are some that look better than others though so let's just pretend they're all that smooth looking!
Three Ingredient Oreo Truffles
Yield: 25 sweets

Prep Time: 20 minutes

Additional Time: 1 hour

Total Time: 1 hour 20 minutes

These 3 Ingredient Oreo Truffles are the tastiest sweets I think Ive ever made How can something this easy to make taste so good?
Ingredients
2 packets of Oreos (154g pack size)
1 tub of Philadelphia (180g tub size)
1 200g bar cooking chocolate (white, dark or milk would work)
Instructions
First up you need to crush the Oreos as finely as you can manage. I prefer to use my little food blender and just do them in batches but you can use a rolling pin and a plastic bag if you prefer the old fashioned way.
Transfer all of your Oreo crumbs into a bowl and mix in the Philadelphia - a metal spoon works best as you can almost mash the crumbs into the Philadelphia.
I haven't found the best way to do this next but you need to shape the mix into little balls. I just use my hands if Im honest which is super messy but does the job.
Next up, melt our chocolate and coat each truffle with a layer of melted chocolate and leave to set in the fridge for an hour. I have no idea how to do this neatly but it doesnt make a difference to the taste so Im happy with the rustic look. 😂
Notes
Any soft cheese similar to Philadelphia would work well but I really think Philadelphia works best as it's got more of a creamier taste. Maybe add a capful of vanilla essence if you're using a cheaper version as they can taste a bit cheesier.

Enjoy!
Don't miss out on future posts like this – receive updates directly to your inbox by email by adding your email address here and hitting subscribe. You can also follow me on Twitter or BlogLovin and I'd love to see you over on my Facebook page and on Instagram. If you're interested, you can find out more about me here and while I've got your attention, if you're wondering why some of my posts lately are a little bit less frugal then have a read of this post. 😉
Do your future self a favour – Pin this post for later because you never know when you'll fancy some Oreo Truffles: