Every week I share five frugal things that I've done during that week just to show you that the small things you do all add up to a great frugal lifestyle where you can learn to live a fabulously frugal life.
Hey! 👐
1) I've done a bit of Christmas prep this week and cashed in some of my vouchers from Swagbucks so I now have a good amount sitting in my Amazon account and a gift card ready to go on the Boots website along with around £50 worth of Boots Advantage Points.
I made myself a list of things that I know I want to get for the kids for Christmas but I'm planning to wait for Black Friday just in case any of them come down in price over the Black Friday deals period – some stuff I think might do from what I can remember of the last few years deals.
My plan is to buy from local businesses or from Etsy rather than the big businesses when everything re-opens but these are vouchers that I've been earning and saving throughout the year so I'm going to use them up and then see what I can do to shop local for what I can.
2) So last Sunday morning, before I started work, I decided to quickly put the freshly washed clothes away and somehow ended up having a big wardrobe clearout! I got rid of so much and although I did bag some stuff up ready for the charity shop when they re-open, I did separate some stuff out to list on eBay.
The listings are due to end over the weekend so whilst I'll never make a fortune, it all helps, right?
3) I've made a new sleep spray blend from my essential oils collection and I think it's amazing! I've shared my basic sleep spray a couple of times but this new blend is another level I think so I'll share it with you this week sometime if I get around to taking some photos of it. 😴
I'm going to hold my hands up and say it's not a magic recipe that you spray and instantly sleep when your head hits the pillow but it does help me personally to relax at a time when my mind usually starts going into overdrive. I've made a few different blends recently and this one is definitely my favourite
4) I also made a batch of homemade febreze which is something I've been making for a good few years now! It's perfect for this time of year as I love to give my settee a bit of a spritz every now and again as the smell of wet dog isn't my favourite scent! 😂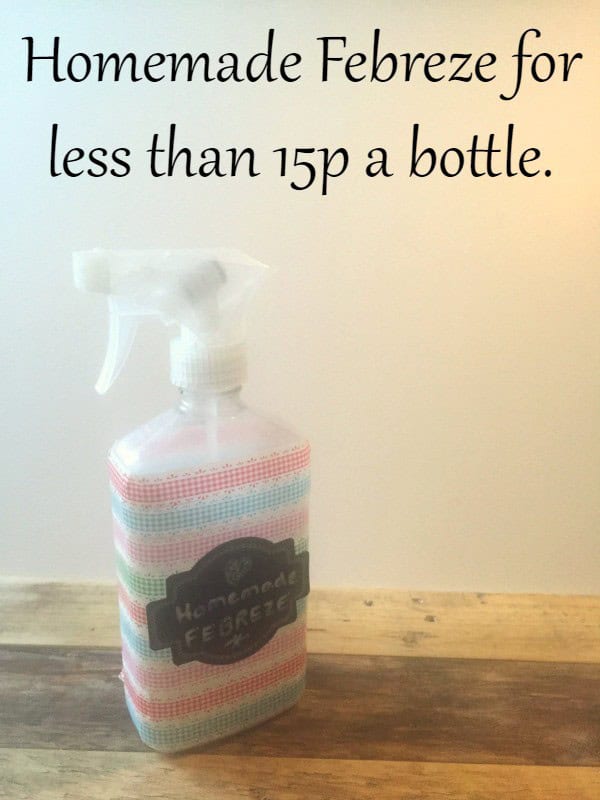 One of these days, I'll take a better photo and update the post as I have a much nicer bottle now. 😉
5) I haven't mentioned this for a couple of weeks but I'm still doing overtime where I can at work – it's not like there's much else I can be doing so I'm filling my time with something productive and earning some extra pennies at the same time!
Come over and join our fab Facebook group – Spend Less, Live Better! We've almost hit 35,000 members in the group now so it's a great place to be
As always, we'd love you to join in with us by sharing anything you've done that's been thrifty or frugal from your week – whether it's an Instagram picture (#5frugalthings), a blog post or even a video. Just add your link to the Frugal Friday linky at the bottom of this post.
You're more than welcome to copy and paste the badge above but it would be even better if you could let your readers know that you're linking up with the five frugal things linky by adding a little line to the bottom of your post like this one:
I'm linking up with this Cass, Emma and Becky in this week's 'Frugal Friday' linky.
Don't miss out on future posts like this – receive updates directly to your inbox by email by adding your email address here and hitting subscribe. You can also follow me on Twitter or BlogLovin and I'd love to see you over on my Facebook page and on Instagram. If you're interested, you can find out more about me here. 😉
You are invited to the Inlinkz link party!