I've been making homemade Febreze for years now and often share in my weekly Five Frugal Things posts when I've made up a new batch but today, I'm going to update and reshare the original post when I told you about it for a couple of reasons. Let me tell you why…
The first reason is simply that I treated myself to a new spray bottle as the one I used to use was looking more than a bit grubby and I just wanted to show off the prettiness of it although it's shiny white with shiny rose gold lettering on it so definitely doesn't photo as well as I wanted it to. 😂.
And secondly, the last couple of batches that I've made have literally been like Summer in a bottle thanks to the fabric softener I've been using which is enough of a reason to re-share even without the pretty new bottle.
So without further ado, here's how to make homemade Febreze for less than 15p a bottle!
Hands up if you like your house to smell nice and fresh! 🙋‍♀️
I always used to buy bottles of Febreze to help keep everything smelling fresh as I loved that I could just spray it around the house on fabrics, curtains and even the carpet for a quick refresh. I even used to keep the bottle behind the curtain in the living room and give everywhere a quick spritz before I went to work so I'd come home and everywhere would smell fresh.
When I had a serious look at my budget for the first time, I looked at the things I bought that weren't essential or that I could make myself and this was one of the first things that I attempted to make a homemade version of. For less than the cost I was paying for one bottle, I discovered that I could make 20+ bottles myself using fabric softener.
This was genuinely mind-blowing to me as I'd never even considered this before and to someone who'd never been thrifty or frugal before, it was a huge lesson I quickly became a fan of making my own versions of things I'd previously spent money on regularly. Homemade Febreze was the first thing of many things that I learned to make myself and I remember how proud of myself I felt when I first shared this post!
(I'm easily pleased, I know.)
Anyway, I haven't bought actual Febreze for years now but I've just had a quick look on the Asda website and it's currently selling at £2 for 375ml which is a lot more than my homemade version works out to. My homemade Febreze costs less than 20p for the same size bottle when you use the more expensive brands of fabric softener to make it but can cost as little as 5p if you buy own-brand fabric softeners.
My homemade Febreze is almost as good as its shop-bought counterpart and even though, I could lie here and say that my homemade version is every bit as good as the real deal, I won't because it's not. It's made with two ingredients and costs a fraction of the price with no scientific research going into every ingredient.
But you know what? Almost as good is good enough for me based on the amount of money I save in making my own. Homemade Febreze does exactly what it needs to do – it refreshes the fabrics in my house and leaves everywhere smelling fresh and clean.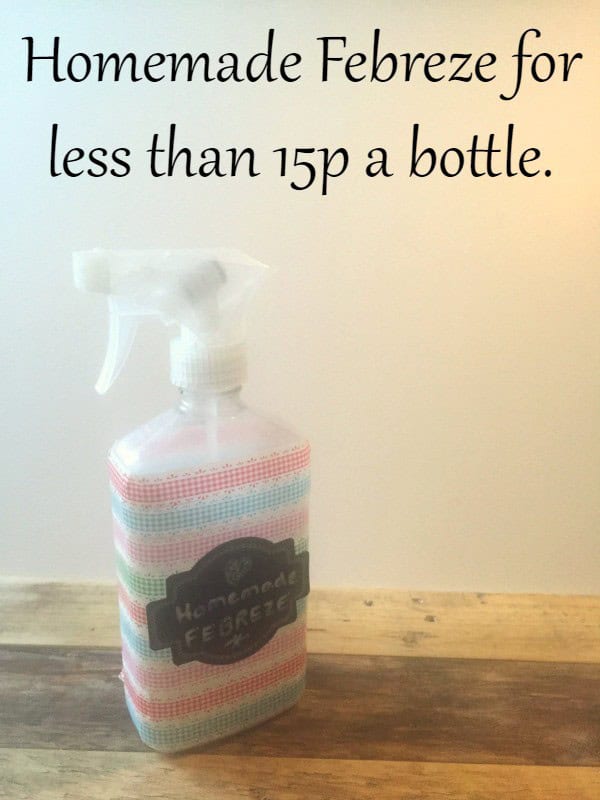 How to make Homemade Febreze
Yield: 1 Spray Bottle

Prep Time: 5 minutes

Total Time: 5 minutes

Homemade Febreze is exactly what you need to keep your house smelling fresh and clean!
Materials
A Spray bottle - mine is a 500ml size
50ml fabric softener
Hot water to fill your bottle
Instructions
There's nothing complex about making homemade Febreze - just mix the fabric softener and the water together, give it a good shake and you're good to go.
Notes
You can use it straight away before the water cools if you want but it's just as effective when the water has cooled down, it just helps it to mix together if the waters hot when you add them to the bottle.

Based on a price of £3.00 per 1000ml for Comfort fabric softener that works out at 15p for my version of Febreze but actually, if you were to buy a cheaper fabric softener (Tesco value is 90p for 2 litres) then you're looking at it being even cheaper – in fact, it works out at under 5p if you use the value version. Honestly though, I prefer not to use the value versions of the fabric softeners in my homemade Febreze as I don't personally think their scent is as long-lasting as the more expensive ones and I don't mind paying a little more knowing how much I'm saving by making my own anyway.
I also got a matching Zoflora bottle so watch this space!
Also, in case you're wondering about the spray bottle – I bought mine from an Etsy seller called Brown Owl Gifts and they're great quality so I'm planning on buying a few more for my other homemade cleaning products when I figure out what I want. They're £4.99 each with P&P on top so I think I paid about £13 for the two of them which I don't think is bad at all although obviously, any old spray bottle will do as it's what's inside that counts. 😇
Don't miss out on future posts like this – receive updates directly to your inbox by email by adding your email address here and hitting subscribe. You can also follow me on Twitter or BlogLovin and I'd love to see you over on my Facebook page and on Instagram. If you're interested, you can find out more about me here and while I've got your attention, if you're wondering why some of my posts lately are a little bit less frugal then have a read of this post. 😉
Do your future self a favour – Pin my homemade Febreze recipe for later: