I love my house to smell nice and fresh but that isn't always easy with my family!
I've been winning the battle against smelly socks and wet dog lately though thanks to my new secret weapon – homemade Febreze!  I have bought Febreze in the past (usually when it's on offer) as I do like the fresh smell that it always gives my house and the fact that I can spray it directly on to my carpets, cushions and curtains.
Febreze usually costs £3 for 500ml when it's not on offer which works out to 60p per 100ml although some Supermarkets do their own branded version which usually costs around 20p – 30p per 100ml.  Having used my own homemade version for a month or so, I think it's almost as good as Febreze.
I could lie here and say that my homemade version is as good as the real deal but I won't, almost as good is enough for me based on the amount of money you save.  I will say that in my opinion it's better than the own branded versions that I've tried in the past though.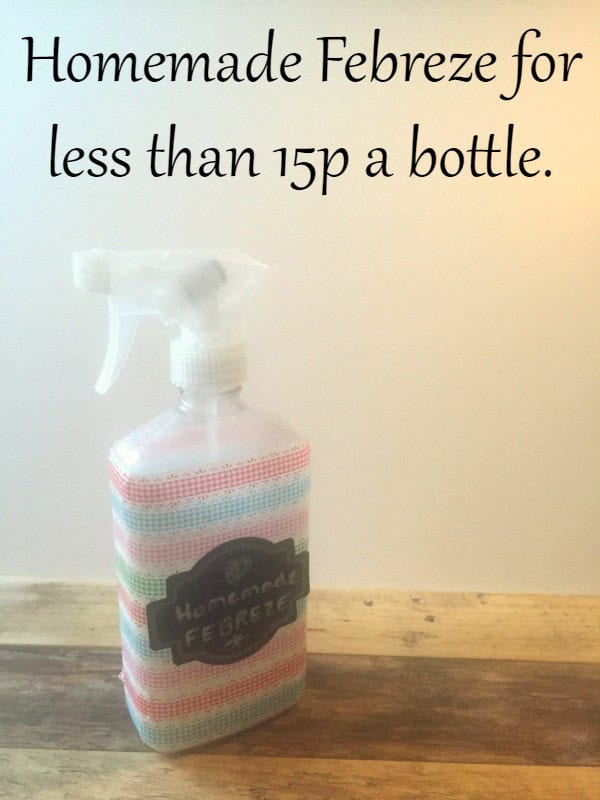 How to make homemade Febreze
You'll need:
40ml fabric softener (I buy Ecover when I make this as that's better for us and for the environment but that's my personal choice, any fabric softener will do the same job)
Hot water to fill your bottle up with
There's nothing complex about this – just mix the fabric softener and the water together, give it a good shake and you're good to go.
You can use it straight away before the water cools if you want but it's just as effective when the water has cooled down, it just helps it to mix together if the waters hot when you add them to the bottle.
Based on a price of £2.25 per 750ml for Ecover fabric softener that works out at 12p for my version of Febreze but actually if you were to buy a cheaper fabric softener (Tesco value is 90p for 2 litres) then you're looking at it being even cheaper – in fact it works out at under 5p if you use the value version.
Don't miss out on future posts like this – receive updates directly to your inbox by email by adding your email address to the box on the top right of this page and hitting subscribe. You can also follow me on BlogLovin or Networked Blogs and I'd love to see you over on my Facebook page and on Instagram.