This week is an odd one because I'm sharing a few things that I've actually spent some money on – all for a good reason but still spending money rather than saving it….
1) We have the fastest broadband package available to us in our area and for a family with two teenagers, a sometimes gamer (Mr Frugal, not me) and a blogger it's completely necessary!  We have had a few issues lately though with poor Master Frugal and his xbox which always lagged (I'm told that's the down with the kids way of saying that it goes slow) when we were all online at once.  We did some research and found a gadget (this one) on Amazon which somehow transmits the wifi signal upstairs so the xBox can be plugged in directly to it which gives it a much stronger signal.  It makes no sense to me either but it works brilliantly.
The Frugal side of this story is that I paid £25 of the cost of this little gadget with vouchers I was able to redeem from Swagbucks as I had earned enough points since I redeemed them just before Christmas to do this.  I know I mentioned this in my post about how you can make money doing surveys last week and so many of you signed up but I thought I'd tell you again because it's a great way to build up some savings for something like this.  You earn points on Swagbucks from doing surveys, watching videos, signing up for free trials and referring friends so if you dedicate a little time each week now then you could even save your points up to redeem in time for Christmas.
As for the magic gadget, I might even write a whole post about it because it's brilliant!
2) Master Frugal got a new pair of trainers this week as his favourite pair were starting to pinch his feet a little bit.  Trainers for a 12 year old with big feet are definitely not cheap these days but thankfully we've found a way to keep them looking smarter for longer.  As we have done, the last few times we've bought new trainers we bought the recommended Crep spray that they always offer at the till (or at least they do in JD Sports).
We always used to say no in the past as I'm a bit cynical and thought it was just a sales gimmick but as the kids trainers got more expensive we thought we were paying enough for the trainers that the extra cost of the spray would be worth it if it did help them look better for longer.
We initially spray the trainers with two coats of the spray as recommended and we give them a top up once a month (ish) and it really does help keep them cleaner.  Just look at Miss Frugal's WHITE trainers about four months after we bought them…
They're still white!  Not bad considering she wears them at least a few times a week and doesn't do anything special to keep them clean other than spray them with the spray every three or four weeks.
So anyway, we sprayed his new trainers with the Crep spray (which you can find here or in most sports type shoe shops) and my frugal point is that sometimes, it's worth paying more for something that's going to prolong the life of something you've bought.
3) As part of my Christmas present, Mr Frugal bought me a ticket to the bloggers retreat that's happening in April.  It's in Bristol which is a fair distance for me to travel but it's a chance to spend a few days doing things I love and learning some new things that I've been wanting to try.  I went to book the train this week and found that an off peak return ticket for me was £142 with a journey time of around five and a half hours and two changes.  Rather than book that, I had a cheeky look at flights and managed to get an Easyjet flight from my airport to Bristol airport for £49 so I booked that instead.
We've flown with Easyjet before and I have no issues with them at all as we've had nothing but good experiences.
I also booked a car to collect from the airport so I can drive myself to the hotel which is about an hour away – the cost of that added together with the flight is still around a third less than the train would have cost me and I feel like it's a much better option for me.  I even booked an earlier flight going down and plan to find something to do on my own before I head to the hotel as I really want to learn to take more time for myself this year.  There are some lovely English Heritage places in the area so I may even go and explore one of those.
I would never have thought a flight would be a cheaper option so I'm really pleased I checked.
4) This is probably something I should share next week as Valentines Day is next Wednesday but I thought I'd tell you about it now as it might help you with a frugal gift for the one you love…
We've agreed not to do presents this year for Valentines Day because we have so many other things that we want to save up for and I hope that Mr Frugal will stick to his promise that he won't even look at a card or a bunch of flowers.  We said last year that we would try and give each other something that didn't cost a penny but his lack of imagination meant that, whilst I made him this cute little poster of couples and included us in the list, he went out and bought something instead.
You can make your own personalised poster using our free poster maker if you want to have a go at making your own frugal Valentines Gift but just make sure your other half sticks to any agreements you make about not giving gifts. 😉
5) This week I bought a new car – which is maybe not seen as a frugal purchase but I think you're going to like this one. 😉
Mr Frugal and I don't do new cars or car finance and always buy cars that are slightly older so we can afford to pay for them outright easily enough.  My current car is a 2009 car which we bought three years ago for under £1000 and have had no issues with at all (touch wood).  Mr Frugal's car was bought not long after mine but is a couple of years older and honestly, it's on its last legs now and we're in definite need of a replacement so we've been saving up. We decided that he would have my car and I would get a new (to us) car and since I've always wanted a mini, that was my goal.
Anyway, sometime last week I saw one on a local Facebook selling site for £999 which was an older model than I was after so even though it was in great condition with fewer miles than my current car, I left it. Then, last Sunday I noticed that the price had gone down to £850 so I messaged and asked what the lowest she would take was and she said £650 as she already had her new car and just wanted rid.
I popped around to have a look and we had a lovely chat about the band she was in and she said if I wanted it that I could have it for £600 which I was over the moon with.
It's definitely older than I wanted as I was really after a 2012 + model but really, it's in great shape and even if I only have it for a few months and then sell it on, I'm pretty confident that I would get back what I paid for it.  The stereo system alone is a good £100+.
So I have a car that I got a great deal on, paid outright for and that's in great condition – frugal win?
As usual, we've been having some really good discussions this week over in our Live Well, Spend Less Facebook group.  We'd love to welcome you to our little community if you fancy popping in.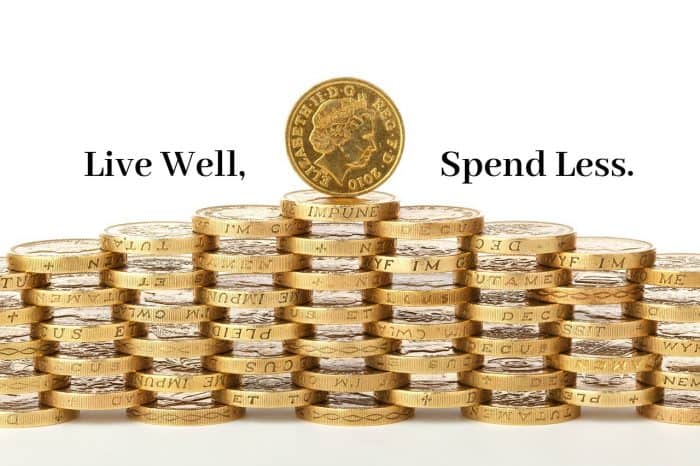 As always, we'd love you to join in with us by sharing what frugal and thrifty things you've been up to this week – whether it's an Instagram picture (#5frugalthings), a blog post or even a video.  Just add your link to the linky at the bottom of this post.
You don't have to share five things you've done, anything thrifty or frugal that you've been doing is perfect.
You're more than welcome to copy and paste the badge above but it would be even better if you could let your readers know that you're linking up with us by adding a little line to the bottom of your post like this one:
I'm linking up with this Cass, Emma and Becky in this week's 'Five Fabulously Frugal things I've done this week' linky.
Don't miss out on future posts like this – receive updates directly to your inbox by email by adding your email address here and hitting subscribe. You can also follow me on Twitter, BlogLovin or Networked Blogs and I'd love to see you over on my Facebook page and on Instagram.
—