Every week I share five frugal things that I've done during that week just to show you that the small things you do all add up to a great frugal lifestyle where you can learn to live a fabulously frugal life.
Before I start though, I should say that being frugal to me is about getting the best value for our money. We all have different financial situations and we're all frugal for different reasons. 😉
1) Did you see my Dirty Fries in Monday's 'What I ate in a week' post?
They were an absolute triumph, not only from a Slimming World point of view as they're syn free but also from a using up leftovers point of view.
I basically parboiled some peeled potatoes that had been cut into chips and then popped them into a baking tray with a chopped green pepper that was starting to look a bit pathetic, some sliced red onion that I cut using the red onion we didn't use the other day when we made homemade pizza, some leftover shredded gammon and some just a bit soft tomatoes. I sprayed it all with Frylight and popped it in the oven, just before it was ready I added some grated cheese on top to melt in.
They were AMAZING and my new favourite way to use up leftovers.
2) I've been after a particular t-shirt for a while now so when I got paid, I went onto the site to buy it for myself. There was a pop up to say that if I signed up for the mailing list, I'd get special offers emailed delivered to my inbox so I signed up and didn't make the purchase right away.
Sure enough, within the hour I got an email thanking me for signing up and offering me 10% off my next purchase which, although not a huge amount, meant that my t-shirt cost me a few pounds less than it would have done if I'd bought it the hour before.
3) I usually make homemade bird feeders for the birds who visit our garden but the ones I make are suet based which means that as the weather gets warmer they're not suitable as they melt and can coat the birds' feathers.
I'd love a bird table but the ones that I like are quite expensive (typical) and I didn't want to spend money on a cheaper one that I wouldn't really be happy with. I was over the moon though when I found this amazing little kit in our local garden centre. It turns an old plastic bottle into a bird feeder which I loved the idea of as soon as I saw it.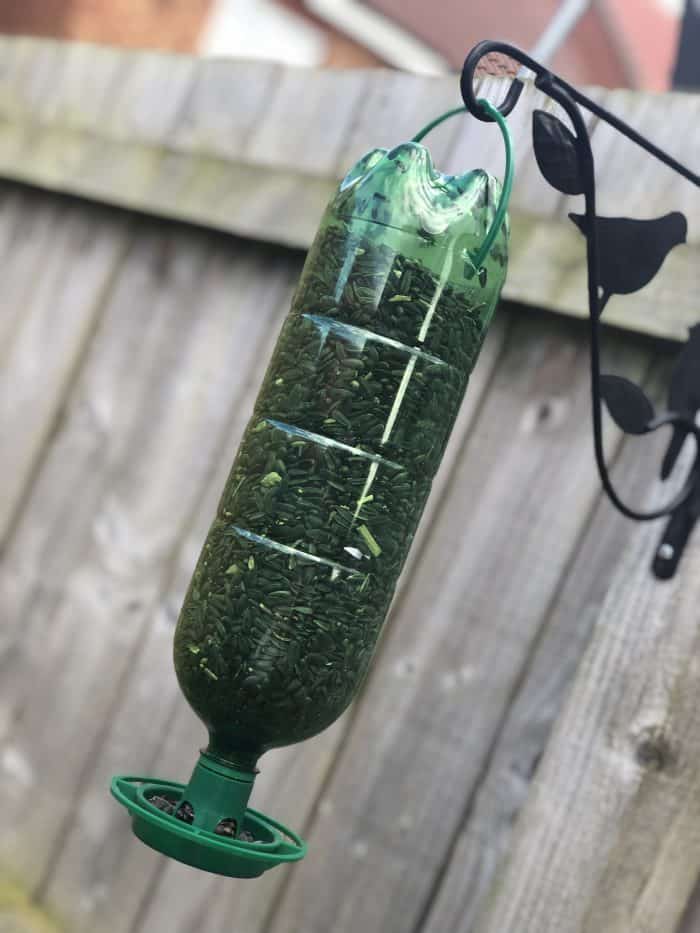 I also got a water version too but I can't find that anywhere on Amazon to give you an example. It's fab though and for a couple of pound each, I love them both…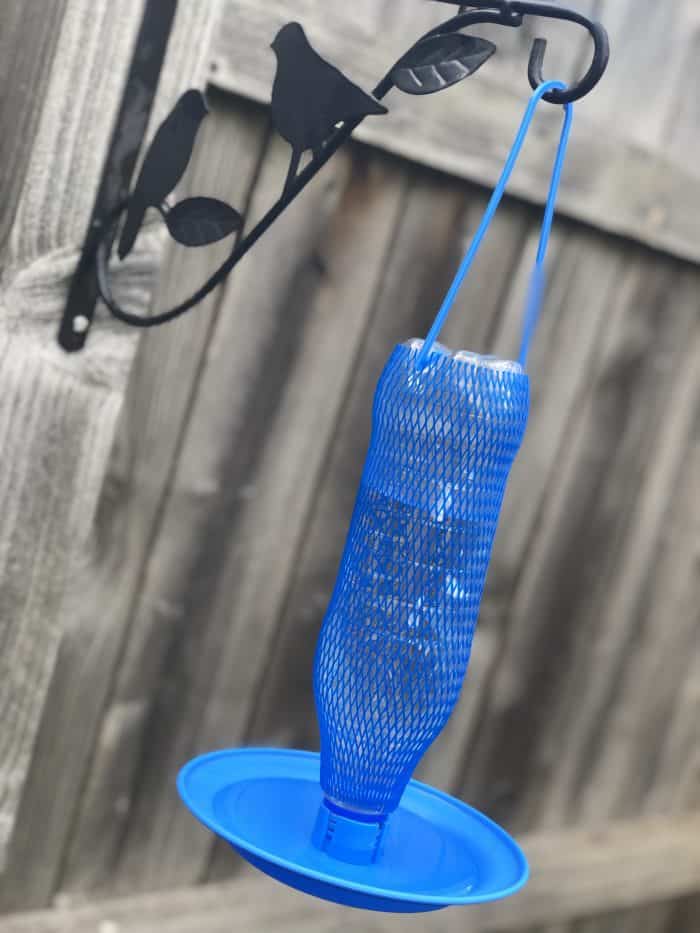 They're a cheap alternative to bird tables or bird baths and I love the sustainability factor in them – they're using something we already had in that would have been going in the recycling bin anyway.
Also, as cheap as these were from the garden centre, the bird seed absolutely wasn't cheap at £4.99 for a small bag. I just popped into the pound shop on the way home and got what I'm 99% certain is the same make in the same size bag for a pound.
4) My DIY herb garden is now officially back in business.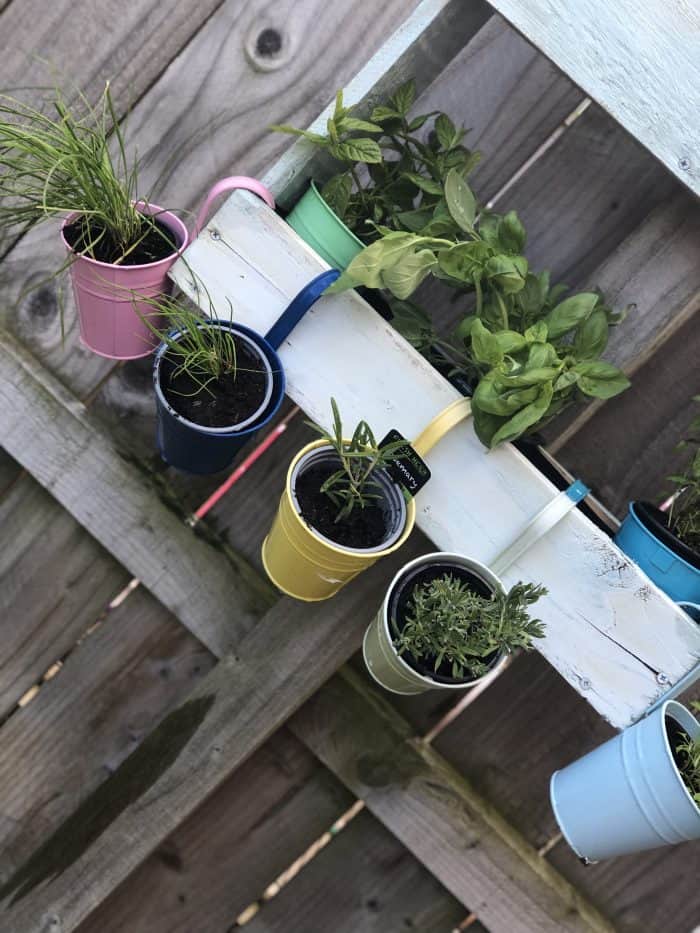 It needs a coat of paint I think but it's not urgent so I'm happy to put that off for a bit longer. 😉 We have mint, basil, lavender, rosemary, parsley, chives and something else that I can't remember so hopefully we're all set for fresh herbs for the Summer.
5) I'm away this weekend at a bloggers retreat but I've made a mini meal plan for Mr Frugal and the kids. It's simple enough that I *think* they'll manage to stick to it!
Friday
I popped a gammon joint in the slow cooker before I left to serve with some Yorkshire Puddings and veggies for tea tonight. Mr Frugal can manage that (hopefully ;-))without supervision and it's something I know both kids will enjoy.
Saturday
This is the night they'll be tempted to get takeaway but I have pizza and garlic dough balls in. Not as easy as a takeaway but easier than homemade from scratch so a pretty good compromise in my mind.
Sunday
I've planned with Mac and Cheese as that's super simple and again, something I know everyone will enjoy.
Let's just hope they stick to it!
Come over and join our fab Facebook group – Spend Less, Live Better! We have over 15,000 members now so you can imagine how much advice is shared there!
As always, we'd love you to join in with us by sharing your five frugal things from your week. Whether it's an Instagram picture (#5frugalthings), a blog post or even a video. Just add your link to the linky at the bottom of this post.
You don't have to share five frugal things you've done, anything thrifty or frugal that you've been doing is perfect – whether it's one thing or ten things. 😉
We'd love you to let your readers know that you're linking up by adding the following:
I'm linking up with this Cass, Emma and Becky in this week's 'Frugal Friday' linky.
Don't miss out on future posts like this – receive updates directly to your inbox by email by adding your email address here and hitting subscribe. You can also follow me on Twitter, BlogLovin or Networked Blogs and I'd love to see you over on my Facebook page and on Instagram.
You are invited to the Inlinkz link party!