Every week I share five frugal things that I've done during that week just to show you that the small things you do all add up to a great frugal lifestyle where you can learn to live a fabulously frugal life.

1) It rained quite a bit here last Saturday and for some reason Monty, our puppy, just wanted to play outside in it.  Which is no problem other than the fact that he's super fluffy and I hate the smell of wet dog.
He kept going outside, getting all of his fur soaked and then coming in and rolling on the rug to get dry!  Because he's still a puppy and not as good as Buddy at holding it in if he needs a wee, I didn't have a choice but to let him out when he asked to go out even though I was 99% certain each time that he just wanted to go run round in circle in the rain!
When I caught him trying to get dry on the bed I decided to take action. 😉
I made up a batch of my homemade Febreze  but instead of fabric conditioner, I used a couple of drops of hyacinth scented Zoflora in there and it was amazing!  I wanted to use the Zoflora as I thought it would have a stronger smell and it was great!
The Zoflora was from the pound shop so a great price and I always have at least a couple of the different scents in the cupboard so it looks like my homemade Febreze has been revolutionised!
2) While we're on the subject of homemade stuff, I dusted down my breadmaker which hasn't been used much recently and made some homemade bread – actually it wasn't proper bread (or so Master Frugal says) it was flatbreads which I used instead of wraps for fajitas.
My recipe for homemade flatbread is here but it's so easy that I just have it in my head now!
3) It's my Birthday tomorrow and Mr Frugal wanted to take me out for a meal and then on to the pictures so we've used out Tesco points to redeem for restaurant vouchers while the 4x boost is still on.  We'll then use our Tastecard to get cheaper cinema tickets so we should have a nice night out for very much money which is my favourite kind of night out.  I don't want much in the way of gifts as we have a few trips planned for this year and I'd rather put money towards them instead.
I've asked Mr Frugal to make sure that he doesn't buy me a cake as I love Master Frugal's homemade chocolate traybake which is AMAZING!  Master Frugal has promised me that he'll make one for me so I can't wait for that tomorrow!
4) We popped to Toys R Us on Saturday to see what sort of closing down offers they had on and we were pretty disappointed to be honest as the prices in a lot of cases are still more than you can buy elsewhere which I guess is the reason that they're closing down.
We did get a few really good bargains which we've added to our present bag as we do have a few things coming up including this cute little Paw Patrol ball which was £3.20 and will be ideal for a certain four-year-old who we know but on the whole it was a bit of a let down.
5) Last Sunday was Mother's Day and I banned all forms of flowers and shop bought cards. I feel like cards are just a waste of money if I'm honest and I'm not a huge fan of paying a fortune for flowers that I wouldn't normally buy.  I do love flowers (especially reduced bargains) but I prefer things like daffodils and tulips to the big bouquets of lilies or roses – I just think they're prettier and less showy if that makes sense.
I also banned presents as I'd just got a new camera which was going to be my Mother's Day present but I should have known Mr Frugal couldn't stick to that!  He asked me for my Boots card though before he took the kids shopping so at least I've taught him well and he got Advantage Points on the perfume the got me. 😉
I loved the cards I got too – both homemade and the words inside them were very touching and made me tear up a little bit.  They're nothing flash as we're not the craftiest family and they might look like they were made in minutes (they probably were) but inside, the messages are so lovely and make this parenting lark totally worth every second.
As usual, we've been having some really good discussions this week over in our Live Well, Spend Less Facebook group.  We'd love to welcome you to our little community if you fancy popping in.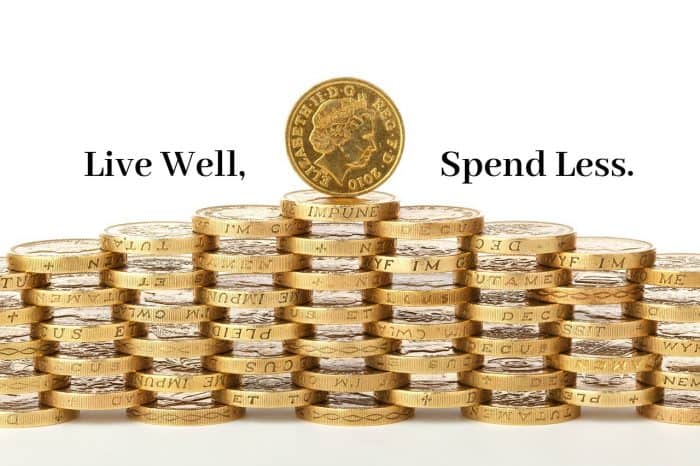 As always, we'd love you to join in with us by sharing your five frugal things from week – whether it's an Instagram picture (#5frugalthings), a blog post or even a video.  Just add your link to the linky at the bottom of this post.
You don't have to share five things you've done, anything thrifty or frugal that you've been doing is perfect.
You're more than welcome to copy and paste the badge above but it would be even better if you could let your readers know that you're linking up with the five frugal things linky by adding a little line to the bottom of your post like this one:
I'm linking up with this Cass, Emma and Becky in this week's 'Five Frugal things I've done this week' linky.
Don't miss out on future posts like this – receive updates directly to your inbox by email by adding your email address here and hitting subscribe. You can also follow me on Twitter, BlogLovin or Networked Blogs and I'd love to see you over on my Facebook page and on Instagram.