1) We're planning an epic homemade pizza making night for tea tonight!  We have a little bit of leftover chicken from last night and a bit of gammon leftover from the night before along with a tin of pineapple, some mushrooms that are just about to be past their best and a red onion.  We'll be using our homemade pizza recipe and letting everyone add their own toppings so it's going to be a super cheap, use up everything in the fridge kind of tea!
2) The men of the house went to a football match last weekend so Miss Frugal and I had a bit of a girly afternoon which involved Sunday Lunch (paid for using Tesco vouchers) followed by a DVD (borrowed from a friend) and then a super relaxing bath for Miss Frugal while I caught up on some work.  I added some of our homemade coconut bath melts to the bath for her and lit the candle we bought from Primark for £1 to add some atmosphere.

We were a bit disappointed with the candle though – it was frosted pear but I couldn't smell it at all!
3) I've started my affordable savings challenge again for 2018.
I started doing this a few years ago because I kept seeing some amazing savings challenges online but I just couldn't afford the weeks at the end of the year where the weekly payments were so high and I knew that would de-motivate me!  I made my own version with much more affordable payments and even though I won't end the year with as much cash as some of the other challenges, I know I'm not going to struggle to keep up.
4) I spent an hour on New Years Day updating our monthly budget which I know sounds a bit geeky but I love doing things like that on New Year's Day as I really enjoy getting things organised to start the New Year.  I also printed out my 2018 financial planner and started writing some of my goals for the year down – one of which is my emergency fund goal which I'll be sharing with you in the next few weeks.
5) I've organised my freezers this week ready to do some batch cooking this weekend.  I have three freezers – I have the one that's part of my fridge freezer, then I bought a small under the counter freezer for the kitchen and then my Dad gave me his larder freezer which we put in the garage.  Having the three freezers is amazing but I do need to be organised as if it's easy to forget about something if it gets buried under the other things.
As usual, we've been having some really good discussions this week over in our Live Well, Spend Less Facebook group.  We'd love to welcome you to our little community if you fancy popping in.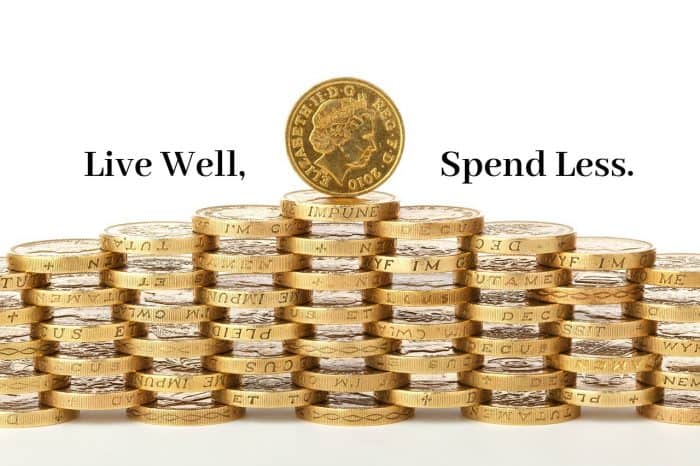 As always, we'd love you to join in with us by sharing what frugal and thrifty things you've been up to this week – whether it's an Instagram picture (#5frugalthings), a blog post or even a video.  Just add your link to the linky at the bottom of this post.
You don't have to share five things you've done, anything thrifty or frugal that you've been doing is perfect.
You're more than welcome to copy and paste the badge above but it would be even better if you could let your readers know that you're linking up with us by adding a little line to the bottom of your post like this one:
I'm linking up with this Cass, Emma and Becky in this week's 'Five Fabulously Frugal things I've done this week' linky.
Don't miss out on future posts like this – receive updates directly to your inbox by email by adding your email address here and hitting subscribe. You can also follow me on Twitter, BlogLovin or Networked Blogs and I'd love to see you over on my Facebook page and on Instagram.
Here we go ladies