This recipe I was given for amazing sweet potato bread is actually a recipe that calls for canned sweet potatoes which we don't get here in the UK (that I know of) so I adapted it using my own homemade version of canned sweet potatoes – it's AMAZING
Ingredients for the mashed sweet potatoes if you're not using tinned sweet potatoes:
3-4 Sweet potatoes
1/2 teaspoon nutmeg
1/2 teaspoon cinnamon
1/2 teaspoon sugar
A drizzle of honey
Preheat your oven to around 200 c.
Peel your sweet potatoes and chop them into chunks.
Toss them in a little olive oil and sprinkle over the sugar, nutmeg and cinnamon.
Drizzle over the honey.
Spread them on a baking tray and cover them up ( they'll go crispy otherwise which will be delicious but not what you need for this recipe.
Bake for around 30-40 minutes until they're completely soft and then mash them smoothly with 2 tablespoons water to get them smooth.
How to make homemade Sweet Potato Bread
400g of your own homemade mashed sweet potatoes as detailed above.
280g sugar
80ml water
80 ml vegetable oil
2 eggs
210g plain flour
1 tsp baking soda
3/4 teaspoon salt
1/2 teaspoon nutmeg
1/4 teaspoon baking powder
1/2 teaspoon allspice
1 teaspoon cinnamon
Optional: 60g chopped pecans
Preheat oven to 180 c.
Spray a loaf pan (or mini loaf pans) with cooking spray. Set aside for a little while as you make the sweet potato bread.
Add sugar, water, oil, and eggs to whichever mashed sweet potatoes that you're using and give it a good mix.
Add flour, baking soda, salt, nutmeg, cinnamon and allspice, and baking powder and mix well.
Stir in the chopped pecans if you're using them.
Pour evenly into prepared pan(s).
Bake for 70 minutes or until a toothpick or knife inserted into the centre of the loaf comes out clean. If you're using mini loaf tins then the cooking time will be reduced depending on the size of your baking pans.
Cool for 15 minutes in the pan.
Turn out onto a wire rack to cool completely and then voila, amazing homemade sweet potato bread.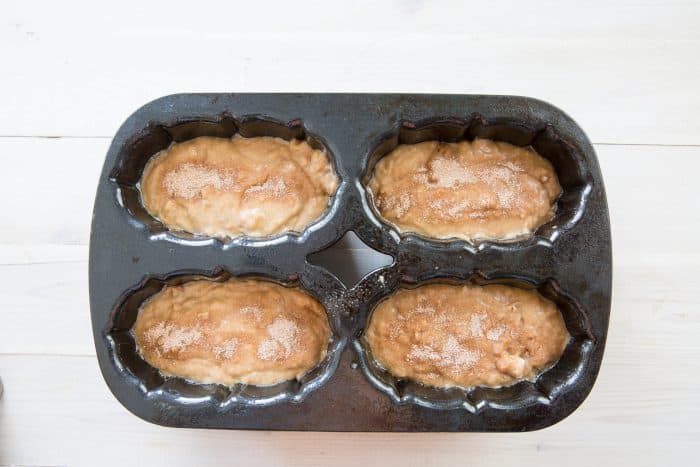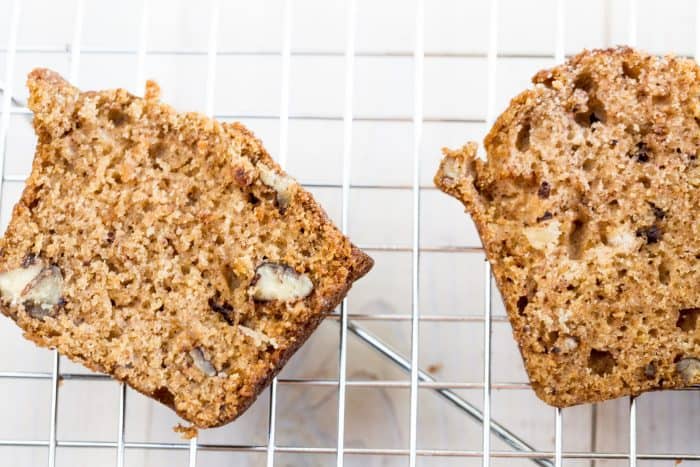 If you liked this recipe for homemade sweet potato bread, you can save it to your own recipe box if you use Yummly – just click on the YUM icon at the bottom of this post. You can find more of my favourite recipes here.
Don't miss out on future posts like this – receive updates directly to your inbox by email by adding your email address here and hitting subscribe. You can also follow me on Twitter, BlogLovin or Networked Blogs and I'd love to see you over on my Facebook page and on Instagram.