Homemade pizza breadsticks are our new favourite food – they're easy to make and you wouldn't believe how amazing they taste.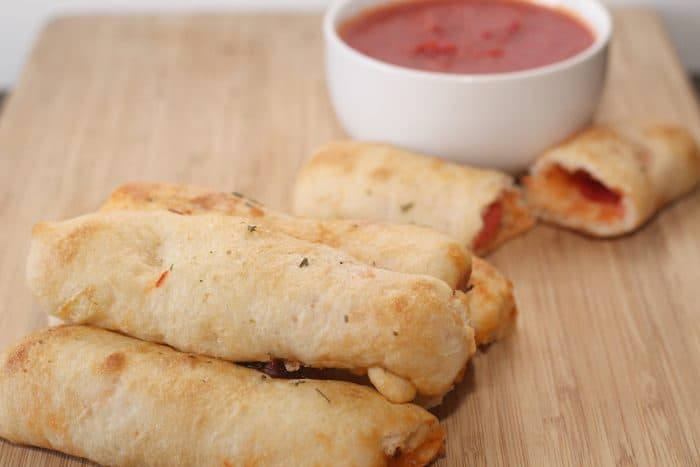 We've been having regular movie nights over the last month or so which is something we haven't done in a while as we could never agree on which film to watch.  We've been watching some older movies that we wanted to see with the kids because we remembered enjoying them when we first watched them way back in the day – Air Force One, Speed and the Back to the Future Trilogy have been our most recent watches!
A teenager's attention span is a bit limited so rather than have tea together and then sit andwatch a film, on film nights I combine the two and make a picky tea and these pizza breadsticks are idea.  I serve a batch with chicken dippers and homemade sweet potato wedges with a salad and everyone just helps themselves.
How to make homemade Pizza breadsticks
Preheat your oven to around 230 c.
Roll your pizza dough out on to a greased cookie sheet, and cut into even rectangles.  You might have to roll your dough out a few times to get as many rectangles as you can.
Spread your rectangles with your pizza sauce.
Top with pepperoni (or whatever topping you use) and sprinkle some grated cheese over them.
Gently roll each rectangle into a bread stick and pinch ends closed.
Mix your melted butter, garlic powder and parsley together.
Top each bread stick with mixture.
Bake for 10-12 minutes.
I hope you enjoy them as much as we do!
If you liked this recipe for homemade pizza bread sticks, you can save it to your own recipe box if you use Yummly – just click on the YUM icon at the bottom of this post.  You can find more of my favourite recipes here.
Don't miss out on future posts like this – receive updates directly to your inbox by email by adding your email address here and hitting subscribe. You can also follow me on Twitter, BlogLovin or Networked Blogs and I'd love to see you over on my Facebook page and on Instagram.