It's Monday morning which means that it's time for #MealPlanningMonday again!
And this week, it's a little bit different…
I've been really enjoying writing these #MealPlanningMonday posts! I started to share our meal plans over here again as I really wanted to focus on meal planning for a little while as we went a bit off-track. As well as helping me to focus on our weekly meal plan, these posts have also somehow made me enjoy cooking again so I'm cooking as much for enjoyment as well as the obvious necessity.
And because I'm enjoying cooking more and starting to experiment with new meals again, I thought I'd dust off my old meal planning blog and start sharing recipes on there again. I've spent a couple of hours on it over the past few weeks updating it and giving it a bit of a spruce up but there's still a long way to go.
I'm going to try and share at least one post a week on there but don't hold me to that. 😉
I'd love to see you over there if you feel like checking it out – it's something I started in 2013 then quickly realised that I was stuck in a rut with our meals and despite promising myself numerous times over the years that I'd start to try new things, I just never enjoyed cooking enough to experiment.
I have no idea what's changed but I'm going to take advantage while I can!
Should we take a moment's pause here so you can all head over to Meal Planning Made Easy to check it out and hit subscribe? 😉
OK, you've probably heard enough about that now so let's get on with this week's meal plan…
Monday – Homemade Pizza is something that I've written about a few times but I'm not sure if I've ever dedicated a whole post to it. Master Frugal loves making the pizza dough for us all for this one so we have it quite often as it gets him involved in cooking family meals more. It's also a great way to use up any leftover meat from Sunday Dinner and to use up any veggies that are approaching the point of no return.
This one isn't our best attempt but you get the picture – it's frugal filling and super cheap.
Tuesday – Crab, chilli and lemon tagliatelle is a new meal that we tried on Saturday (in the place of our Instant Pot chicken and rice – shock horror) when we got some crab meat reduced. It's so nice that we're having it again but we've paid full price for the crab meat – that's how you can tell how tasty it was! 😉
I've shared the recipe over on Meal Planning Made Easy if you want to check it out!
Wednesday – Homemade burgers are on the menu purely for a blog photo opp this week! I was clearing out my blog boxes and found the most fantastic burger boxes and paper that I'd forgotten about so I think I'm going to make burgers with my burger press just so I can get some good photos! Sad, I know.
Thursday – We got some of our favourite sausages in the reduced section this weekend so I thought I'd pop them in the freezer and make toad in the hole with them this week. I just need to remember to take them out of the freezer to defrost the night before!
Friday – We haven't had quesadillas in ages so we're having some cajun chicken ones on Friday night which we'll serve with sour cream and homemade guacamole. I'll use my instant pot shredded chicken recipe but add some cajun to make the cajun chicken.
Saturday – As always, Saturday means that it's Instant Pot Chicken and Rice night.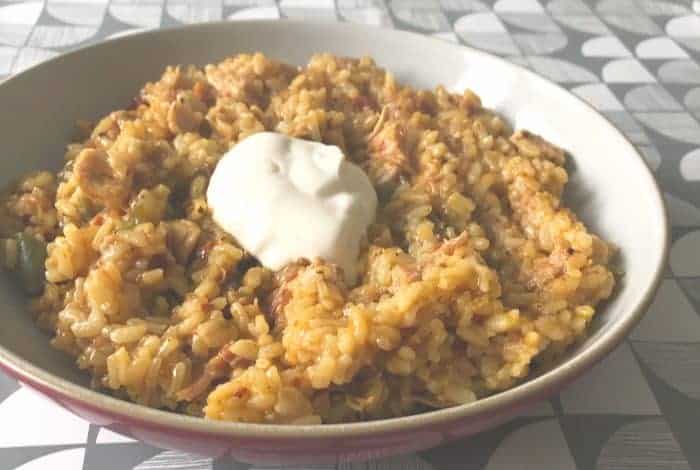 Sunday – I'm planning a roast chicken dinner with Yorkshire puds and roasties but if I find a different meat that's on offer when I go shopping then I'm not precious about having chicken.
There you have it, our meal plan for this week!
Don't miss out on future posts like this – receive updates directly to your inbox by email by adding your email address here and hitting subscribe. You can also follow me on Twitter, BlogLovin or Networked Blogs and I'd love to see you over on my Facebook page and on Instagram. You can find out more about me here.