Shredded Chicken has always been one of my meal planning staples and today, I'm going to share with you my recipe for Instant Pot Shredded Chicken which is the first of my Instant Pot recipes that I'm going to be sharing over the next few months.
I bought my Instant Pot in the Black Friday sale on Amazon after lusting after one for a good year or so.  The £79.99 that I paid is a lot better than the current cost which seems to fluctuate between £109 and £139 but even so, after using it for a couple of months, I'd be tempted to pay the current price for one.  I'm trying to work my way through all the different functions and once I have, I'll share a full review of it but in the meantime, here's how to make Instant Pot Shredded Chicken…
Instant Pot Shredded Chicken
I batch cook this recipe and last night I made it using 8 small chicken breasts which I would say is the maximum you want to put in your Instant pot but you can definitely make it with less if you're not a batch cooker.  I'd still use the same amount of stock though – just use less in the final stage of the recipe where you add some of your cooking juice to the shredded chicken.
Chicken breasts
300ml chicken stock
1/2 teaspoon salt per 4 chicken breasts
1/2 teaspoon pepper per 4 chicken breasts
Optional: 1 teaspoon Italian seasoning (we buy the Schwartz one and use it in all sorts from pasta sauces to pizza toppings)
Pour your chicken stock into the Instant Pot inner pot and add in the salt, pepper and seasoning if you're using it.
Add the chicken breasts directly into the inner pot – you don't need the trivet as it lifts the chicken out of the moisture which makes it harder to shred once it's cooked.
Turn the valve to sealing, and select Pressure Cook on high pressure for 10 minutes which is the perfect time to make the chicken literally melt apart when you go to shred it.
It takes around 10 minutes to get to the right pressure and once it is, the 10-minute timer will start counting down.
Once the Instant Pot has finished it's cooking cycle, turn it off and let the pressure release naturally for a good 10 minutes.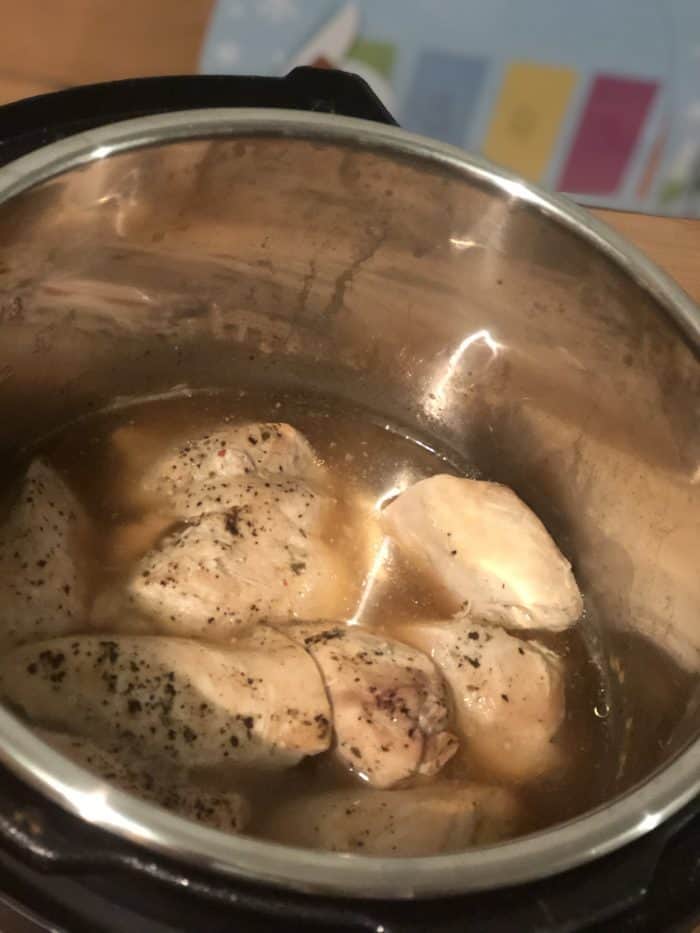 After 10 minutes, remove the chicken breasts from the Instant pot using a large spoon or ladle and pop them into a big bowl.
Shred the chicken breasts using two forks and then spoon over about half of your cooking liquid mixing it in as you go. You want the chicken to be moist but not wet so just spoon over a bit at a time and mix.
I freeze a lot of mine and try to do it in different sized portions so I can get a smaller bag out if it's just for pizza topping or to add to a pasta bake or a larger amount if it's the main ingredient like today when I'm using some for quesadillas.  To freeze it, let it cool completely and then pop it into re-usable freezer bags.
Just a quick note – there are a few different models of Instant Pot and lots of different recommendations about the amount of liquid to use when it's in pressure cook mode so always check your manual for the minimum amount of liquid needed.
I use Instant Pot Shredded Chicken for quesadillas, pizza toppings, pasta bakes, pie fillings, salads, soups, nachos, enchiladas, sandwiches, fried rice and so much more.
I used to make this in the slow cooker but as lovely as it was, it was never as easy to shred or as tasty when I did so I'll be using the Instant Pot from now on.
Don't miss out on future posts like this – receive updates directly to your inbox by email by adding your email address here and hitting subscribe. You can also follow me on Twitter, BlogLovin or Networked Blogs and I'd love to see you over on my Facebook page and on Instagram. You can find out more about me here.
Pin my Instant Pot Shredded Chicken for later: